Body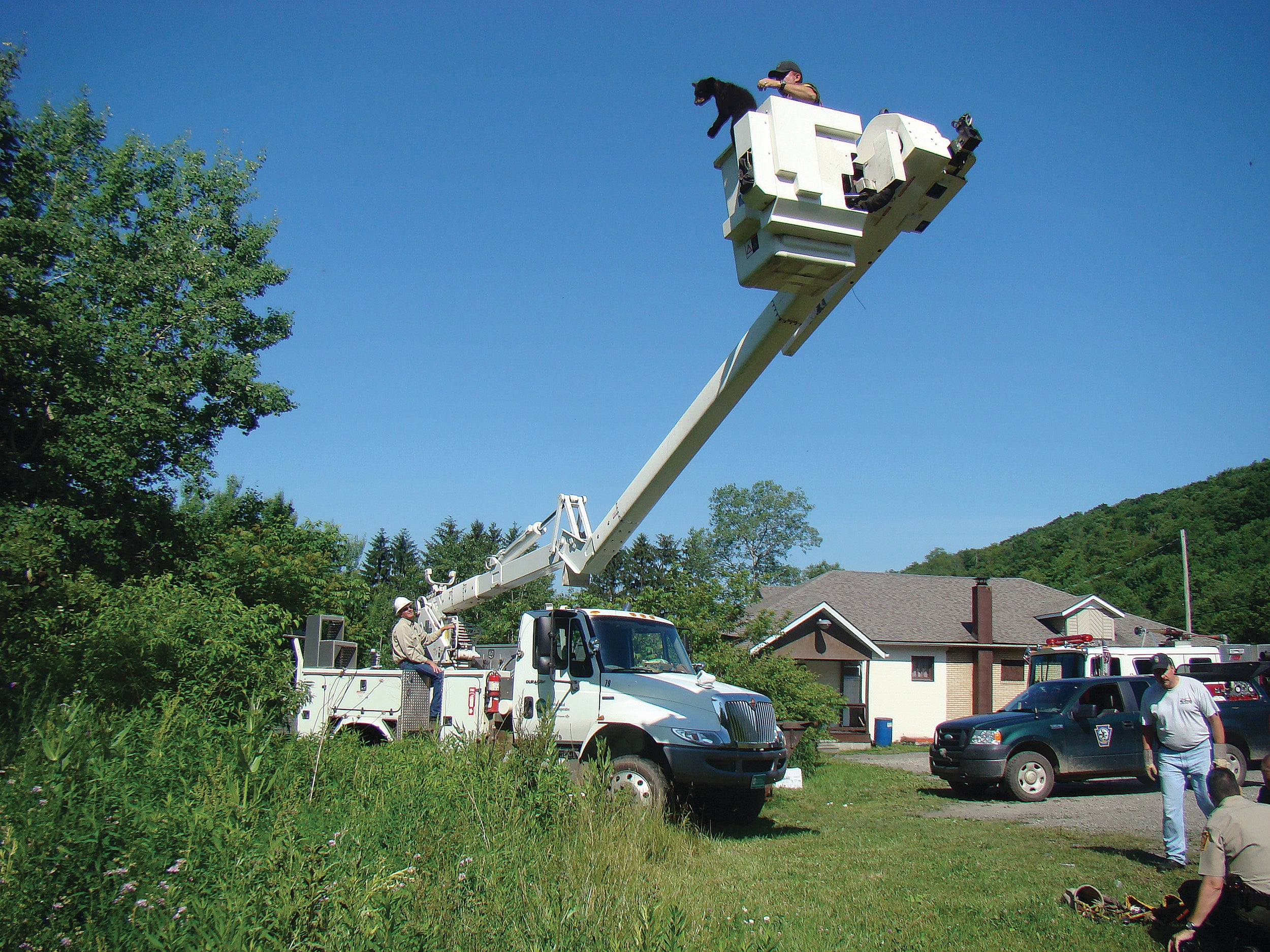 ALL IN A DAY'S WORK: Somerset REC Chief Lineman Craig Mitchell (now retired) sends up a Pennsylvania Game Commission warden in a bucket truck to rescue three bear cubs from a tree in 2012.
Going the extra mile
By Neil C. Jones
Senior Communications Coordinator
Lineworkers are the backbone of the electric cooperative — the ones who do the physical work needed to bring electricity to co-op members. But their efforts to help their communities don't always come in the form one would expect.
In recognizing all co-op employees during National Cooperative Month, we note that sometimes "going the extra mile" for lineworkers means …
Bringing skills to bear
One summer day a few years ago, the Pennsylvania Game Commission (PGC) reached out to Somerset Rural Electric Cooperative (REC) with a unique problem. A bear had been discovered near a dumpster on the outskirts of Hooverville, Pa. After the bear was tranquilized, her three bear cubs were found in a nearby tree.
"It just happened I was on the crew that was in the area that day, so they sent us over there to see what we could do," says Somerset REC lineworker Bryan Schrock.
While animal rescue isn't exactly in a lineworker's job description, their skill with bucket trucks and a familiarity with hoisting personnel into the air for potentially dangerous work is certainly within their purview. On this particular day, it was a representative from the PGC they would be ferrying in their bucket truck to capture the bear cubs.
"They're wild animals, so they were pretty feisty," Schrock says. "So we put (the game warden) in the basket, and we ran the bucket from the other controls, which was kind of awkward because the cubs would keep running up and down the tree, and we had to kind of chase them around with the bucket. But eventually the game warden got them."
Schrock recalls assisting co-op members with everything from rescuing cats from trees to adjusting a flag on a flagpole.
"It's just an attitude that we try and help out where we can," he says. "I think that's a testament to the cooperative movement."
Also in this issue
You ain't screen nothin' yet
When COVID-19 and the subsequent quarantine swept across the country in the spring, the Bedford County Chamber of Commerce started looking for any way they could get back to some semblance of normalcy.
The answer: a drive-in theater.
While an inflatable screen was first considered, they quickly realized they would require something far more sturdy and permanent, and with a Fourth of July opening deadline, they would need a crew that could work under pressure.
"We were approached as far as assisting with the poles and the construction of it, really," says Brooks Shoemaker, Bedford Rural Electric Cooperative general manager & CEO.
The crew set the poles and built the frame of the structure, but the main difficulty they faced was one that only a lineworker who has set poles for a living would understand.
"Every utility pole doesn't come out of a mold, so they've each got their individual 'nuances,' shall we say," explains Shoemaker, "and it was quite a challenge for the guys to get them lined up in as straight a line as possible."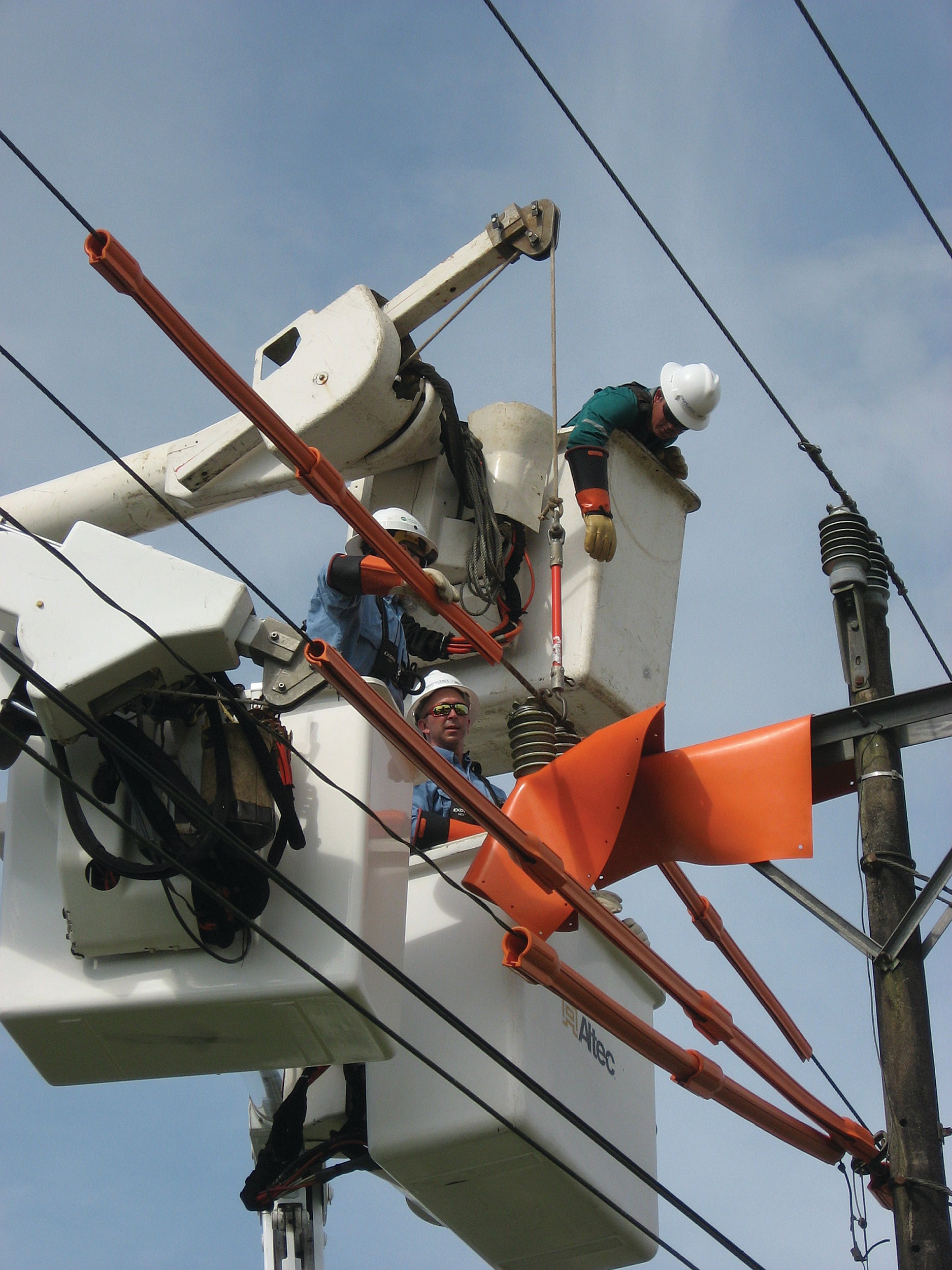 ANOTHER DAY, ANOTHER COUNTRY: Adams EC lineworkers provide instruction to a Coopelesca counterpart during a visit to Costa Rica in March 2015.
By the time the project was completed, every lineworker at Bedford REC was involved with the project in one way or another, says Gary Diehl, Bedford REC member services manager.
"It wasn't a hurry-up-and-get-it-done project from the point of our guys," he adds. "It had an expedient timeline, but they took it very seriously. They put every bit of effort into it that they could."
"I said to the guys, 'How many of you learned about constructing movie theaters in lineman school?'" Shoemaker says. "And I just think it's really cool that the guys were able to take the skills that they use every day and apply them to something totally different."
After a successful preview showing of "The Sandlot" for the crew and their families, the Silver Lining Drive-In at the Bedford County Fairgrounds opened on time with a showing of "National Treasure." With a parking area able to accommodate 150 cars to within 300 feet of the screen, it has since shown other classic films such as "Goonies," "The Wizard of Oz," "Ferris Bueller's Day Off," "Footloose" and "Grease."
Shoemaker hopes the community sees Bedford REC not only as an energy provider but as an organization of people who are always there to help.
"The local community knows when they reach out to us for something, if there's any way that we can possibly assist, we do," he says. "They knew we were here, and they knew we would help. We're the local guys; we're the people you can count on."
Also in this issue
Connecting across cultures
The lineworkers of Adams Electric Cooperative (EC) don't just "go the extra mile." In fact, they go more than 2,000 miles to Costa Rica to help their sister cooperative, Cooperativa de Electrificación Rural de San Carlos (Coopelesca). Founded in 1965 with just 365 members, by the end of 2013, the cooperative became the first distributor in the country to reach 100% of electricity coverage and the first Latin American carbon-neutral company in the energy industry.
Despite its growth, Coopelesca still turns to Adams EC for training and equipment.
"Traditionally, co-ops in those countries are about 10 to 15 years behind us as far as their tools, equipment and work methods," says Mike Feathers, Adams EC operations manager. "I think the original premise was to exchange knowledge and to shorten the gap in time it takes for them to learn to work safer, quicker, and more efficiently."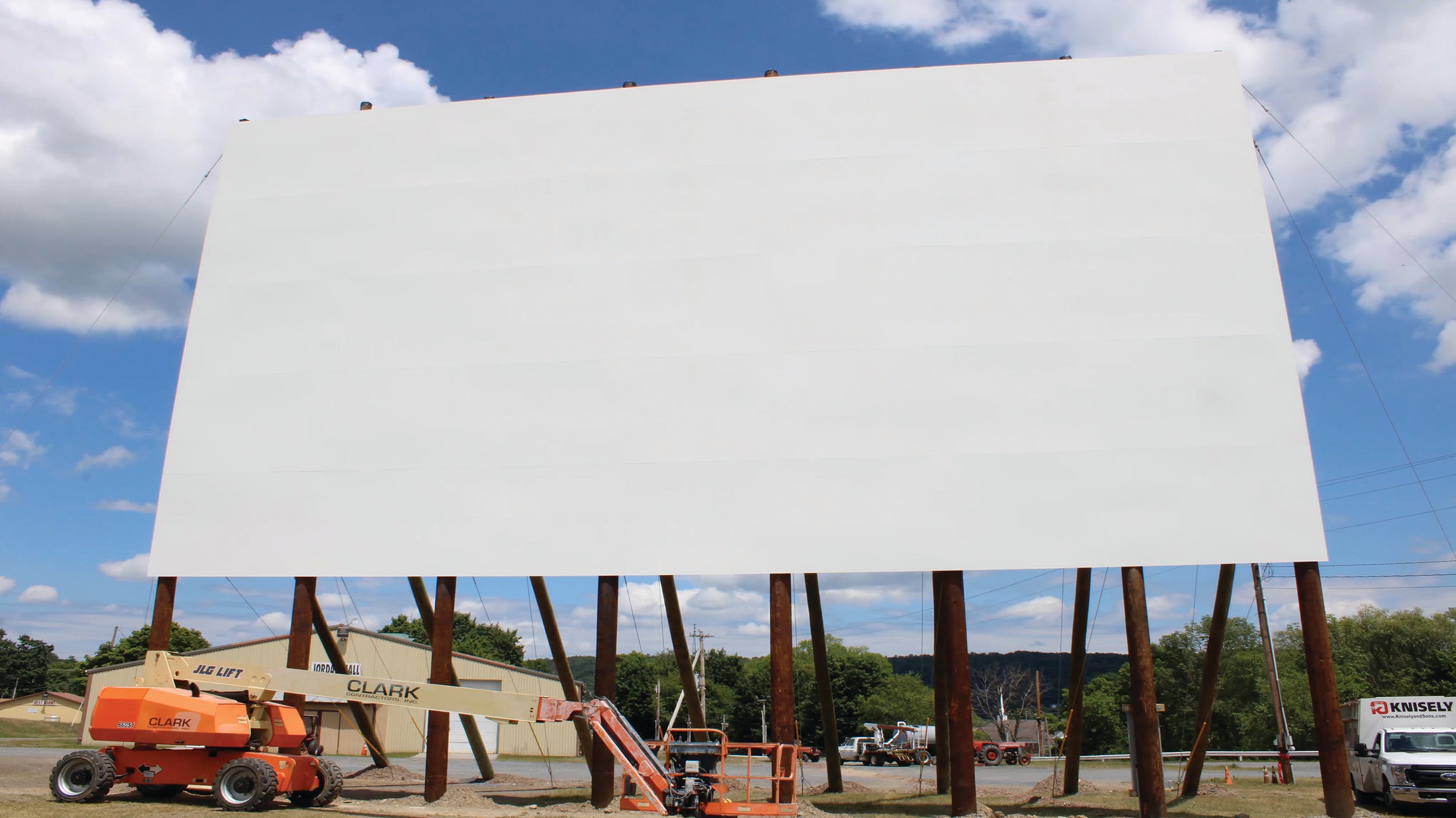 CONCERN FOR COMMUNITY: The drive-in screen uses poles and guy wires provided and set by crews from Bedford Rural Electric Cooperative.
The co-op not only sends lineworkers and equipment to Costa Rica, but they also bring Coopelesca crews to Pennsylvania, with the most recent visit in July 2019 to show them the proper procedures for underground work.
"They were getting more developed, putting more lines in underground," Feathers says. "So they sent a supervisor and five linemen here to learn underground installation and maintenance procedures, a skill where they currently lacked experience. Of course, we host [the cooperatives' statewide] underground school here at our co-op, so we utilized that training yard and our building here, and we did some training with them. We actually took them out to a couple underground developments we were doing work in and let them get some hands-on experience pulling in underground conductor using our recently acquired underground pulling machine."
Feathers says these kinds of experiences also create a more well-rounded employee for Adams EC and Coopelesca crews.
"They get exposure to other parts of the world, other cultures, and we're able to share knowledge," he says. "It fosters that co-op spirit, not only among co-ops here, but across the world."