Blast from the past
Black powder clubs honor pioneer heritage
By Michael T. Crawford
Associate Editor
In an era of microwave-ready food and 3-D printers, it can be hard to imagine a time when if you didn't know how to cook, grow or kill your food, you weren't going to eat. Often central to the survival of early rural Americans was their proficiency with muzzle-loading firearms - or muzzleloaders - which required more knowledge than which end of the weapon made the loud noises and more skill than point and shoot.
Black powder clubs honor those days by keeping the use and maintenance of these classic firearms alive and teaching younger generations how to do the same.
"The initial concept was to introduce new people to it … so I've been giving kids a chance to try out a black powder weapon," says Joe Marlin, an Endless Mountains Primitive Outdoorsmen board member and a member of Wysox-based Claverack Rural Electric Cooperative (REC). "I put a fairly light charge in it, which is still plenty accurate at this distance (roughly 5 meters), but it gives them the visceral experience and, hopefully, pulls them away from their phones for a little bit. Our future is going to be the next generation, so we really want to try and inspire some kids to get out and join now and carry on the tradition."
While squeezing a trigger on a muzzleloader isn't much different than squeezing a trigger on a modern rifle, there are far more steps to preparing the weapon to take even one shot.
Old school
"This is the real, colonial-era deal," Marlin explains of his flintlock muzzleloader. "Literally, the powder and ball go down the barrel. The ball's too loose in the bore the way it is, and you want a snug fit, so we use a little bit of cloth called a patch to seal it in the bore. … Then the ball is seated on top of the powder charge that's already dropped down there. We put the flash powder … in the pan. A piece of flint hits this (strike plate) and draws sparks off of it into the pan, burns through this teeny, tiny hole in the barrel and that ignites the main charge and the whole thing goes off."
Having to individually prepare each bullet means the environment gets an extra vote as to whether or not the weapon will fire properly. A little bit of rain, for example, can cause a hang fire — a second or two delay from the trigger squeeze to the shot — or ruin the shot entirely.
But despite the extra steps and considerations, black powder aficionados promise their muzzleloaders shoot straight. While the classic smooth bore weapons maintain accuracy up to about 50 yards, rifled barrels have been known to be accurate up to 300 yards.
Which may be why, even with just one shot, muzzleloaders don't come cheap. Roxy Wells, a Claverack REC member and Endless Mountains Primitive Outdoorsmen board member, considers $1,500 to be a low price for a quality muzzleloader. On the other hand, everything else a marksman needs to operate his or her new firearm can be homemade.
"We can make these," says Wells, holding up a lead ball for her .50 percussion lock muzzleloader. "Anything that we use in our muzzleloaders we can make. We can make our own black powder if we needed to. That's what's important about keeping these weapons. Daniel Boone and the early pioneers couldn't go to the gun shop and buy their supplies; they had to make their own so they could kill their food and defend their land."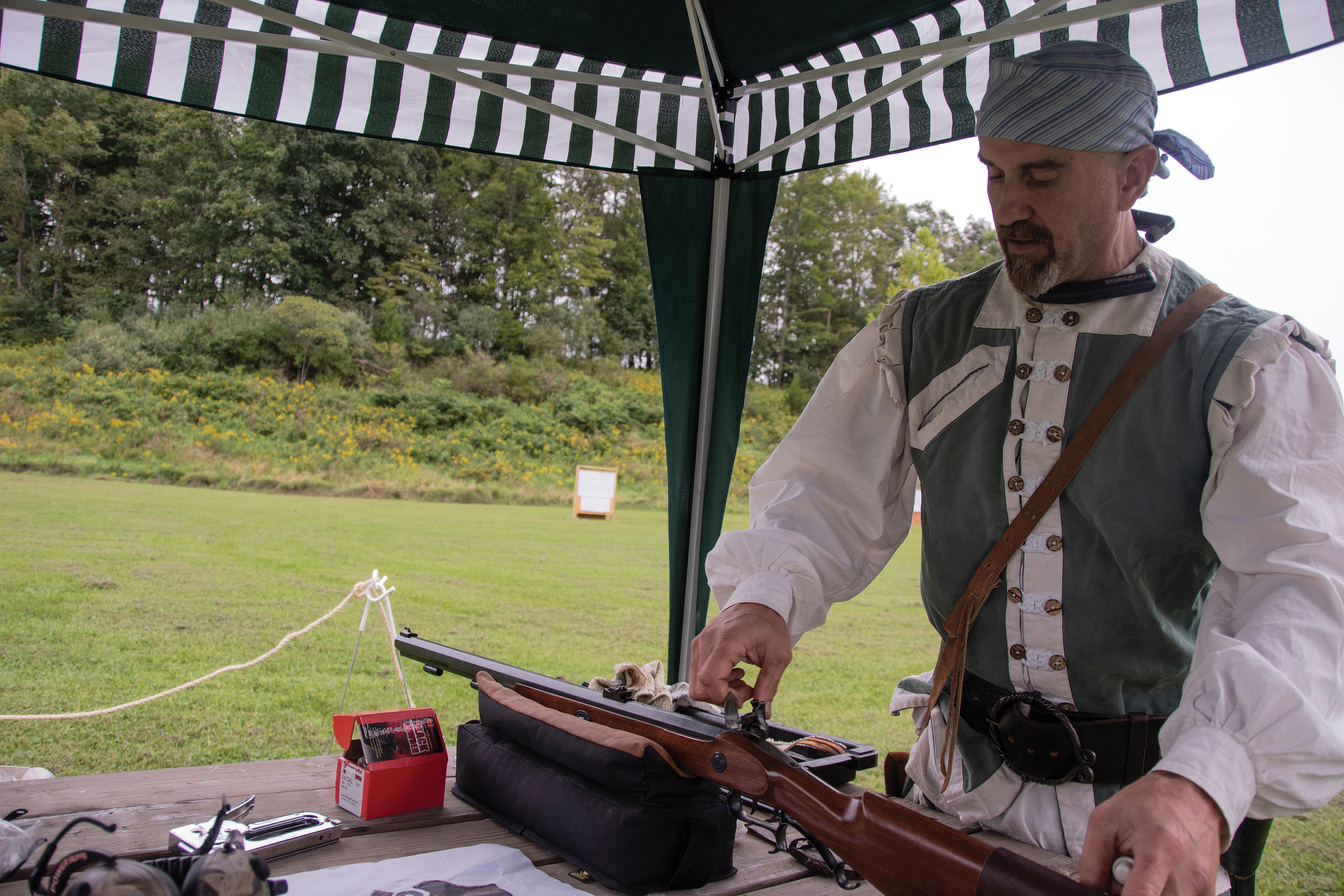 Aim to please
Survivalist and economic advantages aside, many black powder clubs focus on the fun, spending significant energy painting a picture of a time when these weapons were commonplace. Hosting full-blown mountain man rendezvous, participants take on personas of the pioneers who have inspired them and create camps complete with period attire, tents and furniture. Mel "Longknife" Stafford, a member of Mansfield-based Tri-County REC, borrows his style from Pennsylvania's own famous mountain man.
"That's what the (Native Americans) used to call the eastern mountain men when they first started hunting in this area because they had the long, steel knives," Stafford says of his nickname. "I started looking people up and said, 'Here's Daniel Boone; he's born in Pennsylvania and he's an eastern mountain man.' I started studying Daniel Boone, and I took on his persona."
While rendezvous participants generally don't consider themselves re-enactors — they relive history, they say — Stafford does re-enactments on the side. He does some of the Revolutionary and Civil wars, but mostly he does mountain man re-enactments for parks and historical sites.
"A lot of times I'll do classes on Dutch oven cooking and baking, how to make lead balls, and how to start fire with flint and steel," Stafford says. "I'll let people try it out and let them help with the cooking and baking. We also put out clothing and weapons. Normally I don't let anybody use the weapons or hold the weapons unless they put the clothes on and get their picture taken. Then I give them free access to the weapons."
Stafford, a member of the Whispering Pines Cap & Flint Club, has two Pennsylvania long rifles and a Hawken, but they are mostly for mountain man displays — his muzzleloader hunting days are behind him, he says.
"You only got one shot," Stafford recalls. "All I ever used was the flintlock, and sometimes that hammer drops … and it won't go off. You'll have misfires. Hunting with a black powder is a lot more challenging than shooting with a modern-day rifle."
Along with firearms, his displays feature period war clubs, medical supplies, cooking implements and supplies, and furniture, to name a few. Though, proud as he is of his collection, the atmosphere of the rendezvous is what keeps him invested in the hobby.
"I most generally enjoy the environment," Stafford admits. "Quite often, in the evenings, there will be people who get together with guitars, banjos, a washtub bass or a fiddle – whatever musical instrument they want to bring along – and they'll sit around and bring … homemade drinks and snacks … and just have a good time."