Body
Paper anniversary
Penn Lines marks 55 years of cooperative connections
By Kathy Hackleman
Senior Editor/Writer
Time flies, they say, and that is true in the case of Penn Lines. It doesn't seem as if it's been five years since the newsmagazine's staff unveiled a new front cover design in observance of the 50th anniversary of Penn Lines. But here we are in 2021 — observing the 55th anniversary of the newsmagazine published for rural electric cooperative members across Pennsylvania.
The first issue of the new publication sent to approximately 93,000 Pennsylvania cooperative consumers back in 1966 was the culmination of years of planning by the Pennsylvania Rural Electric Association (PREA) and Allegheny Electric Cooperative, Inc. (Allegheny).
The magazine's first commentary stated, "(This first issue of Penn Lines) shows that rural electric cooperatives are on the grow; that new services to the members are on the drawing board, and that we shall, more aggressively than ever, continue to strive for our goal of low-cost electric power combined with the finest service possible. … We believe that this new magazine, which is sent to you by your own electric cooperative, is a symbol of bold, new thinking in the Commonwealth."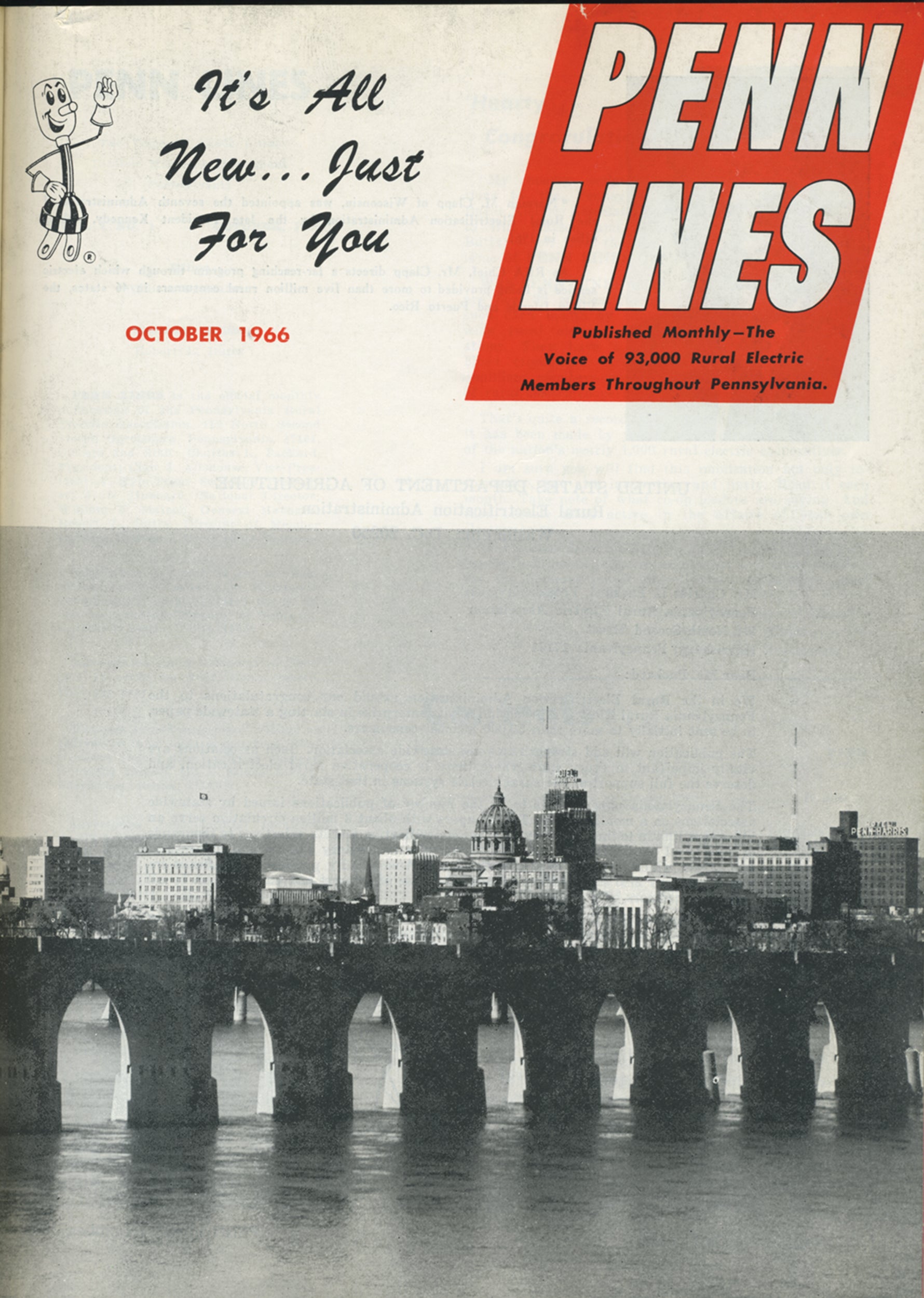 The commentary went on to add, "Every publication has some aims, goals, objectives and purposes: some to entertain, some to make money. We're different. The sole and single purpose of this magazine is to inform. To keep you up to date on matters pertaining to and affecting rural electric cooperatives, rural Pennsylvania and its people."
A current Penn Lines reader traveling backward in time would recognize some familiar topics. That first edition in 1966 featured an update on the Somerset County Fair, including a photo of a representative from Somerset Rural Electric Cooperative presenting a "Willie Wiredhand" doll to the fair queen. (Willie Wiredhand is the symbol of the rural electric cooperative program nationally.)
It wasn't long before multiple pages of each edition would be dedicated to the topic members were most interested in — their local cooperative — while the rest of the magazine was filled with news of statewide interest, tips on how to save energy and cut electricity bills, and the importance of engaging legislative leaders on rural issues (all topics that continue to be featured in the newsmagazine 55 years later).
In April 1968, President Lyndon B. Johnson, photographed during a visit to the National Rural Electric Cooperative Association Annual Meeting in Dallas, was on the cover of Penn Lines. The words spoken by Johnson, a former director of the Pedernales Electric Cooperative in Texas, highlighted problems facing rural electric cooperatives.
"So long as I am your president, I will do all in my power to encourage you," he said. "… I will support the right of your systems to territorial integrity, to continue serving the area where you pioneered. I will support your right of access to additional power so that the growing needs of your areas can be met with full and dependable power. … I will support the principle of parity so that you can give rural people the rates and services enjoyed by city people. … Most of all, I will support your most critical struggle — to gain fresh sources of capital to finance your future growth."
Penn Lines would cover all of those industry problems in depth during the next few years.
A special edition published in 1968 described how private power companies began "pirating" easy-to-reach rural residents, leaving only the difficult-to-reach areas for cooperatives to serve. The issue encouraged passage of the "Electric Consumer Protection Act" to avoid duplication, prohibit unfair competitive practices and define electric cooperative territories.
Other energy-related crises were covered by Penn Lines through the years. They included escalating energy costs in the early 1970s, the lack of support of the rural electrification program at the federal level with the potential loss of funding to build energy infrastructure, and the potential loss of a significant amount of long-term, low-cost hydropower from the Niagara and St. Lawrence rivers through the Power Authority of the State of New York (now known as the New York Power Authority).
Through the years, Penn Lines has kept readers informed about their major sources of power, including Allegheny's 10% ownership share in a nuclear power plant — the Susquehanna Steam Electric Station in Luzerne County — and construction of the Raystown Hydroelectric Project in Huntingdon County. Together, ownership of these two generating sources historically has provided nearly two-thirds of the annual power needs of the 13 Pennsylvania electric cooperatives plus one in New Jersey.
Penn Lines has also kept readers informed about changes in technology at their local cooperative, from the coordinated load management system, which shifts electricity use of residential water heaters and other equipment in times of peak demand when electricity prices are higher to off-peak hours when prices are lower, to the installation of automated meter reading systems, to new, convenient ways for members to pay their bills and report outages. Industry-wide changes were also covered, and from electric vehicles and generators to fuel cells, Penn Lines articles have advised readers what new technology and programs might be helpful, as well as what is "too good to be true."
Through the years, Penn Lines added another way to view the publication (by going online at prea.com) and widened its scope to include more photographs and features, but it has remained true to its founders' intentions: promoting the value of Pennsylvania cooperatives, and those issues that are important to rural Pennsylvania, and its residents and their quality of life.
A look through early editions reveals how similar today's Penn Lines is to those early days:
Sometimes, topics of rural interest have been featured more than once in the pages of Penn Lines. Take maple syrup for instance — it was the topic of a March 1967 Penn Lines feature and it took center stage again in February 2016 — or Lyme disease — mentioned as an emerging new disease in June 1987 and as a significant statewide problem in more recent years.

In January 1968, Penn Lines introduced the recipients of PREA scholarships. Current recipients continue to be introduced to magazine readers annually.

Recipes were first printed in November 1966 (for years, the column was called "Woman to Woman"). It has long been recognized that men also are cooks, and the recipe column — now known as Country Kitchen — continues to be one of the most popular columns in the magazine.

Energy efficiency tips have been included regularly since the newsmagazine began publication. While some tips — such as insulate your house, fix faucet leaks, and don't open the oven door unnecessarily — are still as valid today as they were in the 1960s, others — such as defrost your refrigerator before the ice is 1/4 inch thick — now are outdated.
Since 2016, when Penn Lines celebrated its 50th anniversary with a year-long celebration, your newsmagazine has continued to focus on energy-related news along with information about your local cooperative. Our pledge is to continue to provide up-to-date information that educates our readers about energy and other issues of concern to rural residents and communities. 
Also in this issue