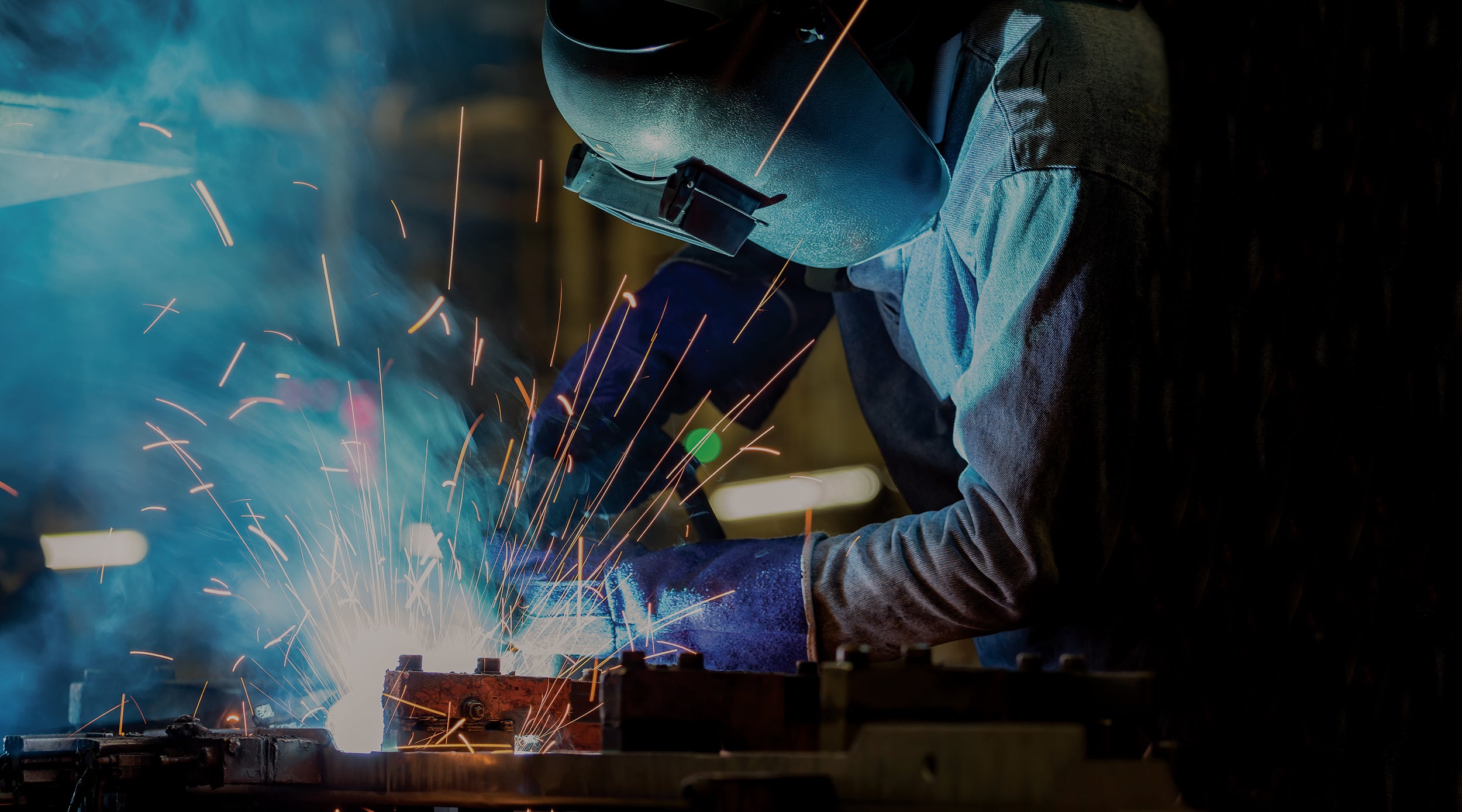 Need for know-how
Education trends show skilled labor shortages continuing
By Michael T. Crawford
Associate Editor
From kitchen sinks to fuse boxes, power lines to water mains, our homes and businesses are filled with and surrounded by the fruits of skilled labor. Skilled labor requires education and training. And while a push for education has always been present, that push has largely focused on a college degree in recent decades. As more high school graduates go on to pursue a college education, employers have found there aren't enough skilled laborers to go around.
"It's been something I personally have tried to change in the mindset of parents and kids," explains Brock Edwards, a member of Wysox-based Claverack Rural Electric Cooperative (REC) and secondary school counselor at Wyalusing Junior-Senior High School. "Even though we come from a very skilled labor force area, parents and even kids still have that mindset of needing to go on and get some sort of four-year degree."
Seth Glover, a member of Huntingdon-based Valley REC and journeyman lineman for the cooperative, was one student who felt the pressure to seek a college education, and that pressure didn't just come from his parents, his teachers, or his peers. It came from all of them — and from himself.
"My parents wanted me to go to college, there was persuasion from my friends, and my girlfriend at the time was going to college," recalls Glover, who holds a bachelor's degree in criminal justice. "I felt like I needed to further my education to get a better-paying job."
Pieces of the puzzle
Historically, earning a college degree seemed to be a clear choice when aiming for a better salary. According to the U.S. Bureau of Labor Statistics, by the end of the 20th century, men and women with college degrees earned, respectively, approximately 62% and 65% more in hourly compensation than did those with only a high school degree.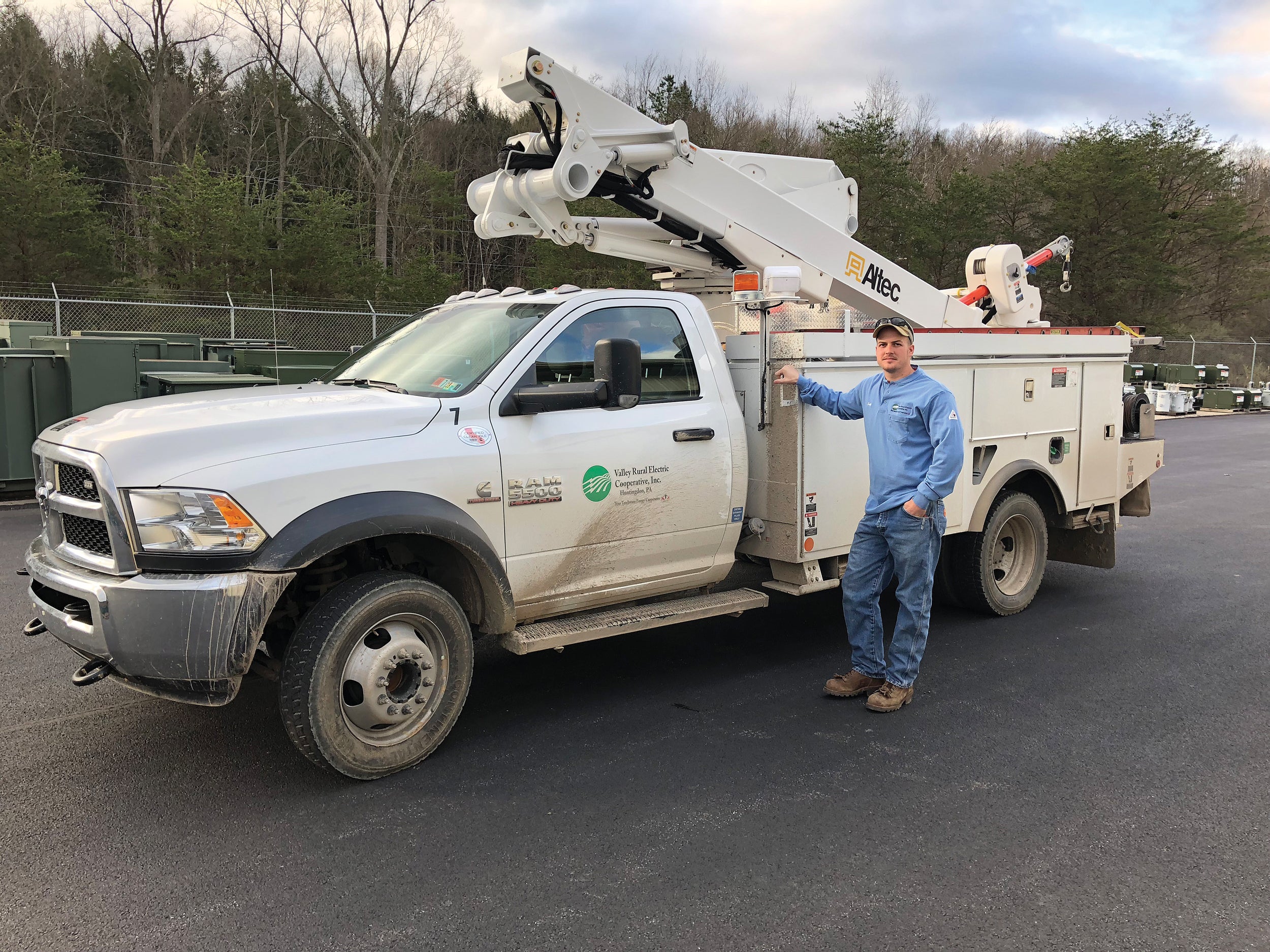 CO-OP CAREER: Seth Glover, a member of Valley Rural Electric Cooperative (REC) and journeyman lineman for the cooperative, stands beside a cooperative bucket truck outside the Valley REC headquarters in Huntingdon, Pa. Glover trained to become a lineworker after graduating with a criminal justice degree around the time the Pennsylvania State Police was in a hiring freeze. (Photo courtesy of Doug Roles, Valley REC)
"Even being a skilled laborer, you still need to have those people who are available to do those other jobs that take that college degree — information technology, accounting, things like that," says Justin Sullivan, a journeyman lineman for Cambridge Springs-based Northwestern REC, who was recognized by the Pennsylvania Rural Electric Association last year for his community service with the Winston Donaldson Community Service Award. "If they aren't there, that doesn't do any good for the skilled laborers. I think it's all pieces of the puzzle. Everybody goes together, works together for a common goal."
That puzzle comes with an important ratio. According to "Success in the New Economy," a video presentation on skilled labor and education produced by Dr. Kevin J. Fleming and funded by Citrus College, for every job requiring a master's degree, there are two jobs requiring a bachelor's degree and seven jobs requiring either a specialized associate degree or industry certification — technical jobs, or skilled labor.
"That's something that has always been there," says Edwards, who has been a school counselor for 23 years. "When I got into school counseling, 60-70% of the kids should have been entering a skilled trade or labor or training when they left school. That's no different today — the same amount of kids should be entering those types of skills."
He adds, "Somebody has to do the plumbing, the electrical work, the HVAC. Somebody has to fix the car, perform dental hygiene. We need all these people, and they're probably a bigger part of the functioning of our society than the 20% who are the professionals. Not that they don't add to it, but the skilled labor is the thing that makes our country work on a day-to-day basis."
Changing trends
Over the course of the 20th century, high school graduation rates increased from 14% to 83%, and college graduation rates increased from 3% to 25%. By comparison, according to data from the National Center for Education Statistics, emphasis on vocational studies decreased. From 1982-1992, the percentage of vocational credits earned by public high school graduates decreased from 21% to 16% of total credits earned. In 1999, 9.6 million students were enrolled in a trade school, compared to 13.2 million students enrolled in traditional, four-year colleges around the same time.
To help move away from the general suggestion of simply going to college, Pennsylvania educators help guide students to decide what path makes the most sense for them through the Chapter 339 Plan.
"Chapter 339 is a state initiative where you're implementing a career plan for students through a process of certain [benchmarks] that students have to achieve from third grade through 11th grade," Edwards explains. "Every eighth-grader has to have a career plan and portfolio in place by the end of their eighth-grade year. It's not like they're locked into that career in eighth grade, but it's a focus-driven approach. It's quite different from what I went through in high school where they just asked, 'Well, uh, what do you like?' They go over entrepreneurship with the kids and retention of careers now."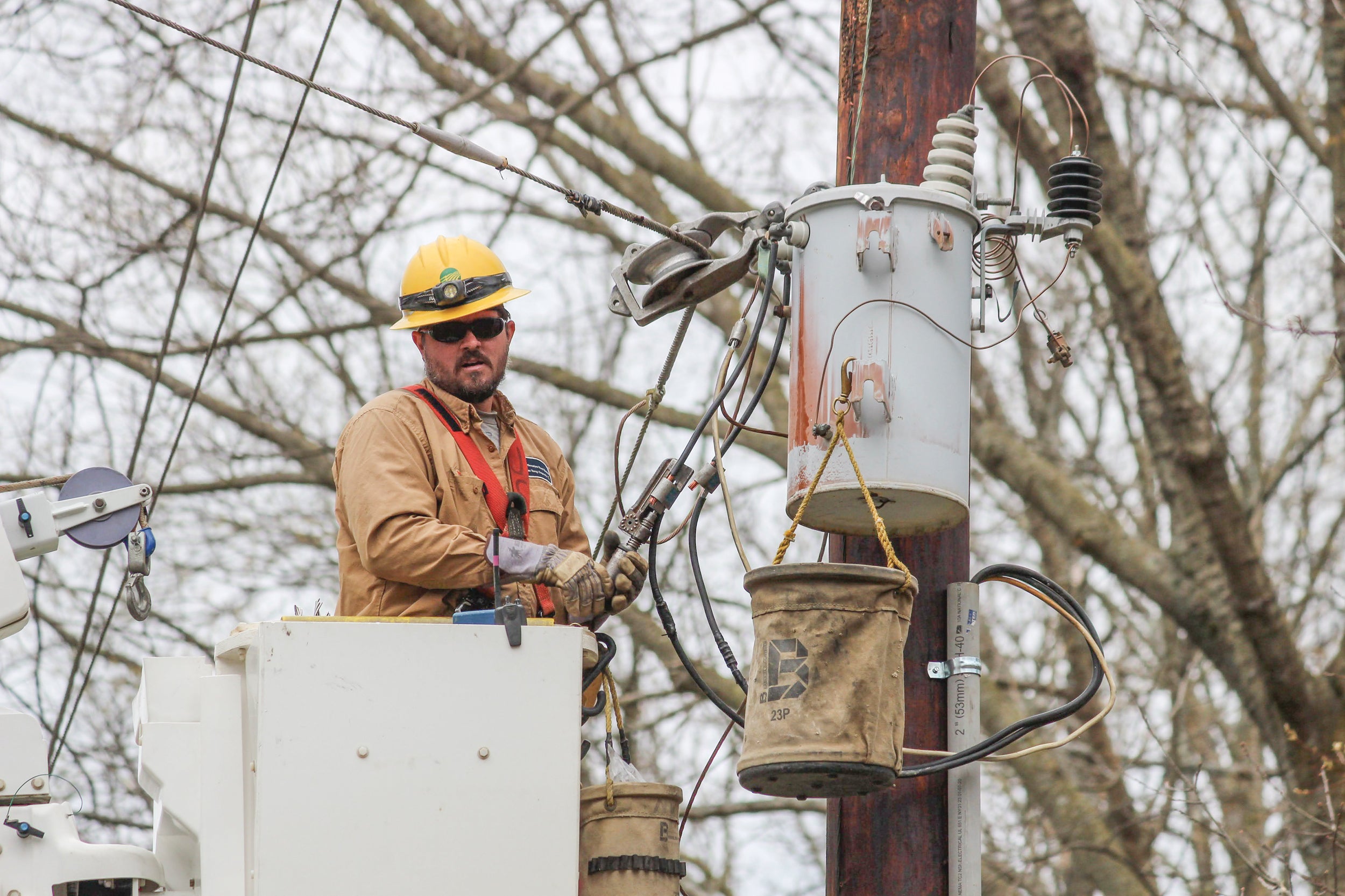 ELECTRICAL WORK: Northwestern REC Journeyman Lineman Justin Sullivan works on a transformer. Sullivan joined the cooperative nearly 16 years ago after working as a self-employed electrician for a year after high school. (Photo courtesy of Linda King, Northwestern REC)
Sullivan, who honed his skills through two years of an electrical occupations class offered by Crawford County Career & Technical Center, always focused on working with his hands. Before taking a position at the cooperative nearly 16 years ago, he was a self-employed electrician.
"I remember I graduated on a Thursday, and I went to work on Friday," Sullivan recalls. "I was in the top percentage of my class academic wise, but I never really thought that college was for me. My big thing was even if you wanted to go to college, if you went to vo-tech, you still had a trade you could always fall back on. I just rather would go do a trade and not have that four years of college debt and have to try to pay that back."
A recent Move.org study ranked the Commonwealth as the fifth-most expensive education in the nation with in-state tuition averaging $23,618 based on public and private colleges that offer bachelor's degrees and higher. According to the U.S. Department of Education, the average student loan debt in the United States was more than $35,000 as of December 2019. In Pennsylvania, the average student loan debt was just over $34,000. Across the country, borrowers owe a total of $1.64 trillion of student loan debt.
But the 21st century seems to be continuing the same trend as the 20th. According to the Pennsylvania Department of Education, career and technical education enrollments at the high school level decreased from 77,540 students in the 2007-08 school year to 67,248 students in the 2017-18 school year, dipping as low as 64,110 students in the 2011-12 school year.
"Those numbers are driven by student enrollment," Edwards explains. "Credits ebb and flow depending on how many kids I have enrolled in the school. If I have 130 kids in a class, that means I can send more kids to the vocational school because we're bidding for spots at that vocational school."
Finding opportunities
The bigger issue, Edwards argues, is a resource shortage.
"One problem we have in a rural community is we're stretched really thin in vocational opportunities as far as training programs," he says. "We have one vocational school that services Bradford County, and it services Sullivan County also. We used to have a teacher who was dedicated to co-ops and apprenticeship programs. We used to have three shop teachers, three business teachers and a home economics teacher. We don't have a home economics teacher anymore. We have two shop teachers, but one has other duties to fulfill, and our business teachers are down to one."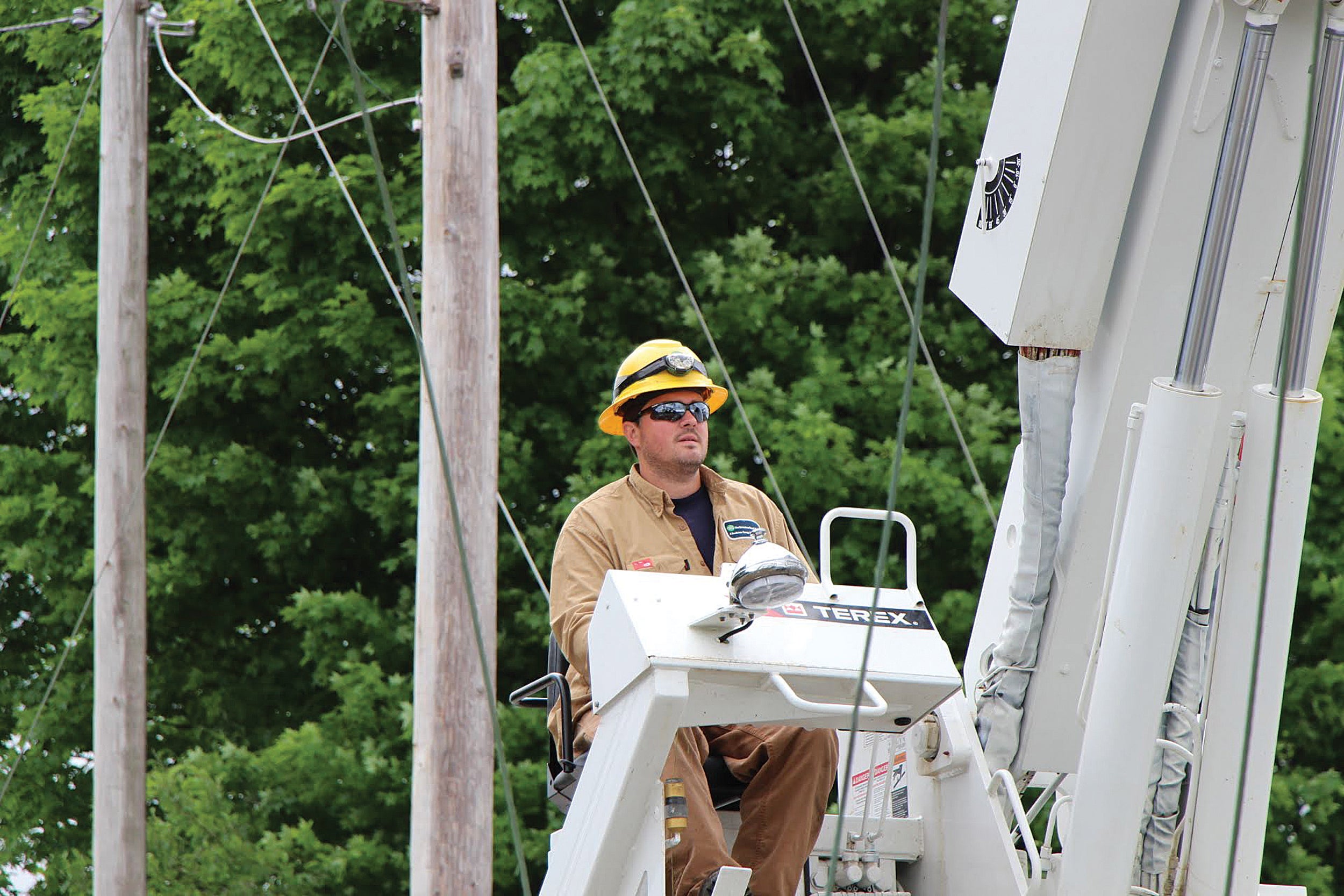 IN CONTROL: Justin Sullivan, a journeyman lineman for Cambridge Springs-based Northwestern REC, controls the boom on a digger truck. Sullivan honed his skills through two years of an electrical occupations class offered by Crawford County Career & Technical Center before being hired at the cooperative. (Photo courtesy of Linda King, Northwestern REC)
But high school isn't the last chance to make a decision to pick up a trade.
"I knew a guy who did line work, and I thought it would be interesting," recalls Glover, who graduated college at the same time as the Pennsylvania State Police was in a hiring freeze. "I applied for a grant through Duke Energy, and I was awarded a scholarship to learn to become a lineman. I worked as a contractor for a while with Duke, then applied to work at the co-op."
He adds, "I don't regret going to college. I pay for student loans — mine and my wife's — but I was investing in myself with education. Even though I'm not using it [his degree], I think investing in further education is always a good choice."
In a partnership between the Pennsylvania Rural Electric Association (PREA), Harrisburg Area Community College (HACC) and participating Pennsylvania electric cooperatives, apprentice lineworkers have the opportunity to earn an associate in applied science degree in technology studies. After successfully completing the PREA Job Training & Safety (JT&S) schools, journeyman lineworkers can pursue the degree through HACC by completing general education credits and major credits in their technology studies program.
"It makes lineworkers more promotable by familiarizing them in the theory behind the work they do in the electrical field," says Joe Selnekovic, PREA JT&S manager and environmental adviser. "They're able to better recognize potential hazards and help their fellow lineworkers solve routine problems in different ways."
While college enrollment doesn't appear to be declining, many Americans are coming around to the idea of learning a trade, even if it means waiting until after high school. According to the National Center for Education Statistics, by 2014, 16 million students were enrolled in a trade school, compared to 17.1 million enrolled in college nationwide.
"As someone who's been through college and blue-collar jobs, I'm starting to see a transition in pay and opportunities in the working field," Glover notes. "I'm starting to see a lot of these blue-collar jobs have outstanding pay. Not just line work, but electricians, plumbers, HVAC … They're making great wages."
Sullivan agrees.
"If you pick up a trade, you can make good money, have good benefits and provide a good living for your family down the road," he says. "You'll be able to retire. You won't have to struggle to find a job because there are a lot of people looking for skilled trades."
Also in this issue