Cooperation in action
Cooperatives pull together to support State Police cadet camp
By Michael T. Crawford
Associate Editor
When people cooperate, exciting things happen. Rural electric cooperatives prove that every day. When cooperative organizations cooperate, the impact can be tremendous.
"Cooperation among cooperatives" is the sixth of the seven Rochdale Principles that form the foundation for all types of cooperatives worldwide. That principle is on display when major storms, such as Hurricane Florence in September, affect an entire region. That storm saw cooperative line crews from several different states make their way to the Carolinas to help their fellow lineworkers get the power back on.
That principle gets displayed regularly during periods of calm as well. Such was the case when Cambria County Camp Cadet was looking to build an obstacle course on land donated by
Mt. Aloysius College in Cresson, Pa.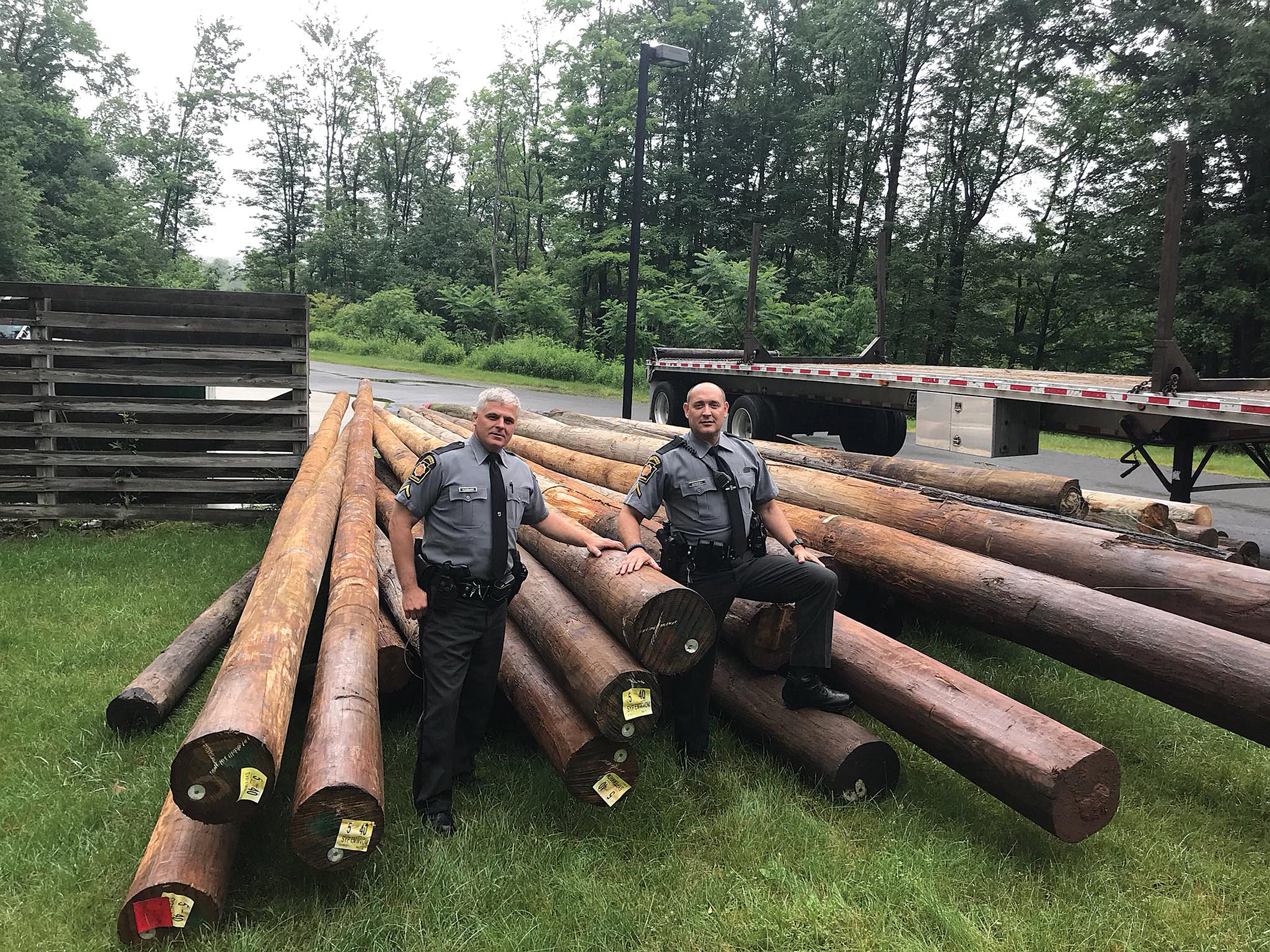 No obstacle
The camp, which is open to boys and girls ages 12 through 15 who reside in or attend any school in Cambria County, emphasizes leadership skills, teamwork and building self-confidence. It also provides law enforcement demonstrations presented by the Pennsylvania State Police, FBI, officers of the Pennsylvania Fish and Boat Commission, the Pennsylvania Game Commission, and local police, fire, and emergency medical services.
In order to build the obstacle course for the summer camp, which is staffed by state troopers, local police officers and volunteers, the Pennsylvania State Police (PSP) needed to find more than five dozen, 20-foot poles.
"We were banging our heads together as far as … who might be able to help us out as far as donations to get this obstacle course up and running," explains PSP Trooper Dan Sweeney. "By luck and chance, there are a few of our troopers who actually had some contacts … and they made contact with Mr. Rich Bauer. We explained to him what we needed and what we planned on doing and asked if it was something that Valley Rural Electric Cooperative (REC) would be able to help us out with."
When the PSP approached Bauer, president & CEO of Valley REC, they weren't looking for a donation. In fact, Sweeney was just hoping it would be possible to buy poles from Valley REC. The PSP, he says, were already prepared to take out a loan for the 62, 20-foot poles they needed. But Bauer had a different idea in mind.
"I put an email out to all the co-ops," Bauer recalls. "I had no hesitation from the other co-ops. We ended up getting … 68, 20-foot sections (of poles). Then I called McFarland Cascade, which is our statewide pole supplier, and I told them what the cause was and what was happening and ... McFarland Cascade agreed to donate their truck and pick up all the poles and deliver them to Mt. Aloysius for free. The State Police were ecstatic. They couldn't believe that we could supply that many poles and actually have them delivered."
Community effort
According to Tom Greene, director of pole sales for McFarland Cascade, the pole supplier shares another of the Rochdale Principles that is near and dear to cooperatives — "Concern for Community."
"We like to be part of the community, too," Greene explains. "We know the co-ops are really big on community support …, so we just felt it was a really good opportunity for us to help out as well. Since all of the co-ops were pulling together on it, it was the least we could do to help. We have two big manufacturing facilities in Pennsylvania and a big distribution yard up in Hazelton. Pennsylvania is a real big state for us, so we rely a lot on the State Police."
Sweeney anticipated the entire project would have cost about $50,000. With just donation of the poles — not including the transportation — from Huntingdon-based Valley REC, Somerset-based Somerset REC, Indiana-based REA Energy Cooperative and Gettysburg-based Adams Electric Cooperative (EC), the cooperatives saved the camp more than $20,000.
"It would have been such a financial burden on our end if we had had to pay for all that," Sweeney says. "We couldn't ask for anything better. We're a small organization — we've only been in existence for seven years, so funding is a big part of surviving. Finding out we weren't going to have to pay for the poles was outstanding… Our budget for the program is pretty tight. If it wasn't for that (donation), we'd probably have several more years down the road before that'd even come to fruition."
The request came at just the right time.
"We happened to be doing a good bit of construction and pole change-outs this time of year, so we had plenty to give," notes Mike Feathers, operations coordinator for Adams EC. "Generally, that bad portion of the pole is right at ground level, so usually anything above that point, you've still got 25 to 30 feet of good pole."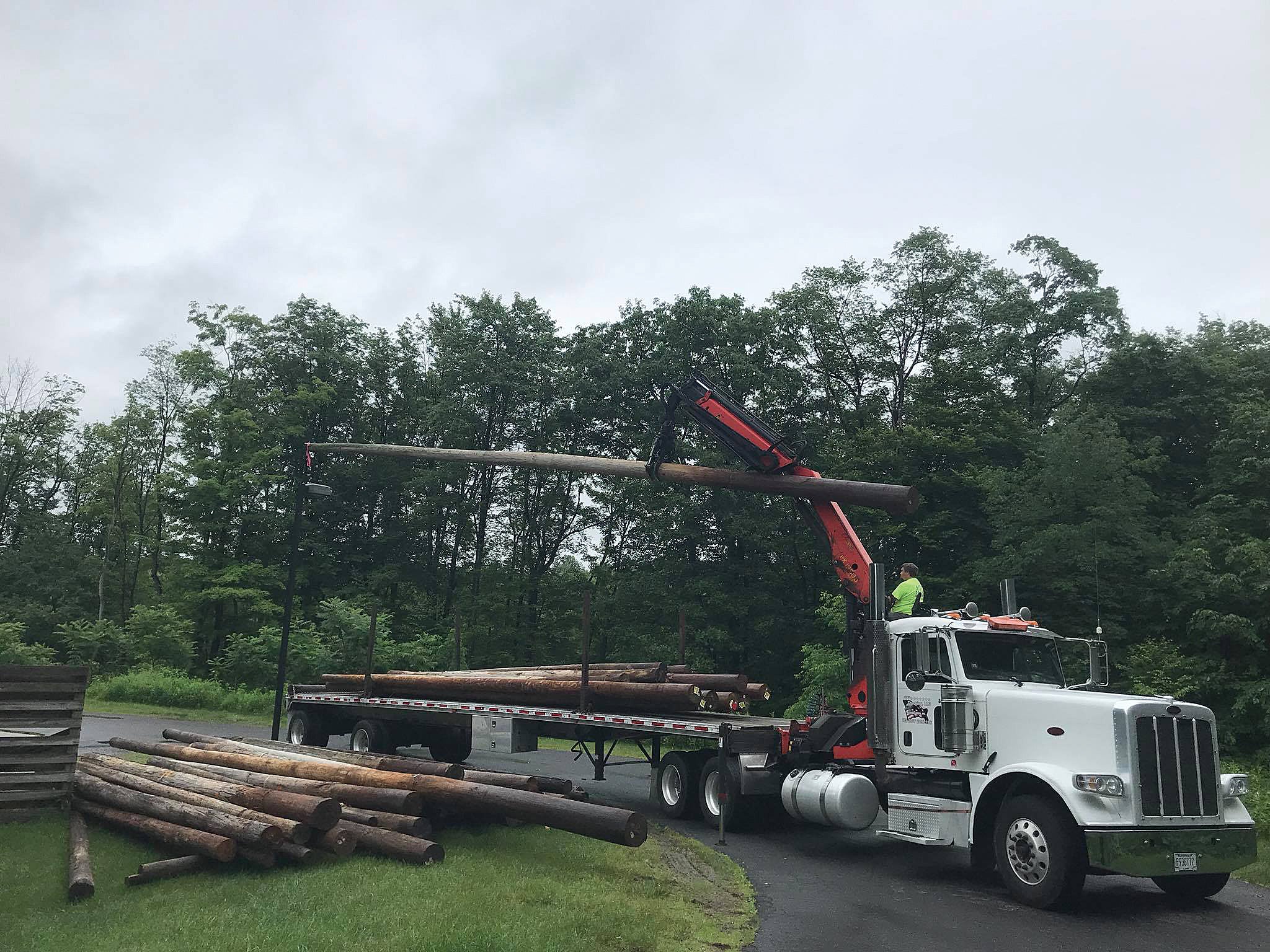 The obstacle course, currently under construction, should be ready for the next iteration of Camp Cadet in 2019.
"Supporting what Camp Cadet does and anything on the law enforcement front is obviously important to all of us," says Rus Ogburn, general manager of Somerset REC. "When Rich (Bauer) called about the project he was working on, we checked our inventory and we did not have many good-quality poles that would be suitable for donation. I checked with the board, and we decided to use escheats funding to buy four poles that could be used up there."
Escheats funding comes from unclaimed capital credits. Thanks to a change in the law, cooperatives can keep this money for local community efforts, instead of letting it revert back to the state treasury. The practice is in keeping with the cooperative principle of "concern for community."
"I think it worked out pretty well," says Ogburn. "Rich did a good job coordinating with the pole company on the delivery. We were happy to be part of that."
While Bauer explains he only reached out to cooperatives located close to the Mt. Aloysius site, he has no doubt that he would have received help from any of the other cooperatives across Pennsylvania had he asked.
"I only sent the request to the local cooperatives because it affected people in their service territories," Bauer explains. "I guarantee you if I had asked any of the other cooperatives across the state, they would have chipped in in a heartbeat, too."
Ogburn seconds the notion.
"Whenever cooperatives get together like that to do a project, I think it's important that we all support each other for those kinds of endeavors," he says. "I think we all benefit whenever we do that work together."
Just a call
Cooperation among cooperatives has never been limited to special projects, either.
"I frequently receive requests from other co-ops for items and I don't hesitate to make a request when REA Energy needs something," explains Bryon Roland, purchasing and facilities manager at REA Energy Cooperative. "Any time a co-op has an immediate need — anything from line construction materials to transformers, we're always happy to help when we can spare the items."
Help isn't limited to poles or the equipment that attaches to them, nor is it limited to just Pennsylvania.
"We have a sister cooperative in Costa Rica that needed a truck and we were not able to provide that truck," Ogburn recalls. "I asked across the state if anyone else had a truck available, and two different co-ops came back and said, 'Yes, we have them available.' Adams EC ultimately wound up donating the digger truck to the sister cooperative that we're partnered up with."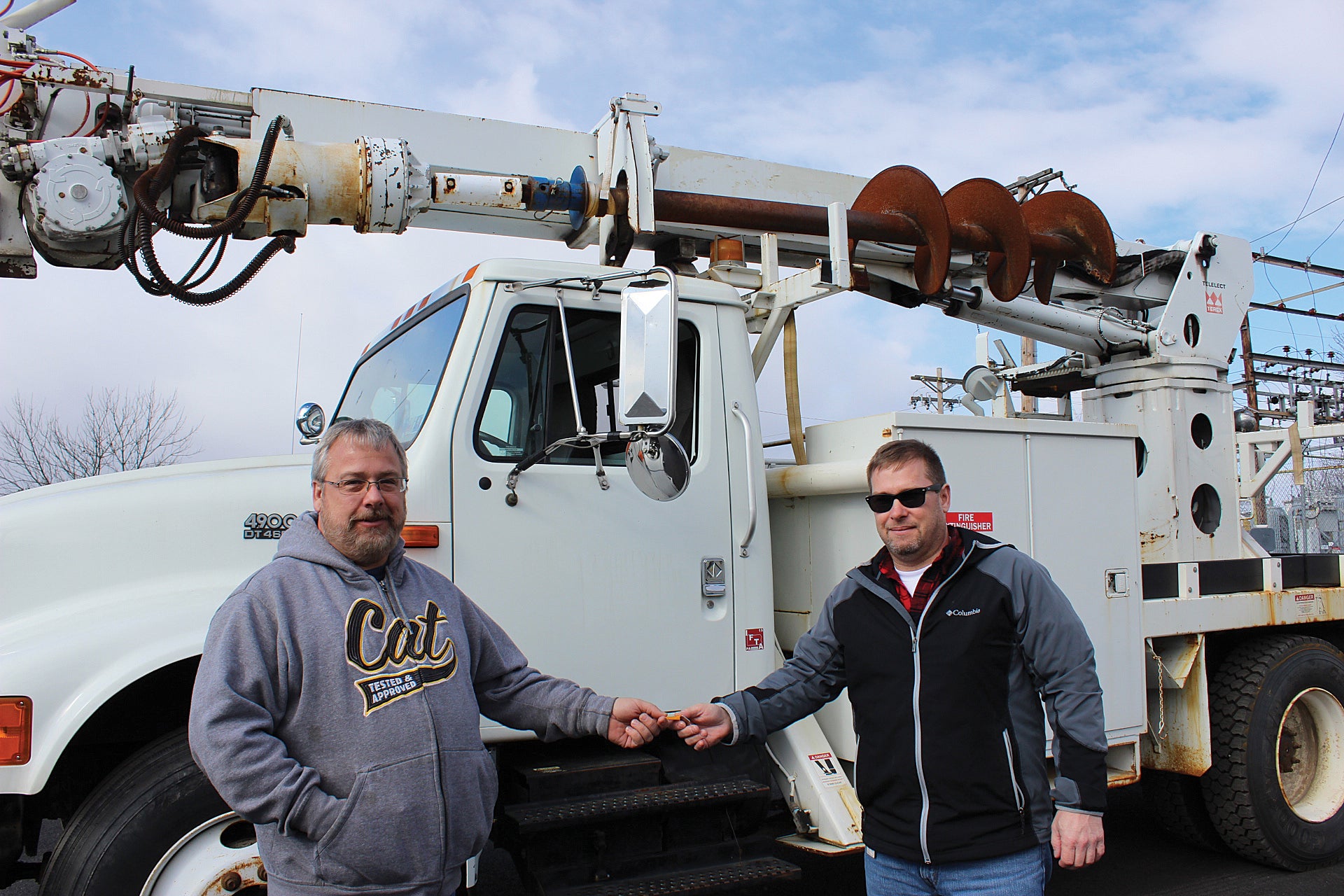 In addition to aiding their fellow cooperatives in state, Adams EC has donated additional trucks through the National Rural Electric Cooperative Association's (NRECA) international program.
"We pay for getting it (a truck) to a port, and then NRECA, through its international program, pays to have it shipped to Costa Rica where our sister co-op is," Feathers explains. "They'll put a little bit of money back into it — painting it, refurbishing everything — and use it for years. A year ago, we donated four pole trailers. We had more than we were needing at the time; they were more than 30 years old, still in good shape but we just didn't use them so we donated them to the international program. I believe those went to Haiti."
Whether in Pennsylvania or across the globe, people working together to make a difference is what being a cooperative is all about.
(EDITOR'S NOTE: Along with cooperatives across the nation, Pennsylvania's 13 electric cooperatives are celebrating National Cooperative Month in October.)