From the Farm Show
Cooperative Members,

Farm Bill Take Center Stage
By Michael T. Crawford
Senior Editor
MORE THAN 80 YEARS HAVE passed since rural Pennsylvanians rallied together to change their world for the better, pooling their funds, labor and voices to turn the lights on across a rugged terrain that electric companies at the time saw no value in serving.
The life-changing, historic nature of rural electrification, along with the emergence of community-based electric cooperatives, can make it easy to overlook that those who brought light to much of the Keystone State were ordinary people from a wide variety of backgrounds. Farmers were among them.
Ever since, there's been a strong bond between the agriculture industry and the Commonwealth's rural electric cooperatives — a vital partnership that's on display at the Pennsylvania Farm Show each January. Many cooperative members and leaders continued to keep family-rooted traditions alive by playing a prominent role at the 2023 industry showcase in Harrisburg, which for 107 years has highlighted the best that Pennsylvania's ag community has to offer.
Among them were Ryan and Amber Senft, members of Huntingdon-based Valley Rural Electric Cooperative (REC). The couple's Three Springs-based farm, established in 1917, was among eight to be recognized as a "Century Farm," an honor that means the property has been owned by the same family for at least 100 consecutive years. Agriculture in Pennsylvania is a $132.5 billion industry.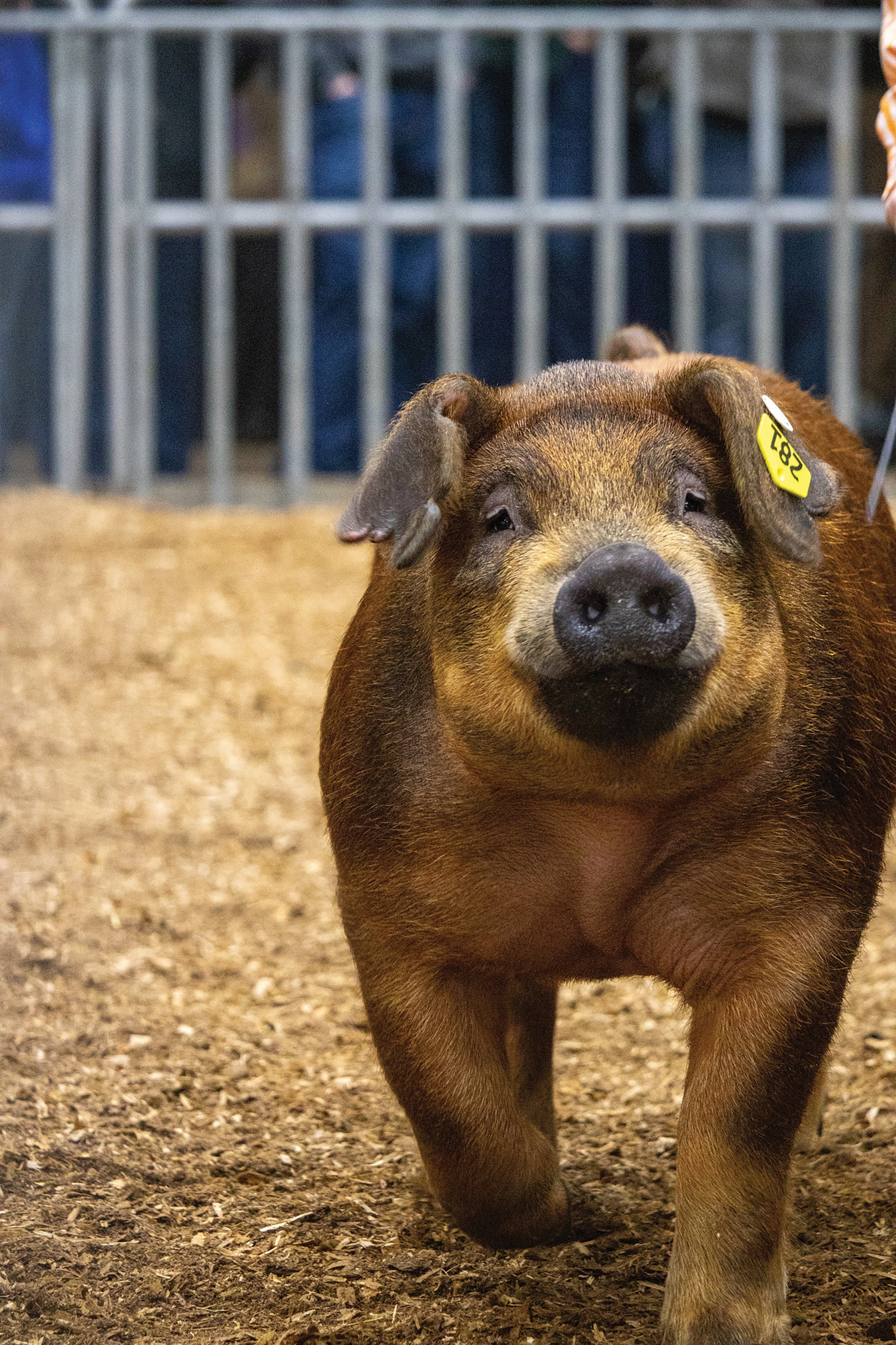 WHAT AN ANIMAL: Pigs, cattle, horses, bunnies, goats and more are always part of the Farm Show festivities.
 
"These families are the bedrock of Pennsylvania's agricultural heritage," said state Department of Agriculture Secretary Russell Redding, a member of Gettysburg-based Adams Electric Cooperative who has been nominated for a third consecutive term by recently inaugurated Gov. Josh Shapiro.
"They have kept their land and precious farming resources in the family, feeding the progress and productivity of future generations," he added. "They embody this year's Farm Show theme — 'rooted in progress.' "
The department kicked off the Farm Show with its annual PA Preferred Reception, featuring food and beverages grown and produced in the state. The Pennsylvania Rural Electric Association, the statewide voice for 13 rural electric cooperatives in the Commonwealth and one in New Jersey, sponsored the event.
"This year's Farm Show and its theme perfectly capture the spirit of our industry … while also staying true to our roots and the values that have sustained us for generations," Redding said at the reception. "It's an opportunity to come together and showcase the vital role that agriculture plays in our state and our nation."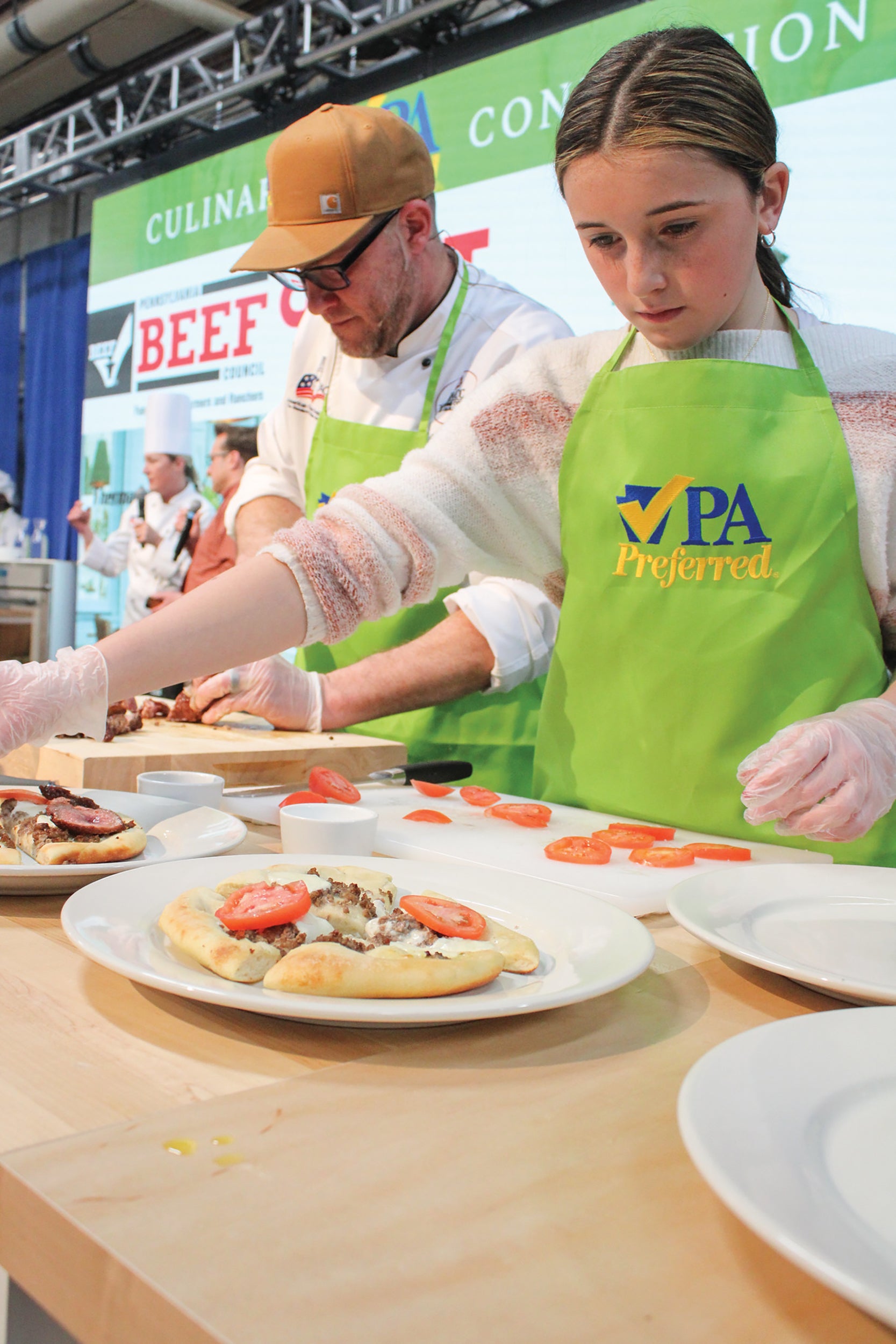 YOUNG CHEF: Landry Hockenberry, right, prepares food during The Beef Showdown: Kids Edition at the Pennsylvania Farm Show.
 
Fresh food
Bedford REC member Mandisa Horn, owner and executive chef of Horn O'Plenty in Bedford, reprised her role as a chef on the Culinary Connection Stage, sharing her recipe for Sweet Potato Coconut Curry Pie. And at the Public Officials Day luncheon, Mansfield-based Tri-County REC members Stephanie and Hayley Painter, fourth-generation dairy farmers, spoke on their journey to co-found their own Icelandic-style yogurt company, Painterland Sisters Organic Yogurt.
"It was a great experience — it always is," Horn said of her time on stage. "There was a bigger turnout this year than last year — probably because COVID-19[kept people away last year] — and it was super populated and high energy. There were lots of people who were engaged and excited to take part."
During COVID-19, the nation began to see the food, building materials and energy resources produced by Pennsylvania agriculture, as well as the people who produce them, as essential to modern life, explained U.S. Rep. Glenn "GT" Thompson (R-15th) during his remarks at the Farm Show's ribbon-cutting event.
"I couldn't be prouder of this industry, and I couldn't be prouder of Pennsylvania agriculture and this Farm Show," Thompson said. "It's a showcase for our No. 1 industry here in Pennsylvania — one out of every seven jobs directly or indirectly relates to agriculture — and it's quite honestly the No. 1 industry in the lives of every American family."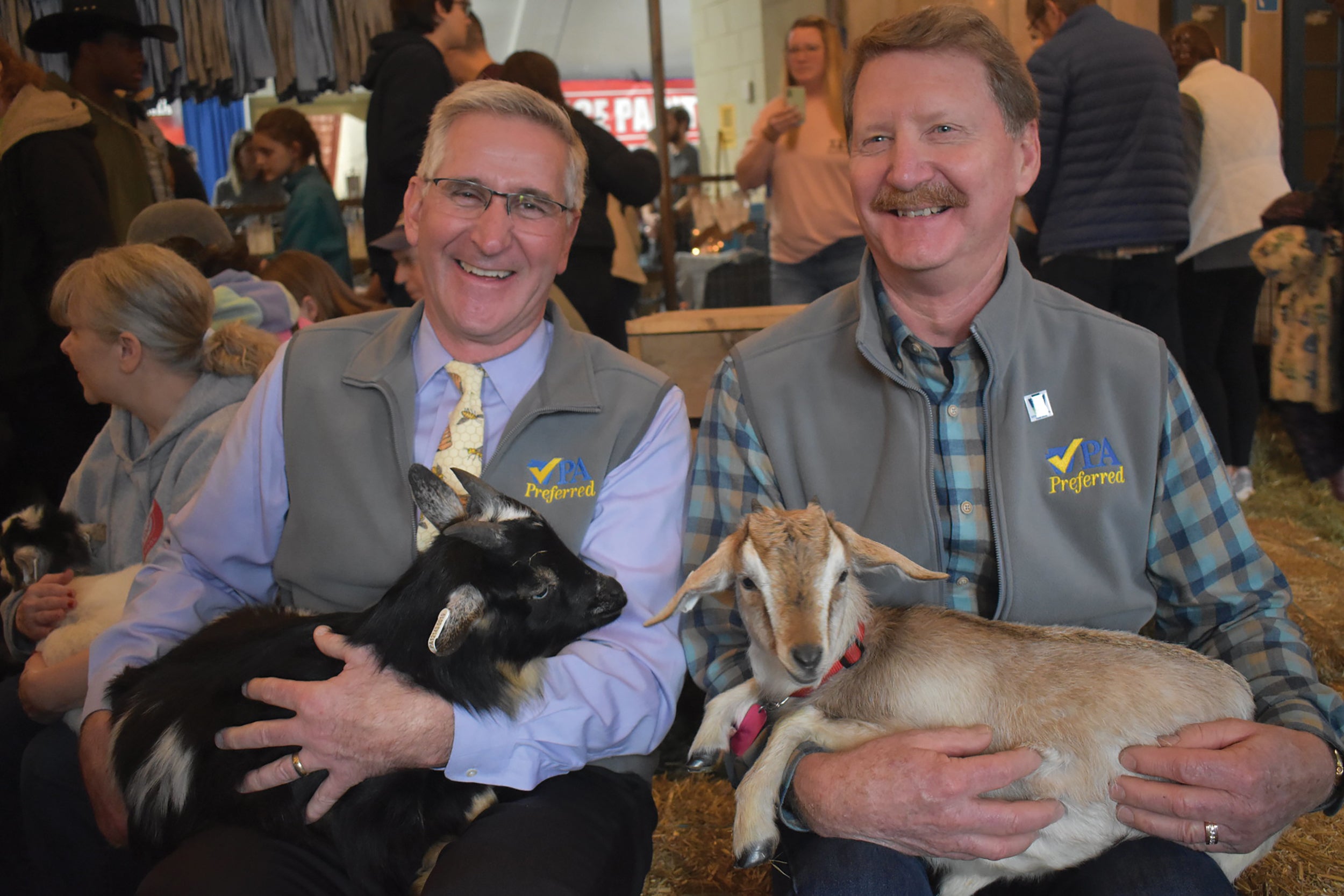 GOAT SNUGGLING: State Secretary of Agriculture Russel Redding and state Sen. Elder A. Vogel Jr. (R-Beaver) enjoy "goat snuggling," a new experience at this year's Farm Show. (Photo courtesy of Pa. Dept. of Agriculture)
 
National importance
This year's show brought its theme of progress to the national level. Just hours after wrapping up a drawn-out election for U.S. Speaker of the House and hours before the official Farm Show start, Thompson was sworn in as chairman of the U.S. House Committee on Agriculture.
It was a historic moment, marking the first time a representative from Pennsylvania has held the title since 1855.
Thompson, a strong supporter of rural electric cooperatives, began his tenure by hosting a listening session at the Farm Show about the upcoming federal Farm Bill. Fellow U.S. House members, representing agriculture-heavy states such as California, Georgia, Illinois, Maine, Missouri and Wisconsin, also participated.
Twenty people — representing a wide variety of farmers and leaders from other agencies — testified on the potential rural America can still realize with the bill's targeted financial assistance. Aaron Young — co-CEO of Tri-County REC and Tri-Co Connections, a fiber-to-the-home broadband internet provider powered by the cooperative — discussed how the deployment of broadband infrastructure to rural communities is critical for the future development of the nation.
"The story of broadband in rural America today is similar to the story of rural electrification back in the 1930s," Young explained. "Rural areas are hard to reach and expensive to serve. ... Without high-speed internet, people move elsewhere."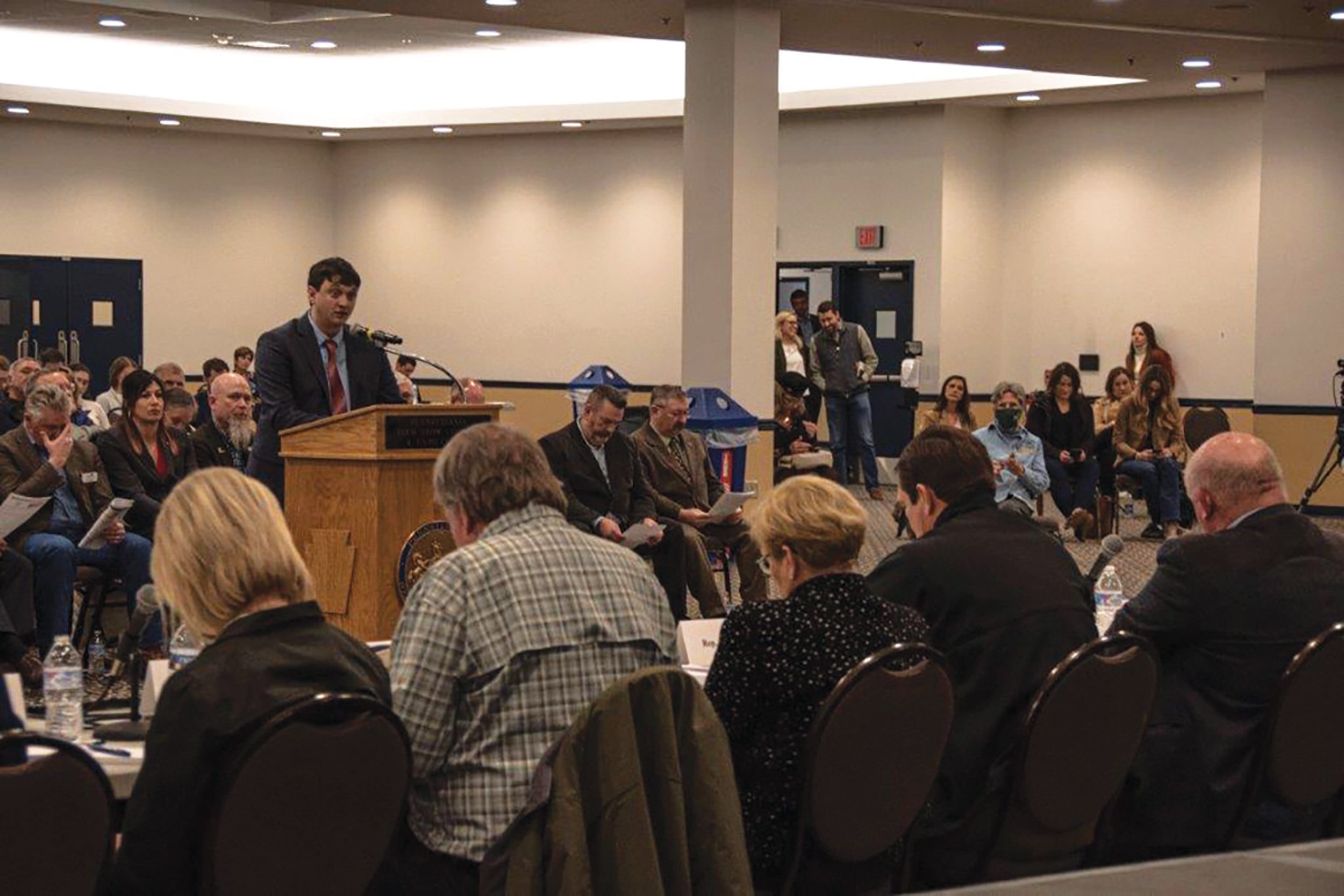 FARM BILL LISTENING SESSION: Tri-County REC President & Co-CEO Aaron Young speaks about the importance of broadband infrastructure funding before a panel of lawmakers during a listening session at the Farm Show.
 
The Farm Bill also provides tools for electric cooperatives to deliver affordable, reliable electric service to rural America and to foster its economic development. This support includes U.S. Department of Agriculture programs, such as the Rural Utilities Service Electric Loan Program, the Rural Economic Development Loan & Grant Program, the Rural Energy Savings Program, and the Rural Energy for America Program.
"The Farm Bill provides an opportunity to continue to support lasting, scalable, 'future-proof' broadband network deployment in rural areas," Young said. "To connect every rural home, business, and community with reliable internet service, federal support programs should prioritize technologies and speeds that can meet the needs of today as well as tomorrow."
Following Young's testimony, Thompson congratulated Tri-County REC on what it had accomplished in its 5,000-square-mile territory, acknowledging the challenges of bringing critical infrastructure to a rugged region.
"What you've done proves that with the right resources, we can bridge this digital divide," he said.
While the listening session wasn't official — the Agriculture Committee had yet to be named when the session occurred Jan. 13 — Thompson said he was encouraged by the turnout, urging those in attendance to continue to be vocal with what they want to see in the 2023 Farm Bill.
"We heard today about crop insurance, workforce and innovation," Thompson said. "We need all of you at the table for 2023. You don't want us writing this Farm Bill just listening to the voices inside the Beltway. We need your voices."
Doughnuts, Milkshakes and Mushrooms, Oh My!
What, exactly, goes into the success of a weeklong tribute to the Commonwealth's No. 1 industry? That's a long list — perhaps even a list of long lists, you might say. In fact, the state Department of Agriculture crunched some of the sales data and produced such a list, and one thing is certain: Food definitely draws a crowd.
Here are some of the more savory data points:
When life hands you 13,000 lemons, you do like the Pennsylvania FFA Foundation and make lemonade — and serve 20,000 slices of pizza while you're at it.
Members of the state Beekeepers Association were very busy worker bees indeed, serving 515 gallons of honey ice cream.
About two-thirds of white button mushrooms consumed in the United States come from Pennsylvania, according to Penn State Extension. A pound of the things equals about five cups — can you imagine selling 8,645 pounds of mushrooms? That's what the Mushroom Farmers of Pennsylvania did.
Anytime of day is a good time for a doughnut, right? The Pennsylvania Co-Operative Potato Growers whipped up 18,000 pounds of doughnut mix, and the Horticultural Association of Pennsylvania served up about 54,000 cider doughnuts.
Farm Show attendees really like dairy, so much so, the PA Dairymen's Association churned through 18,580 gallons of milkshakes, 8,200 pounds of mozzarella for cheese cubes, and 324 pounds of butter, 1,200 loaves of bread, and 320 pounds of cheese slices to make grilled cheese sandwiches.
Pennsylvanians also really like to fry things. The Pennsylvania Vegetable Growers Association reports it dished out more than 5,600 blooming onions, 7,500 servings of batter-dipped vegetables, 3,000 corn dogs, 1,200 corn nuggets, 2,000 of fried pickles and 3,300 funnel cakes.
It's important to note volunteers also contribute to the Farm Show's success. Each year, hundreds of Pennsylvanians contribute thousands of hours serving food, staffing exhibits and educating visitors about the agriculture industry.