Electric collection
Cooperatives keep communities, power flowing
By Jessica Delfino
Penn Lines Contributor
Once a workhorse of the electric transmission, railroad and communications (telegraph and telephone) industries, vintage glass insulators are today found more often in an antique shop or a collector's home than on a pole.
An insulator is a safety device — a material that prevents the flow of electric current to ground or other conductors. Through the years, the insulators used in electric transmission applications have transitioned from glass to porcelain to polymer (a type of plastic) as new technology, economics and availability changed.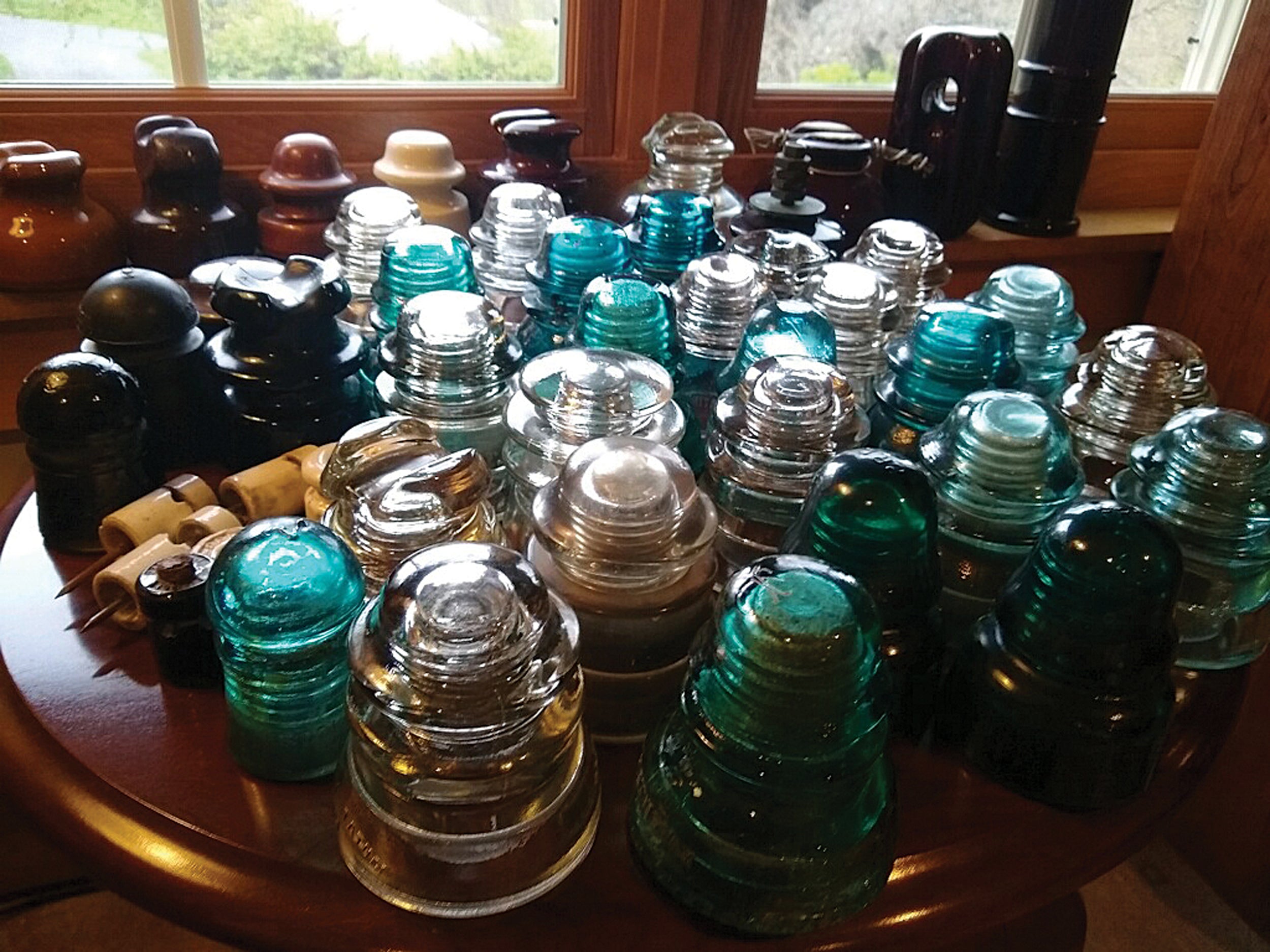 HARTING COLLECTION: Sullivan County REC CEO Craig Harting's collection of vintage insulators includes a wide variety of different styles and colors. (Photo courtesy of Craig Harting)
"Early electric distribution networks weren't super high-voltage, so smaller glass insulators could be used on electric lines as well as telegraph and telephone lines," explains Craig Harting, CEO of Forksville-based Sullivan County Rural Electric Cooperative (REC) and a collector of vintage insulators. "As voltages increased on power lines, then insulators needed to change, too, as the insulators needed to get bigger when the voltages went up."
Harting says the cooperative's system now includes a few of the old glass insulators but most are porcelain; however, as those insulators need to be replaced on the higher-voltage lines, the cooperative is switching to polymer, a lighter material that doesn't chip or crack.
Early history
The history of the popular vintage glass and porcelain insulators, now prized by antique collectors, began in the mid-1800s with the construction of the first telegraph lines that relied on low-voltage electric current to transmit messages across the country. Insulators in an assortment of shapes, colors and sizes followed as the industry grew.
In America and across Canada, glass was primarily used in the early days, whereas in the United Kingdom, ceramics were the material of choice, and at least one company made them using stoneware. The insulators were threadless, shaped like a "bureau knob," and held in place using at first, nothing, and later, tar as glue. Some early models had wooden caps over them. Online searches bring up some fascinating examples, but most of these early samples are hard to come by. Today, such links to the past that are both utilitarian and beautiful are often spotted at flea markets or antique shops.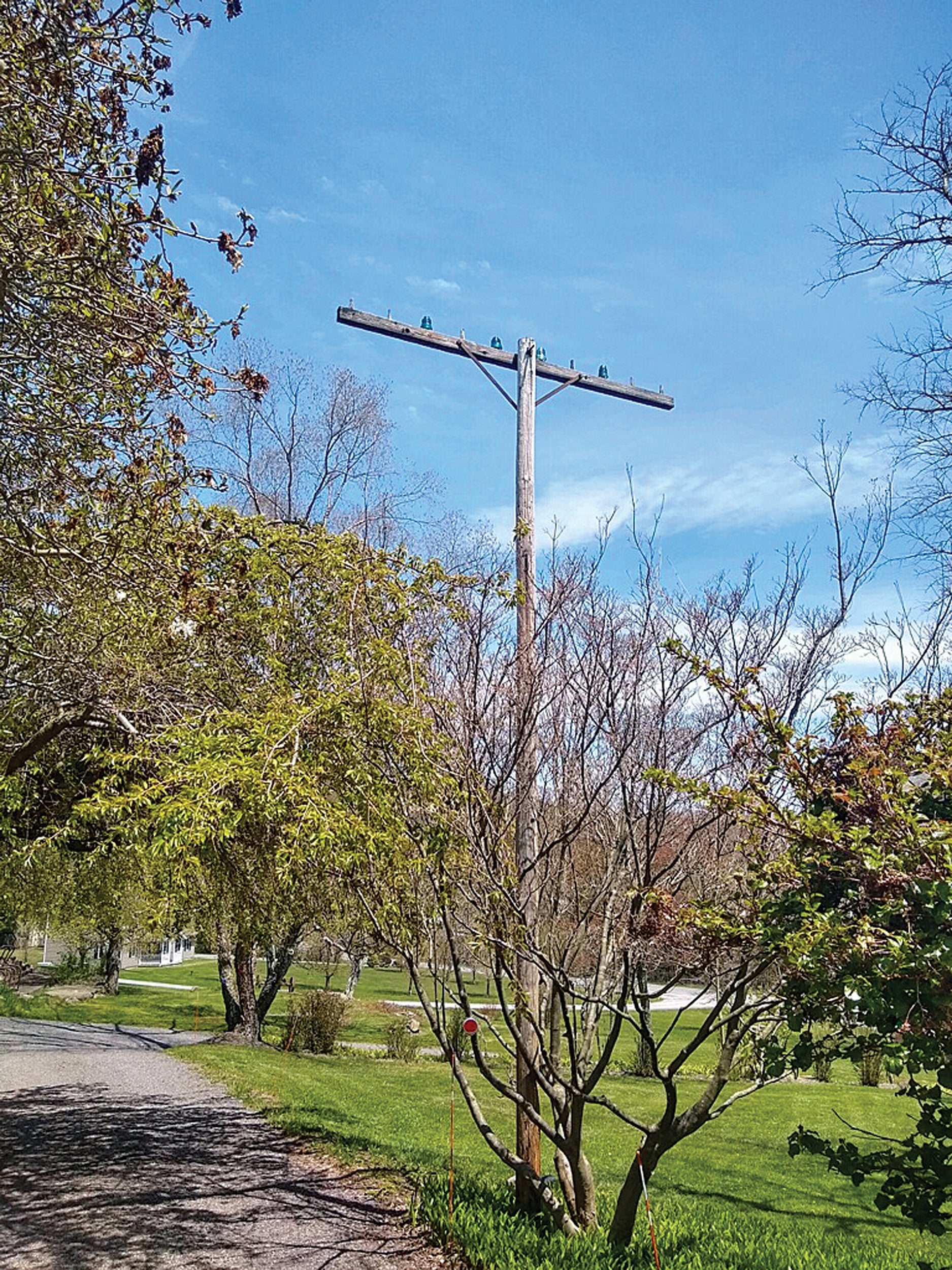 STILL IN USE: Some of the vintage glass insulators are still in use across the Commonwealth. (Photo courtesy of Sullivan County REC)
With any luck, the insulators were destined to spend their lives atop crossarms, sparkling like beacons in the morning sun. However, non-threaded insulators weren't able to stay on their perches very well, especially in wet weather, and would often need to be manually reset onto their tapered wooden poles. In 1865, Louis A. Cauvet came up with a solution, and was awarded a patent to produce threaded pinhole insulators, which became very popular.
Today, collectors of vintage insulators cut across all ages and interests, but many of the original collectors were lineworkers. When they were assigned to replace the aging glass insulators, some workers would keep the attractive ones that were made in a wide variety of colors and styles in their early days: aqua blue, cobalt blue, yellow, red, green, and even purple. One rare batch had an accidental splash of color mixed into the clear glass, as if someone had captured a puff of dyed smoke inside the mold during the production process. In taking the rescued tokens home and sharing them with friends and family, the attraction to these old devices caught on and spread. It continues to this day.
Harting says his lifelong fascination with electricity began when a sewing machine motor hooked up to a fuse box from his grandfather gave the youngster a shock. As a teenager, Harting walked the railroad tracks, picked up a few blue-green glass insulators that were used in railroad switches and has been adding to his collection ever since.
"I've got purples and browns; they're more rare," Harting says. "The clear ones and aqua blue ones are more common."
Harting is one of those people who began their collection intentionally, but it appears collecting vintage insulators is a habit that many fall into accidentally, or by some lucky mistake.
Diane White, an executive assistant at Sullivan County Rural Cooperative, began collecting vintage insulators when lineworkers brought some old ones they had replaced into the office one day.
"I thought, 'They're pretty cool,' so I started looking on eBay and did some bidding, and saw the different styles and colors," White says. "I became obsessed with collecting."
The hobby isn't only fun, it's educational.
"When I started collecting, I was new to the electric co-op, so I got to learn about what insulators do and how they work," White says. "I now teach electric safety for first-graders in the local elementary school."
One year at the Sullivan County REC Annual Meeting, attendees were surprised to be treated to free, vintage glass insulators.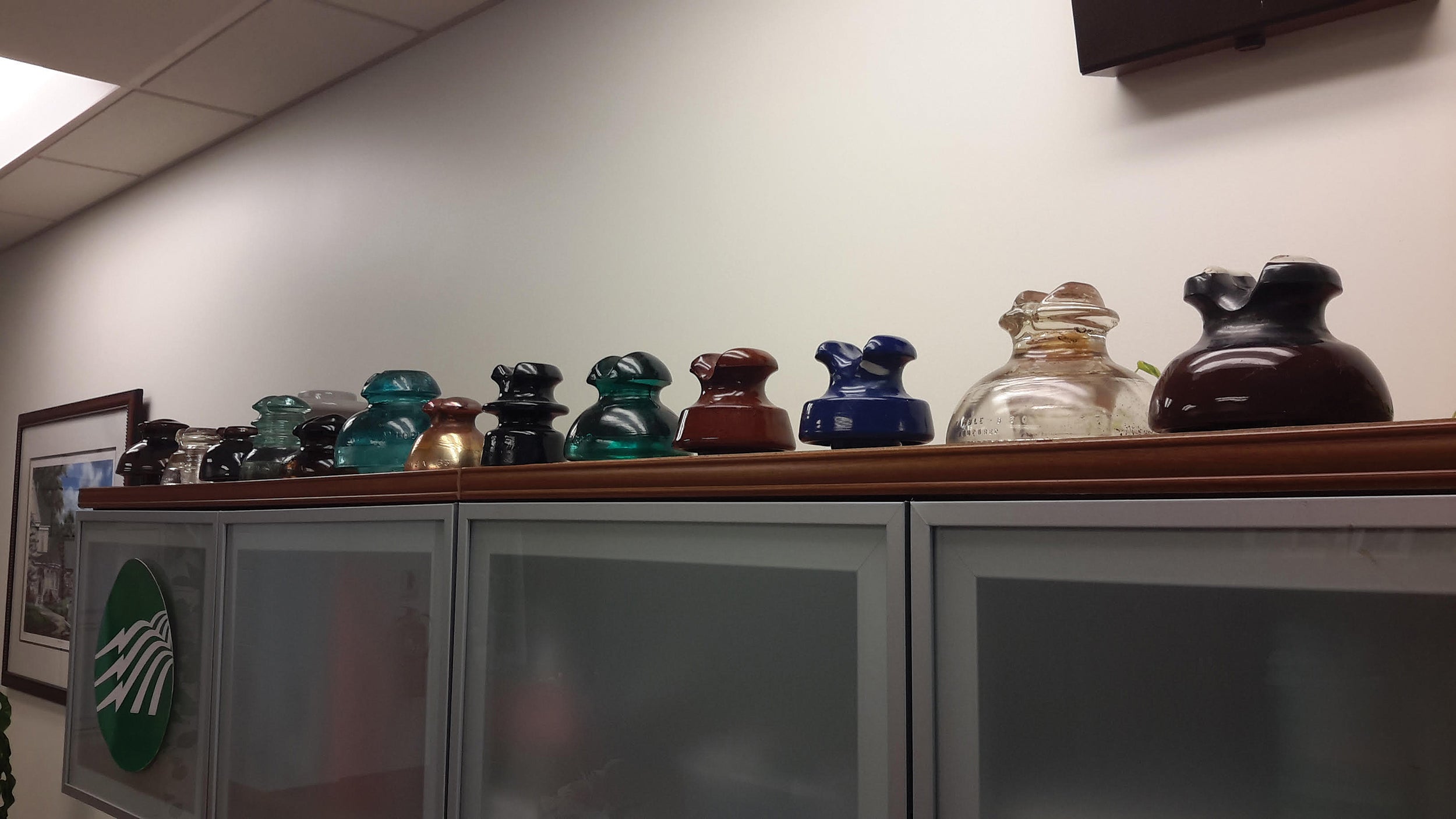 WHITE COLLECTION: Diane White, executive assistant at Sullivan County REC, collects vintage insulators, a hobby she began shortly after she started to work at the cooperative. (Photo courtesy of Diane White)
"We took a bunch of the older, clear, beautiful glass insulators down," Harting says. "I said to the linemen, 'Some of the members might like these.' The linemen were grumbling among themselves as they trucked these 100 or so pieces over to the meeting, wondering how many they would have to take back. But people grabbed handfuls and armfuls of the insulators, and then we got complaints that some people didn't get one. We sent linemen out to get more to share."
The moral of that story? Collectors would do well to make friends with some lineworkers.
Chance discovery
When disposing of the glass insulators through the years, it was often reported that lineworkers would dig holes and toss them into the ground. Hence, many of the oldest and rarest pole toppers have been covered by dirt for nearly a century. Those are discovered only by chance, or by the ultra-ambitious collector who does dutiful research and sets out on a recovery mission, shovel in hand with which to unearth them. It's not an uncommon way for a true collector to spend a sunny afternoon.
Luckily, Carissa Yohn, a collector married to Zach Yohn, an electrician at Valley Rural Energy Services, a subsidiary of Huntingdon-based Valley REC, didn't have to go to that much trouble. She owns some vintage insulators collected by her grandfather, Jacob Herline.
"A majority of his collection started early on when he found them buried in the ground throughout their home place in Manns Choice," she explains.
After Herline's children were born, he began collecting insulators made in their birth years or other dates that were special to him. Yohn selected a portion of her grandfather's collection when given an opportunity to take some of her grandparents' belongings.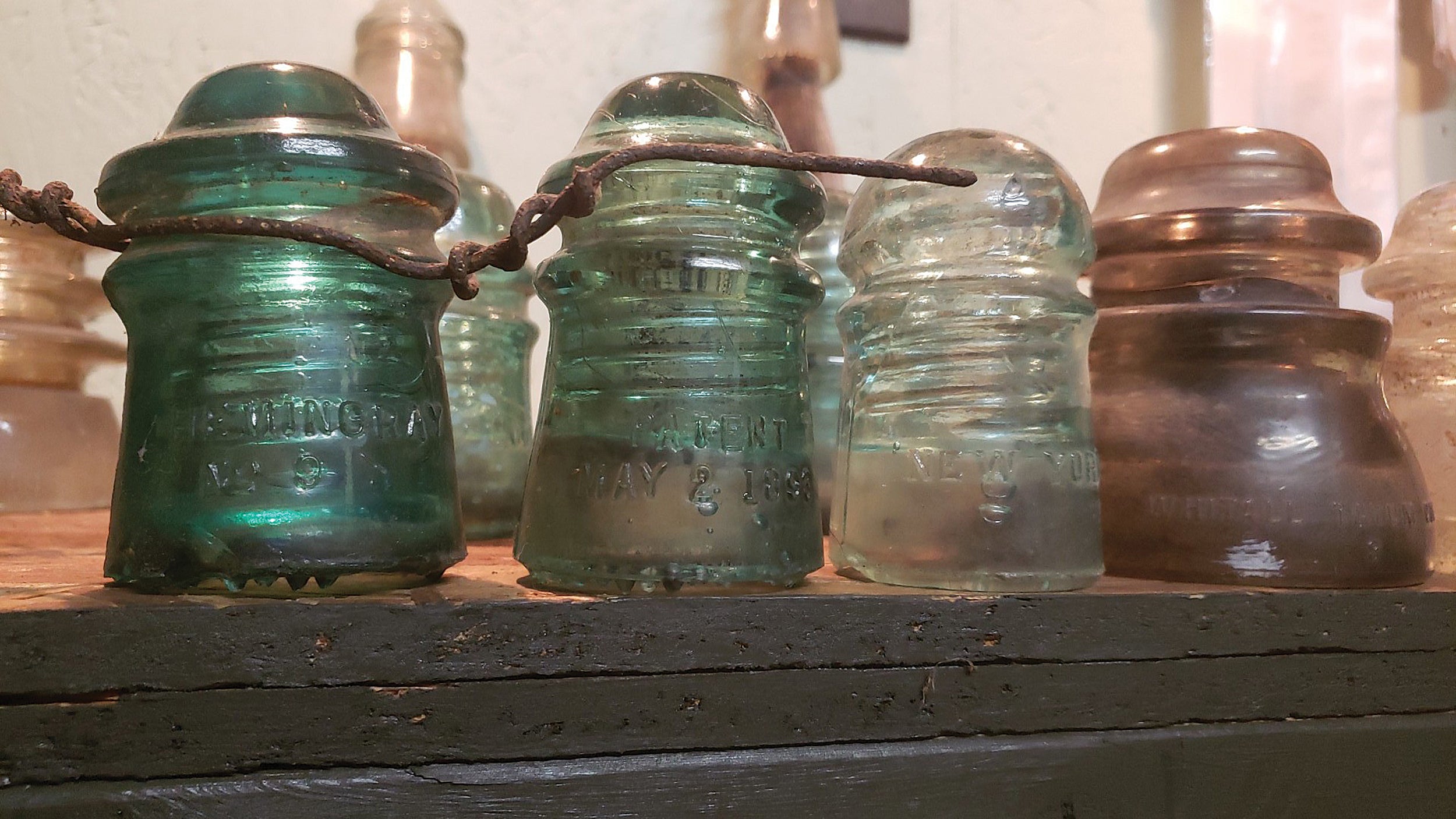 YOHN COLLECTION: Carissa Yohn, wife of Zach Yohn, an employee of Valley Rural Energy Services, a subsidiary of Valley REC, considers her collection of vintage insulators, above, to be very valuable as she inherited them from her grandfather, Jacob Herline. (Photo courtesy of Carissa Yohn)
"The grandchildren were allowed to take what we wanted and those insulators stuck out to me — the bright colors and just the importance they had to my grandfather made me want to keep them," she says. "It's amazing to me how beautiful they truly are. Something that you'd think would be so delicate is actually so strong."
The purpose of the range of colors used in the vintage glass insulators is a mystery. One assumption is that several companies shared poles, so they would color code the glass. Another is that the glass factories that made the insulators would use whatever color glass they happened to have on hand after completing another project. Still another is that the colors have no meaning whatsoever.
Hemingray, a company that made many glassware products, is well-known for having made millions of insulators. The Hemingray 42, an aqua-colored telegraph pin insulator introduced in 1921 and discontinued in the 1960s, is one of the most widely found glass insulators in America. Some are still located atop ancient, often bowing, wooden poles along remote rural stretches. Hemingray said the design helped condensation more easily roll off that particular style thanks to "drip points," or small dots of rounded glass along the insulator's bottom ridge, but historians surmise that was just a nice-sounding line used to sell their products, and with great results. Though these deep sea green models are radiant, in most cases, their commonality negatively affects their value. However, flat-bottomed 42s lacking in drip points or 42s in an unusual color can still fetch a high price in the right market.
Serious collectors
Most insulators have nicknames that collectors use to identify them. They tend to reflect what the insulators resemble, and include "hoopskirt," "Mickey Mouse," which has a top that resembles two mouse ears, "Beehive" and "Pony," among others. The term "petticoat" is used to describe the bell shape of many insulators, and some are termed "double petticoat" for an appearance of two skirts, one atop the other. In addition to nicknames, a series of numbers are used to identify them — a combination of systems created by collectors and manufacturers, albeit separately concocted. The aforementioned Hemingray 42 has the number CD (or consolidated design) 154, which was assigned by collectors, but the style number, 42, was assigned by Hemingray. Though this style is common, their prices range from $4 to $100 in online auctions.
Some items are much more difficult to come by, such as the earliest mid-1800s telegraph insulator models.
The National Insulator Association (NIA) started in 1973 with the purpose of encouraging telephone, telegraph and power insulator collecting. At their shows, people can trade or buy new pieces for their collections, learn about the hobby, share stories and photos, or find out more about the history of insulators. According to their website, the group has more than 9,000 members worldwide. It was around the time that the NIA was founded that amassing these relics privately began to gain widespread momentum. Countless local collector groups were started, some of which are still in operation today, and many books and websites were written discussing in deep detail the different types, colors, and materials used.
In addition to telegraph, telephone, and power insulators, people additionally collect glass insulators from electric fences, lightning rod insulators, and radio insulators, among others. Each has its own unique set of qualities and appeal.
Whether the collector's fancy is electricity, glass, the assortment of dramatic colors, the design elements, the history associated with the objects or something more personal, it's a hobby that simply seems to have something for everyone.