Body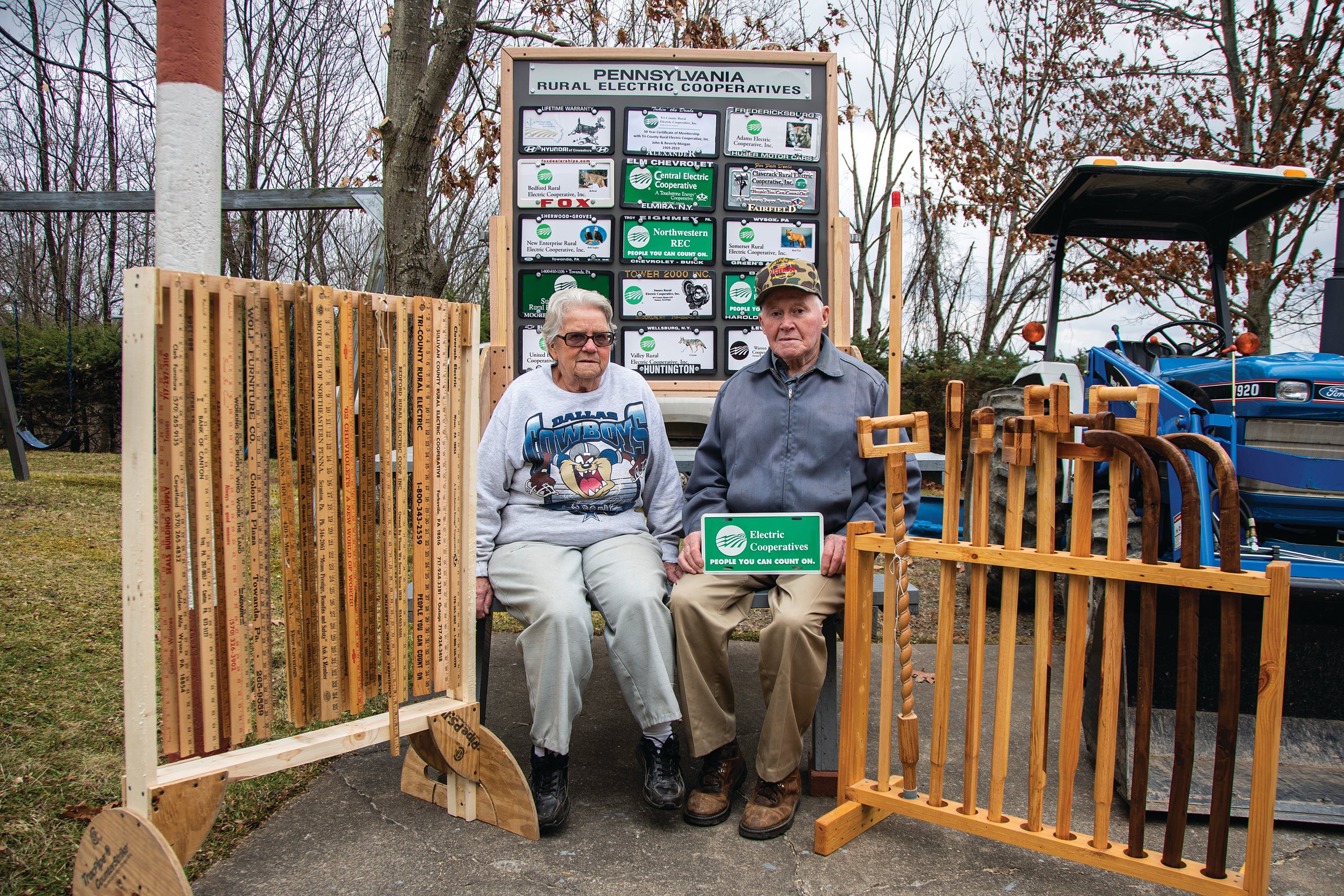 COOPERATIVE COLLECTION: Tri-County REC members John and Beverly Morgan sit outside their home in Ulster, Pa., with a collection of rural electric cooperative license plates and yardsticks, as well as a collection of walking sticks John has hand crafted.
On the hunt
Collector seeks cooperative keepsakes
By Michael T. Crawford
Associate Editor
 

Much like the phrase "a picture is worth a thousand words," our minds can capture and recall nearly immeasurable data in the blink of an eye. Something as visually unremarkable as a pair of socks can become a doorway to a detail-rich memory of adventures long since passed. Perhaps it's no wonder, then, that so many people collect something.

John Morgan, a member of Mansfield-based Tri-County Rural Electric Cooperative (REC), keeps very little in and around his home that doesn't have such memories attached to it. And it just so happens that several of his memories are related to rural electric cooperatives. More about that later, but first, the scene needs to be set.

The fenced-in area by the Morgans' shed — they raised chickens there. The land it was built on — they bought it when it was farmland and grew apple trees. The house now sitting upon that same land — they rebuilt it from the ground up. The walls inside — lined with antlers of deer hunted by his family. The fine details of each antler, wall and piece of land, in many cases, are all that remain of his once-prolific family.

"I'm from a large family, and so is my wife," Morgan explains. "There were 16 children in my wife's family, and there were 15 children in my mother and father's family … nine boys, six girls, and there's just (three) of us left: my brother lives in Alabama and my sister lives in Hillsgrove (Pa.)."

Everywhere Morgan looks, he can recall tales from his past and those of his loved ones. Inside his home and out, Morgan, a Vietnam-era Marine, has adorned his corner of the world with a collection of memories — not just with landmarks or centerpieces, but with smaller, more tangible collectibles — train whistles and walking sticks he hand crafted, animal figurines, even pairs of socks made in the United States (a rare find anymore, he says) from a friendly podiatrist.

"I've been collecting since I was a kid, I guess," he says with a smile. "It's kind of entertaining. Our TV hasn't been on, I would say, in the last three years. I've enjoyed collecting several things over my lifetime. Some I've frittered away." 

 
Among the collections that he hasn't frittered away is one that began in his youth. Inside his detached garage, Morgan keeps a collection of every license plate from across the United States, plus the Virgin Islands.
"I've had a few license plates all my life when people would trade their vehicles in and they'd give them to me," Morgan says. "We've had most of these for 40 years. We put them in the order that they were annexed. The nicest plate that I'm most proud of is from Alaska — it has a picture of an Alaskan brown bear on it. We were there in 2000."
Cooperative connection
Complementing that coast-to-coast collection is a special set of 15 license plates from Pennsylvania and New Jersey. No, they aren't different state plates throughout the ages (but he has those, too); they're plates from each of Pennsylvania's 13 electric cooperatives, plus one from New Jersey and another from the Pennsylvania Rural Electric Association (PREA), the cooperatives' statewide trade association based in Harrisburg, Pa.
"It started with a conversation he had with someone from Tri-County," explains Morgan's son, Nathan, a Tri-County REC member. "They basically told him that it would be impossible to get them — that was a challenge, and he went from there."
The cooperative license plate originated from a push in the 1990s by the National Rural Electric Cooperative Association to modernize the rural electric cooperative brand, explains Craig Harting, CEO of Forksville-based Sullivan County REC.
"There was a coordinated effort to do it," Harting recalls. "PREA put together a campaign to buy license plates for all the co-ops, if you wanted to. PREA did the original green version, and ours only said 'Rural Electric Co-op' because that's all that would fit on it."
As an optional, one-run promotion, finding an authentic plate from each cooperative proved difficult. As far as Morgan knew, it might even be impossible — no one was sure if a license plate even existed for each cooperative. Faced with the prospect of having a collection that might appear incomplete to one ignorant of the cooperative license plate origin story, Morgan worked with a local artist to craft plates for the cooperatives he couldn't track down. But there's more to it than just the appearance of a full collection.
Rural electric cooperatives have been part of Morgan's life for as long as he can remember. When he married his wife, Beverly, in 1955, they were members of Wysox-based Claverack REC. As is often the case, it wasn't long before Morgan had to move where work led him. Coincidentally, it led him to Sullivan County, where he and his wife became members of Sullivan County REC in 1957. Finally, in 1969, Morgan and his wife moved to their home in Ulster, Pa., where they became Tri-County REC members.

CERTIFIED COOPERATIVE: Tri-County REC member John Morgan, a former member of Sullivan County REC, shows off a certificate of membership from Claverack REC where he and his wife, Beverly, were consumer-members from 1955-1957.
Keep collecting
In his quest to complete his collection, Morgan came upon another cooperative collectible he had to have: cooperative yardsticks.
"I've had one for approximately 30 years," Morgan says. "The first electric cooperative that I got was from Claverack at one of (state Rep.) Tina Pickett's (R-Bradford) expos. I've always been kind of partial to that yardstick — it still looks the same as it did the day we got it. I just thought it'd be nice to … get all of them."
In addition to Claverack REC, Morgan has secured a cooperative yardstick from Sullivan County REC, Tri-County REC, Bedford REC and PREA. But like the license plates, the yardsticks were an idea for a promotional item that was adopted by some, but not all. And as with the plates, leaving his collection incomplete didn't sit well with him.
"I went to Lowe's and purchased a few extra yardsticks for just under a dollar," Morgan says. "I can drill a hole in the one end and the guy (at Lowe's) can paint the backs and put the co-op name on them afterwards. … It's refreshing; I'm very pleased to get it completed."
While content with the replicas, Morgan admits he still hopes to receive a letter one day telling him someone has found the real thing. In the meantime, his collections have quite the story to tell.