Special Spots
Historical markers highlight Pennsylvania's past
By Kathy Hackleman
No one could say Pennsylvania lacks connections to history or historical figures.
Some people learn more about these events and people through snippets of information found online, while others study hefty educational tomes for background information. But an easy, accessible way to learn more about Pennsylvania's historical people, places and events is to take a few minutes to read the historical
markers placed throughout the Commonwealth's 67 counties.
The first historical marker was approved in 1914 at Fort McCord in Franklin County, back when the program was operated by the state Pennsylvania Historical Commission. Since 1946, when it took over the program, the Pennsylvania Historical and Museum Commission (PHMC) has assisted with the installation of more than 2,500 markers across the Commonwealth, says Alli Davis, the commission's historical marker coordinator. In recent years, she says, the PHMC has approved approximately 20 marker nominations annually.
That first marker in Franklin County was a bronze plaque, but today most of the markers are one of two styles. Roadside markers are larger and typically located along highways in more rural areas. City markers are smaller and are designed to be read by pedestrians.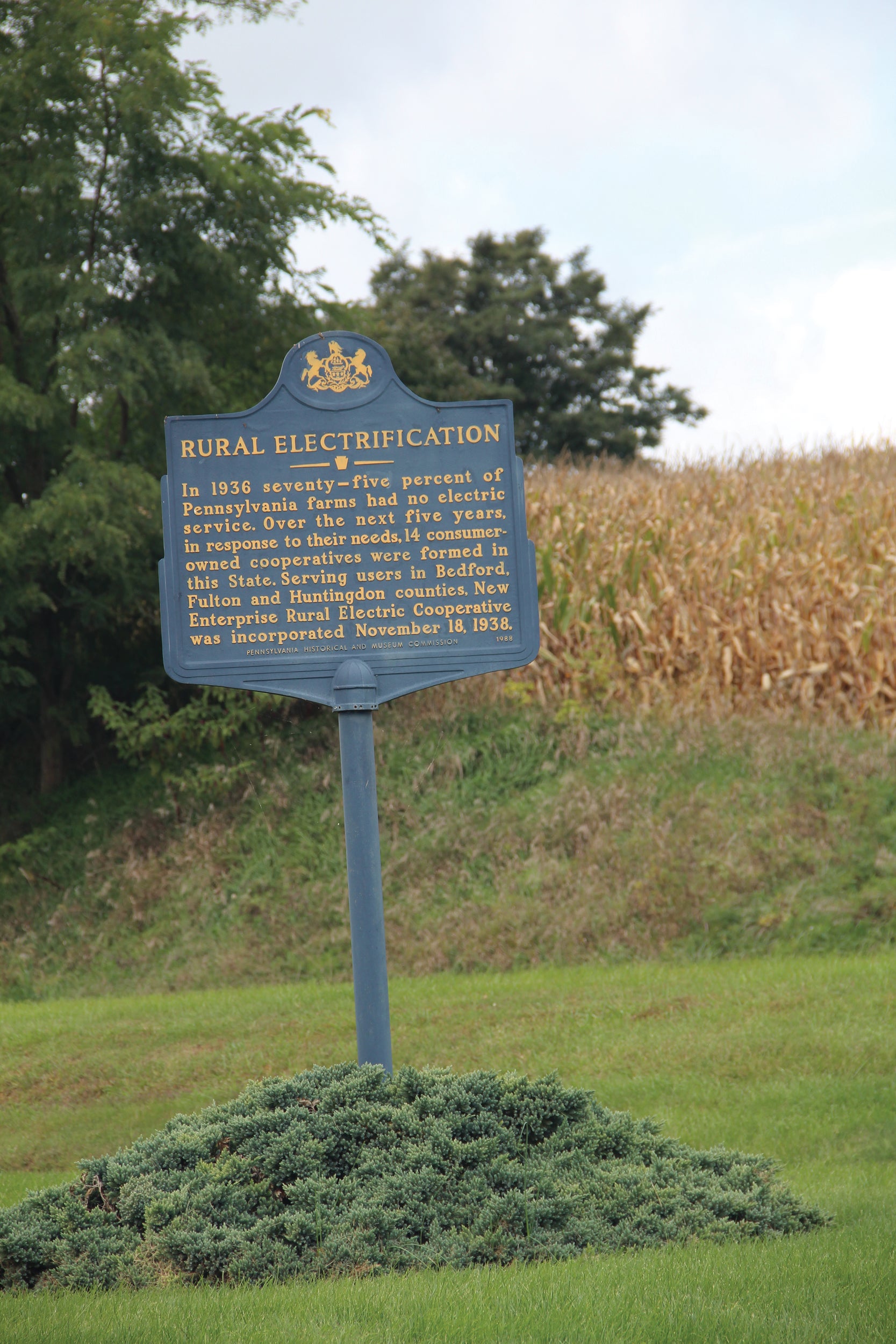 A PIECE OF HISTORY: This state historical marker, detailing information about the formation of New Enterprise REC, is one of more than 2,500 located across the Commonwealth. Travelers will find it along State Route 869.
 
In the past, individuals or groups making the nominations for inclusion in the program were responsible for the costs (approximately $2,600). Starting this year, however, the PHMC began assuming the costs for manufacturing and delivering the new markers. The nominating person or organization is now only responsible for the installation costs. For that reason, along with the end of a two-year hiatus in accepting nominations due to COVID-19, there has been an influx of nominations for the marker program, Davis reports.
Once a marker is installed, it is subject to regular maintenance checks, which are designed to keep it in tip-top shape. A contractor hired by the PHMC rotates around the state to see which ones need to be repaired or refurbished. Emergency maintenance is also available when a sign is damaged. Information about reporting a damaged or missing marker is available at pahistoricpreservation.com/reportmissingdamagedmarkers.
Something significant
According to Davis, not every nomination for the historical marker program is approved.
"We have certain criteria," she says. "It has to be of statewide or national significance. Everyone would agree history is local, but our markers have to have a statewide level of impact."
There are several categories of markers, with "rural electrification" having its own classification. Within that classification, there are nearly a dozen scattered across the Commonwealth. (See the sidebar at left.)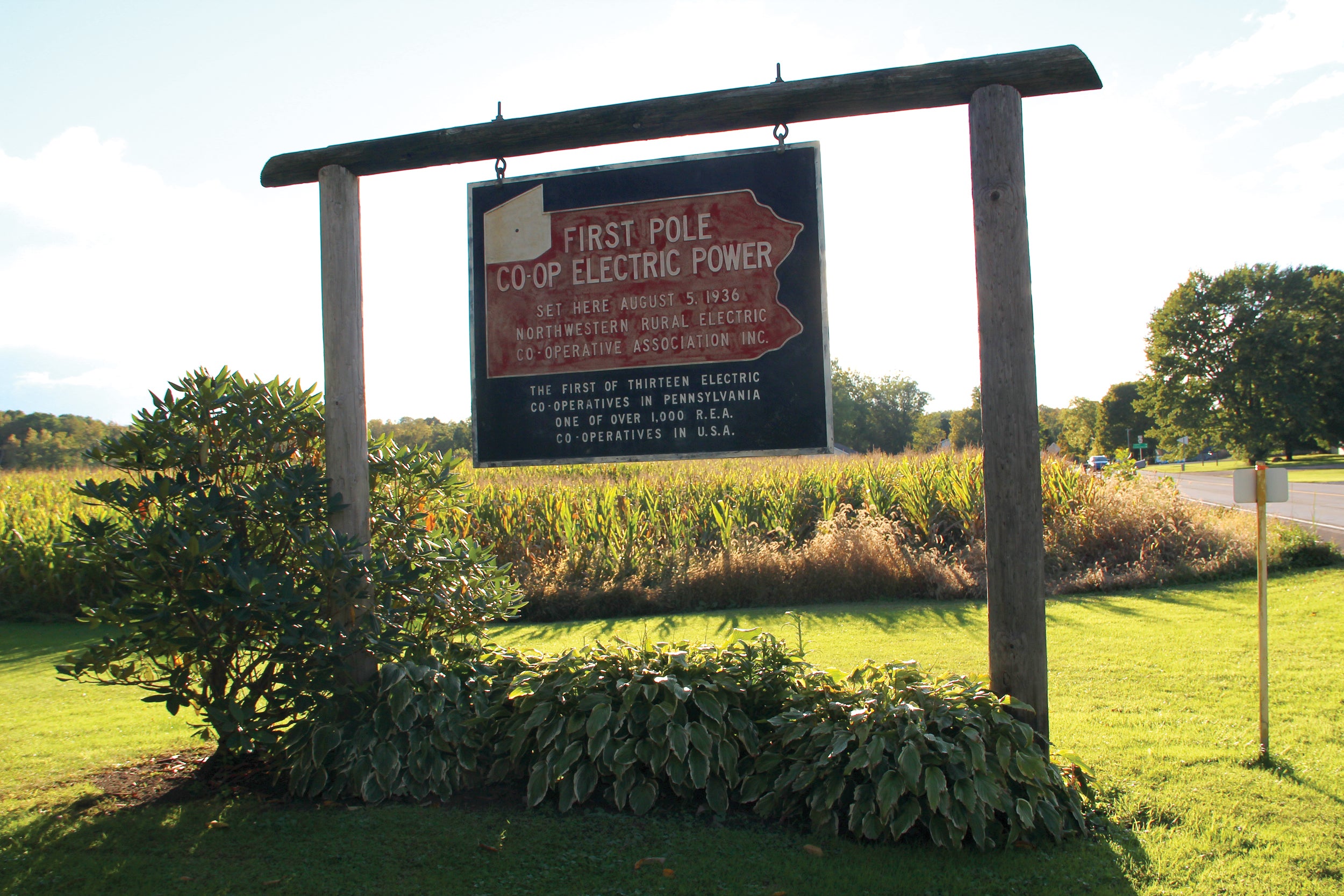 HISTORY MADE: Today, this sign along State Route 198 commemorates the location of Pennsylvania's first rural electric pole, which was placed by Northwestern REC in Woodcock Township, Crawford County.
 
"Rural electrification was an absolutely groundbreaking event that certainly met the criteria," Davis says.
One of the oldest markers in the rural electrification category was placed in Crawford County's Woodcock Township along State Route 198 at Woodcock Creek Lake/Reservoir. The current sign commemorating the event reads as follows: "Here on August 5, 1936, the state's first rural electric pole was placed by the Northwestern Rural Electric Cooperative Association. Incorporated on April 30, 1936, this was Pennsylvania's first such cooperative. By 1941, thirteen more had been formed in the state."
This sign was dedicated on Aug. 20, 1986, 50 years after the pole was placed at the site, which is now under water.
Greg Beckenbaugh, then a communications specialist for the Pennsylvania Rural Electric Association and now an attorney for the state Senate, assisted with the push for cooperatives to be recognized with historical markers in the late 1980s.
"The rural electrification program in the United States was started in 1935, and Pennsylvania's cooperatives began forming soon after that, so their 50th anniversaries were happening in the late 1980s," Beckenbaugh notes. "I worked with employees at the local electric cooperatives, and they submitted what they wanted on their markers, and I submitted them to the commission for approval. I would get a preliminary copy before the marker was cast, and then I would give it to the cooperative for their final approval."
A list of all historical markers and information about the Pennsylvania program are available at phmc.pa.gov.
"The historical marker program is a great way to celebrate our history," says Davis, who has worked with the program for about a year. "I learn new things about what is significant to Pennsylvanians and their history almost every day."
That's because people often contact her to find out more information about the markers, and she learns while doing research.
"People frequently reference them when looking for history in an area they are living in or are visiting," Davis says. "There are local historical societies that do tours of the markers in their areas, and some groups use the markers when they are celebrating an event or place that the marker signifies. … The things you can learn from these markers are just amazing!"
Signs of progress
Historical markers celebrating the arrival of electricity in Pennsylvania's rural regions dot the Commonwealth. The 10 you'll find are as follows:
Adams Electric Cooperative (EC), marker dedicated Aug. 21, 1990, State Route 34 near Palace Drive, north of Gettysburg

Bedford Rural Electric Cooperative (REC), dedicated June 2, 1989, U.S. 30 at Clark Building and Donohue Manor roads, just east of Bedford

Central EC, dedicated July 11, 1987, State Route 368 near Terwillinger Road, 1 mile east of Parker

Claverack REC, dedicated Oct. 24, 1986, U.S. 6 near Goff/West Valley Road, 3.2 miles east of Wysox

New Enterprise REC, dedicated March 1, 1989, on State Route 869 near Chestnut Street in New Enterprise

REA Energy Cooperative, dedicated in 1988 on State Route 1006, east of State Route 286 at the east end of Indiana

Somerset REC, dedicated June 10, 1989, on State Route 3010 near State Route 3015 between Somerset and Rockwood

Sullivan County REC, dedicated Sept. 25, 1987, on State Route 87, just southwest of State Route 154 in Forksville

Tri-County REC, dedicated Sept. 25, 1987, on State Route 87, just southwest of State Route 154 in Forksville

Valley REC, dedicated July 5, 1992, at 10700 Fairgrounds Road in Huntingdon