The next generation
Fire companies looking for young recruits to keep tradition alive
By Jill M. Ercolino
Senior Editor/Writer
Luke Jelliff isn't like most 22 year olds. He owns a landscaping business in Bradford County and works 70-plus hours a week.
He's also a volunteer firefighter.
As the ranks of Pennsylvania's firefighters shrivel — from a high of 360,000 in the mid-1970s to an estimated 36,000 now — Jelliff, the youngest active member of Ridgebury Volunteer Fire Co. in Gillett, is part of the next generation to step up and serve.
The problem is, few of his peers are joining him.
"Because I own my own business, I can stop what I'm doing and go on a call," says Jelliff, a member of Mansfield-based Tri-County Rural Electric Cooperative (REC), "but a lot of people my age can't. They're busy working multiple jobs just to stay afloat."
In addition to around-the-clock availability, volunteer firefighting requires extensive training coupled with hours of fundraising, a willingness to take risks and deep pockets because, the reality is, these volunteers pay much of their own way — and escalating prices at the pump are only adding to their costs.
"We don't get reimbursed for mileage to go on calls and to the station," Jelliff says. "It gets expensive."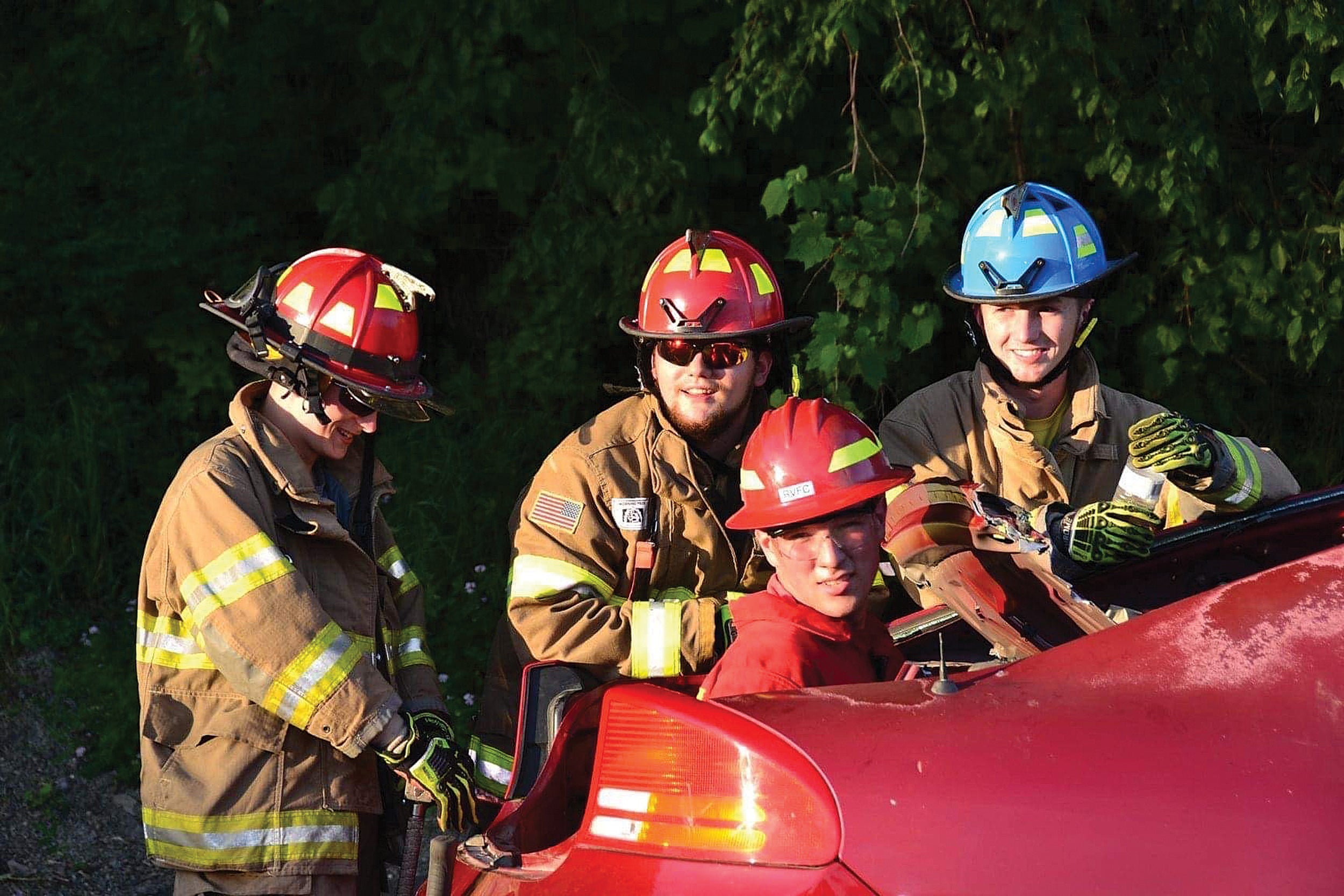 A FAMILY TRADITION: Luke Jelliff, far left, is a fourth-generation firefighter with the Ridgebury Volunteer Fire Co. in Gillett, Bradford County. At 22, he's the fire company's youngest active member and part of its next generation.
No easy answers
For years, volunteer fire companies have been at a crossroads, trying to figure out how to provide a vital community service — one that saves rural residents millions of dollars a year in labor and operational costs — with fewer members.
Fire service is an easy sell to people like Jelliff, a fourth-generation firefighter — it's in their blood.
In fact, he and his girlfriend, Dawcin Jones, who represented Wysox-based Claverack REC during the National Rural Electric Cooperative Association's 2019 Youth Tour and also comes from a firefighting family, are taking classes to become certified emergency medical responders. The pair say they want to support the local ambulance service, which is also struggling to recruit volunteers.
For many others, though, the desire to serve doesn't come as naturally, which means recruitment strategies have to change, according to Ellen Yarborough, deputy chief of the South Media Fire Company.
"Long gone are the days of our ranks bolstered by sons following in the footsteps of fathers, and growing up around the firehouse," she recently told a panel of state lawmakers. "Instead, we need to pursue students. To hand pick them. To reward them for their efforts. And to convince them that volunteerism in the fire service is a tradition worth keeping."
Incentives were also an important part of the 92 recommendations offered by the Senate Resolution 6 Commission (SR 6), which spent 2017 studying the crisis facing fire and EMS companies. The group suggested offering new recruits tax breaks and possibly forgiving their college loans.
Since then, the state has hired recruitment and retention specialists to help local fire companies. Lawmakers have also passed several SR 6-related laws, one of which provides volunteer firefighters with property tax relief.
Another measure would create and fund a partnership between colleges, high schools and technical schools to recruit and train students to become volunteer firefighters. Sen. Michele Brooks (R-Mercer), who represents members served by Northwestern REC in Cambridge Springs and Warren Electric Cooperative in Youngsville, wrote the legislation.
"Many of our firefighters have devoted a lifetime to protecting our communities, but they are nearing retirement," Brooks said in a statement. "We are looking to the next generations for help, and are reaching out to high school students who are able to answer the call in the future."
The Clearfield Fire Department is also targeting high-schoolers as it works to revitalize its junior firefighter program, says Deputy Chief Brett Collins, who began volunteering at the fire company a decade ago when he was 14.
"When I joined, my grades were not great, and if you're not passing, you can't run calls," Collins says. "Some of the firefighters were teachers, and they helped me bring my grades up."
He says that support and his involvement in firefighting have had a tremendous influence on his life. A dispatcher at the Clearfield County 911 Center, Collins hopes to become a career firefighter soon. Until then, he's going to keep looking for junior recruits to join the fire department, which receives annual donations of unclaimed capital credits from Dubois-based United Electric Cooperative.
"The real gold mine is where the juniors are," Collins says, "so we're going to be taking a more direct approach by going out to the high schools and talking to the students."
For more information about volunteer opportunities in your community, call your local fire company or the Recruitment and Retention Program staff in the Office of the State Fire  Commissioner at 717-651-2207.