Body
Creating

Apps for

Apples
How One Classified Ad Changed the Game for a Fruit Grower and a Software Developer
By Michael T. Crawford
Senior Editor
Late one morning outside the Borough of Biglerville, approximately 20 miles from the Pennsylvania-Maryland border, row after row of trees sway in a cool, gentle breeze. Across the 650 acres of Mt. Ridge Farms, the tiny buds of fruit flowers are beginning to open, drawing in the air of a new season that will soon have the branches weighed down with apples and peaches.
It's a serene scene made possible by a lot of hard work that goes far beyond digging holes and dropping in seedlings.
"Every year, the paperwork required to manage, run and operate a farming business dramatically increases," says Wendy Slaybaugh, office manager at the farm, a fifth-generation orchard recognized as an Outstanding Fruit Grower by the Adams County Fruit Growers Associations in 2017 and member of Gettysburg-based Adams Electric Cooperative. "There are a blur of responsibilities, tasks, jobs and managerial commitments that play out in the background.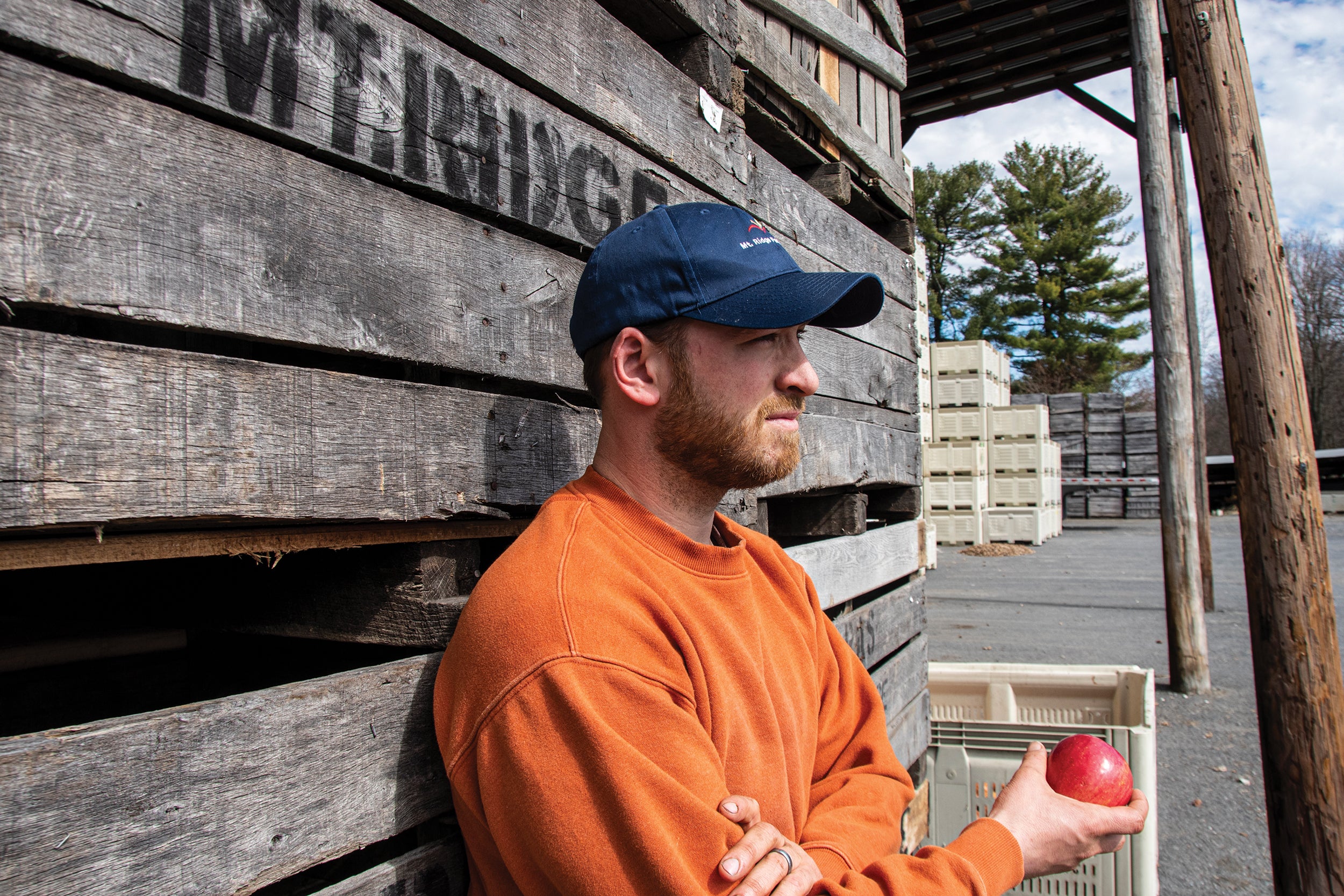 AWESOME APPLES: Blake Slaybaugh, Mt. Ridge Farms vice president, enjoys one of the premier honeycrisp apples picked at his family farm in Biglerville.
 
"We do a lot of our mechanical work here," she adds. "We're pushing out trees, maybe getting ready for new orchards. We're pruning trees right now and shredding the brush. There's always something that needs your time."
Most recently, Mt. Ridge Farms hosted the International Fruit Tree Association's 2022 Winter Tour, where the family shared the approaches and procedures they follow for managing the farm.
Still, despite the heavy workload, Wendy and her husband, Dave, the farm's president, find time to read their monthly copy of Penn Lines. In early 2018, while paging through stories on healthcare, heating efficiency and recipes for Asian-inspired cuisine, something caught the couple's attention.
 

"A very inexpensive ad in Penn Lines magazine changed my life."
 
It was a classified ad: "Stop using spreadsheets and expensive software that doesn't meet your expectations." Those few words made a big impression on Wendy Slaybaugh.
"I thought, 'Why not? We need to start somewhere,' and this is where it all began," she says. "It turned out to be one of the most important phone calls we have ever made and a huge asset to our business."
Changing course
That same day, more than 100 miles away in northern Somerset County, the phone began ringing in the Windber home of Michael Constantino, the software developer and member of Somerset Rural Electric Cooperative who had placed the ad in Penn Lines. Under the name of Noble Software Solutions, Constantino — who began his career in the technology industry at 17 fixing Apple computers — had written software for a variety of industries, but never imagined he'd be programming for the agriculture industry.
"I got excited about the possibility of creating software for an industry that was relatively unknown to me," he recalls. "The Slaybaughs were looking for a way to reduce their recordkeeping time. Just to transition from paper-and-pen recordkeeping … and make it digital was going to be a monumental project, but we were all up to the challenge."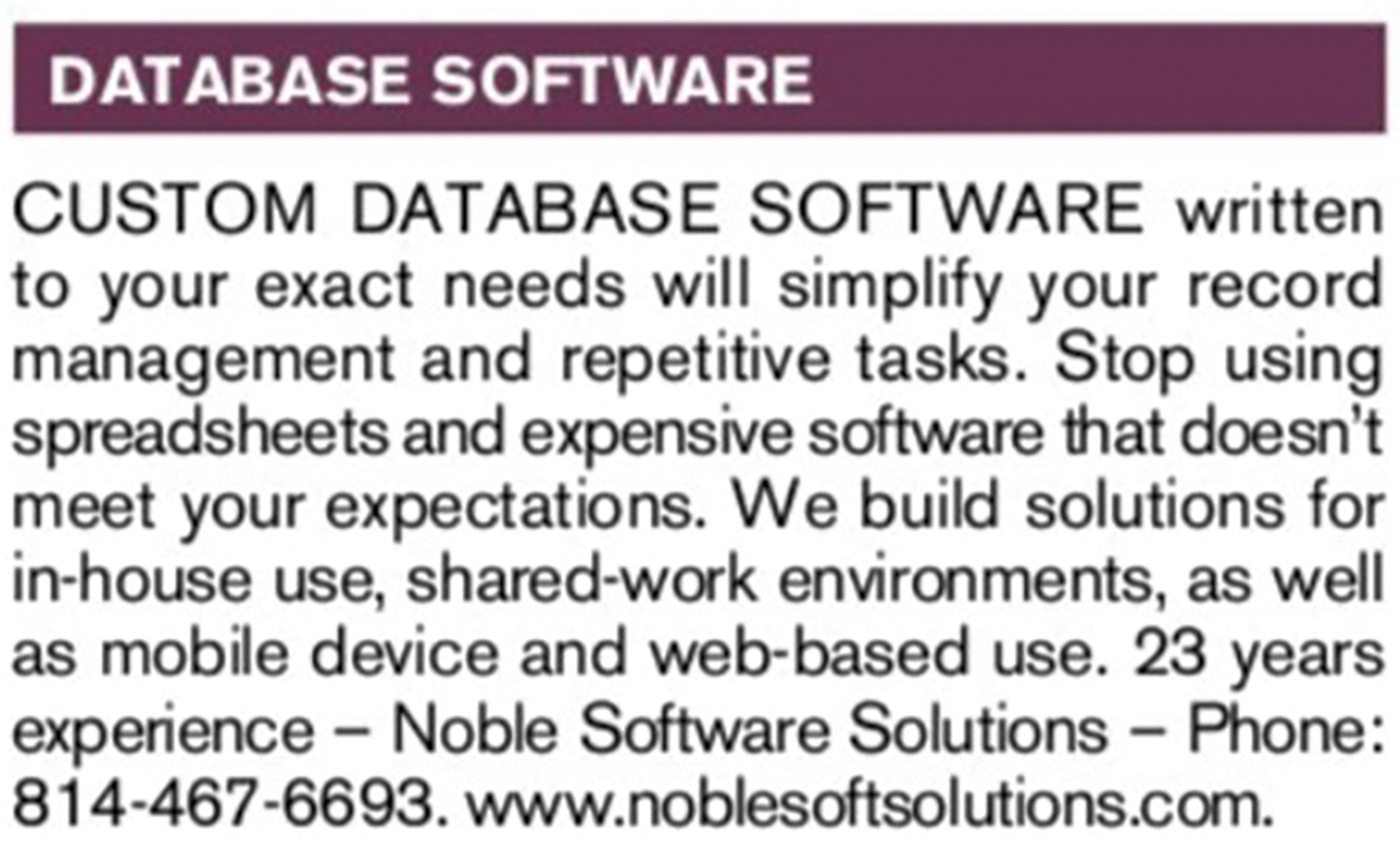 TIME FOR A CHANGE: This classified ad, placed by one cooperative member and responded to by another, is responsible for changing the direction of a software developer's business and making recordkeeping a whole lot easier for the owners of Mt. Ridge Farms, an Adams County apple producer.
 
Over the course of several months, Constantino designed a program customized to the Slaybaughs' exact needs — something simple that could save them time when they needed to report metrics without forcing them to completely change how they kept records.
"He created a database where I keep production records, and we implemented digital recordkeeping for our spray program," Slaybaugh explains. "It was very customizable — we were able to fine tune it to how we do things or how we would want to do things. He's been a pleasure to work with, and I'm thinking that maybe our start here broadened his horizons."
Indeed, Constantino admits he's fallen in love with the growing industry.
"I purchased all my apples from the grocery store with no idea what all went in to the production of an apple — or any fruit. I've learned about the wealth of knowledge growers have, the level of commitment required to produce fruits and the precision with which growers execute their work."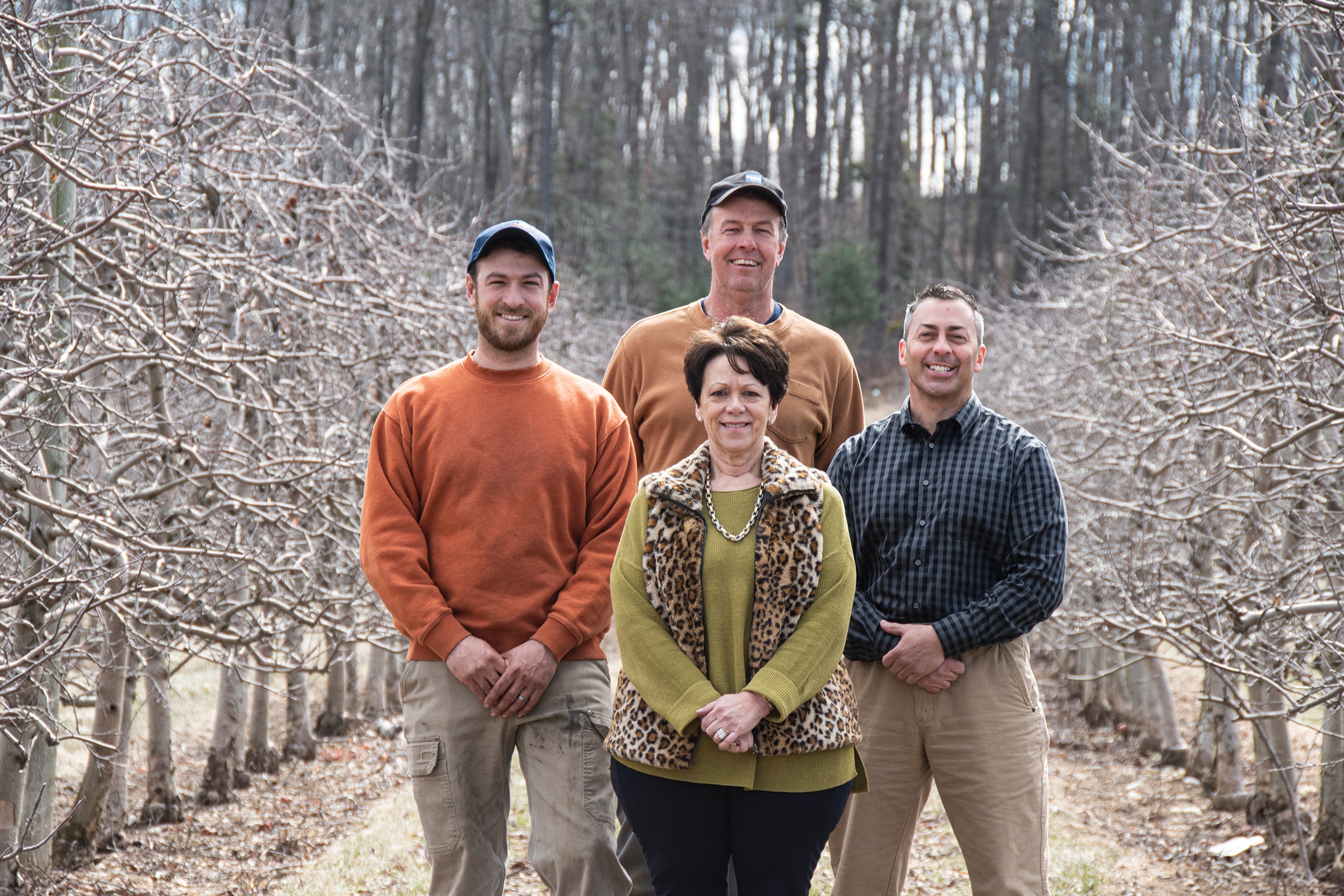 OUTSTANDING ORCHARD: Rows of apple trees grow on the fields this spring at Mt. Ridge Farms, which is approximately 20 miles from the Pennsylvania-Maryland border in Biglerville. Shown are: Vice President Blake Slaybaugh, left, President Dave Slaybaugh and Office Manager Wendy Slaybaugh, center, and Michael Constantino, owner of Noble Orchards Software Solutions.
 
Working with the Slaybaughs transformed Constantino's business.
As word spread about his creation for Mt. Ridge Farms, calls from other farms began to come in. Noble Software Solutions now specializes in software for growers and has fielded projects from Michigan, New York, North Carolina, Virginia, Maryland, and even British Columbia. Noble also has a solution for spray consultants to help them provide recommendations to their clients easily and efficiently.
"A very inexpensive ad in Penn Lines magazine changed my life," says Constantino, who has worked on everything from the floppy-disk-operated Apple II to modern Macintosh computers. "It connected me and my passion with a new community and their passion. It was a good fit from the beginning."
A special place
Years later, Biglerville holds a special place in Constantino's heart. Even with a new and growing client list, he still makes time to visit with the couple who changed his business.
"Regular stops at Mt. Ridge Farms are always built into my schedule when I visit the area," he says. "Checking in to see how things are going, catching up or having a quick lunch where it all got started is important to me."