News from across the Commonwealth
Penn Lines wins award
The Pennsylvania Rural Electric Association (PREA), publisher of Penn Lines magazine, was recently recognized by the Spotlight on Excellence Awards program. The national contest sponsored by the Council of Rural Electric Communicators through the National Rural Electric Cooperative Association (NRECA) annually recognizes outstanding work produced by electric cooperative communication and marketing professionals across the country.
PREA won a Silver Award in the category of Best External Publication, recognizing Penn Lines magazine for excellence throughout 2018. Awards are presented and winning entries were displayed at the 2019 NRECA Connect Conference in Houston, Texas, early May. NRECA showcases winning entries to provide cooperative communicators with an inspiring collection of leading practices and winning strategies to adopt in their own cooperative.
It's Lyme disease season
In an effort to understand more about how people's practices and activities impact their exposure to ticks, researchers from the Midwest and Northeast Centers for Excellence in Vector-Borne Diseases are looking for volunteers.
They want people who live in high-risk areas for Lyme disease (all of Pennsylvania) to participate in a tick-exposure behavioral study through a smartphone app, "Tick App – 2019," available free from GooglePlay and iTunes.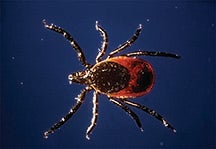 Participants will be asked to take an enrollment survey to help researchers capture baseline risk of exposure to ticks. Participants will receive a message to start a tick diary during the high-risk months (May to September). The activity report should take less than 1 minute to complete. Daily reminders will be sent until participants complete 15 reports. Alternatively, participants can sign up at the group's website and surveys will be sent to a designated email.
For additional information, go to thetickapp.org.
17-year cicadas are returning
This spring marks the return of the 17-year cicadas in western Pennsylvania. Experts expect millions of the loud chirpy critters will emerge from the ground for the first time since 2002 once the ground temperature reaches 64 degrees Fahrenheit (usually in May).
Known officially as the Brood VIII, these cicadas will hang around for a few weeks with most of them expected to surface in Allegheny, Clarion, Indiana, Washington and Westmoreland counties. The mature cicadas will make a lot of noise, then mate and die. Females can lay up to 600 eggs. If you miss them this year, the next time they will emerge is 2036.