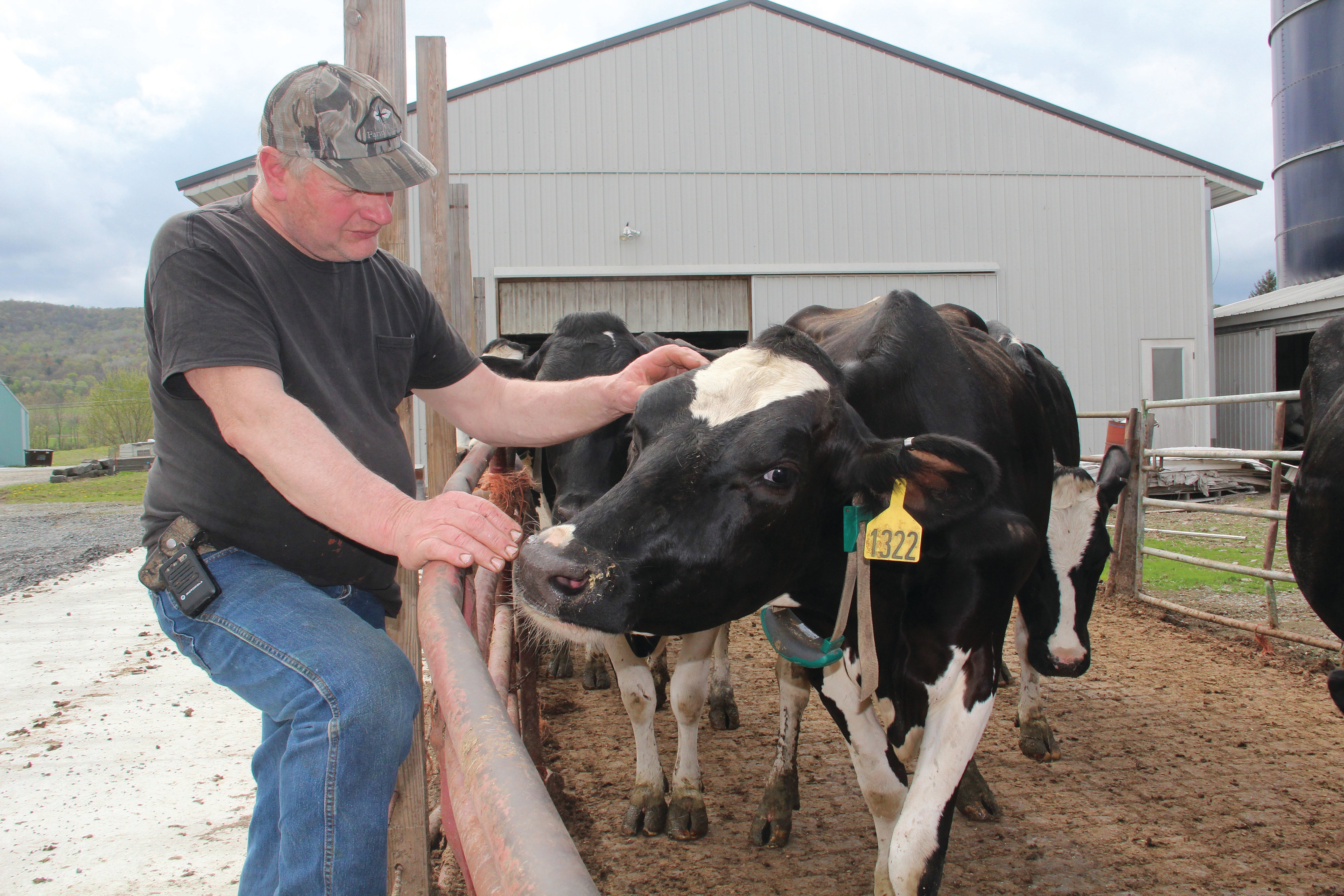 Down in Dairyland
Pennsylvania's dairy farmers struggle with industry changes
By Kathy Hackleman
Senior Editor/Writer
Frank, Ross and David Orner are well on the road to becoming statistics. The men — cousins, and grandsons of the founder of Orner Farms in Clearfield County —  will soon be shutting down their milking machines, joining thousands across the U.S. who identify as former dairy farmers. They are unsure what the future holds for their 500-acre farm or themselves, but they know it won't include milking cows.
Frank Orner, a member of DuBois-based United Electric Cooperative, says he's certain his grandfather, A.L. Orner, would understand what led them to this decision.
"The way I look at it," he says, "is that there is some emotion attached to the decision because of the history, but at the same time, our grandfather was a businessman, and he would have known it was the right time to be getting out of it."
All three have spent their lives working in what has for many years been the No. 1 agriculture sector in Pennsylvania. They worked on the farm as kids, and returned in the mid-1970s as college graduates, working alongside the two older generations. Other siblings moved on, but these three knew their life was on the farm.
Most of the circumstances that led to their decision to call it a day are beyond their control. The price of milk is down —  and has been for quite some time. In order to have an income stream large enough to support multiple families, the farm would have to increase its milking herd significantly. But there is the passage of time to consider as Orner says it's becoming more difficult for the men to maintain the grueling pace, and there's no one waiting in the wings to take over. 
"There are lots of issues," Orner says. "The price of milk is below what it costs us to produce it, so we have been eating into our assets to keep the farm going. We are far away from milk equipment dealers. We are far away from feed dealers. We have to travel 1 1/2 hours to get parts for equipment, and if we need service on our milking system, it takes three hours for them to get here to work on it."
As he contemplates his life, Orner says he doesn't for a minute regret the time and effort he has expended on the dairy farm, but he does wonder how family farms will figure into tomorrow's dairy industry.
Orner Farms is a good example of the current state of the dairy industry, says Jayne Sebright, executive director of the Center for Dairy Excellence, who, along with her husband, Robby, owns a dairy farm and is a member of Gettysburg-based Adams Electric Cooperative. 
"Since 2015, milk prices have been at or below the cost of production, which has caused a serious challenge for dairy farmers," Sebright says. "In the past year, Pennsylvania has lost 6% of our dairy farms and 30,000 cows. This is a trend that started about 12 months ago as we are seeing the effects of lower milk prices on our farms."
By the numbers
Today, Pennsylvania has about 6,200 dairy farms with approximately 550,000 cows. It ranks seventh in the nation in milk production (second in the number of dairy farms) with an average of 80 milking cows per farm, compared to the national average of 230. It's an industry Pennsylvania can't afford to lose, Sebright says, as it contributes $14 billion annually to the economy and supports 52,000 jobs.
"With our farms being smaller, we don't have the economies of scale that exist in other parts of the country," Sebright points out. "We also have environmental concerns because many of the state's dairy farms lie within the Chesapeake Bay Watershed, plus land prices are higher here than in many parts of the country."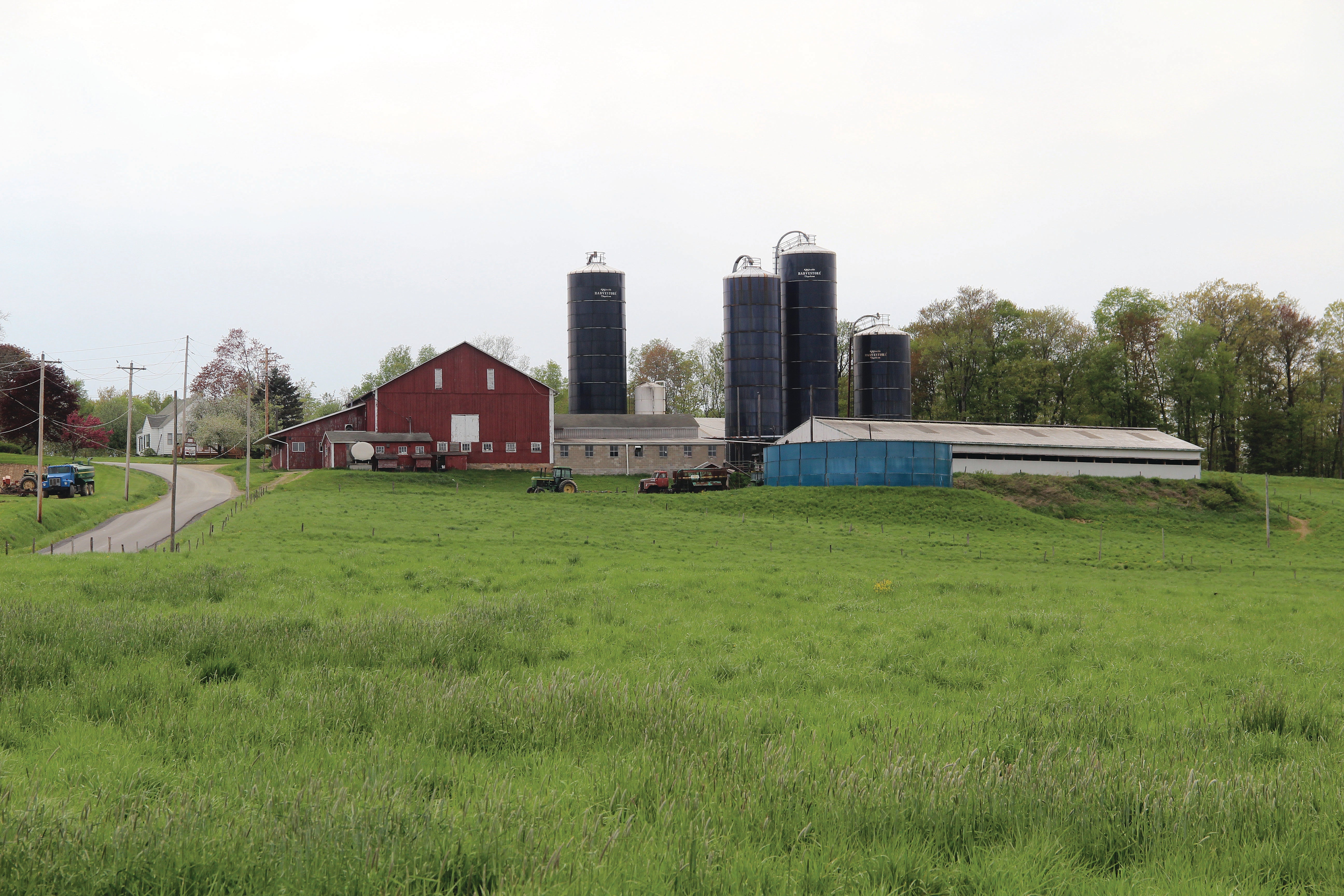 The recent trend toward fewer dairy farms and declining herds is national (in the U.S., the number of dairy farms is down 5 percent and milk production is down about 1/2 percent in the past year).
"Dairy products are a commodity," Sebright explains. "Imbalance in the supply and demand will cause a decline in prices. In 2014, milk prices were at an all-time high level. That drove oversupply. Milk supply globally increased until last year. Whatever happens globally affects our farmers locally. The global oversupply drove milk prices down. As milk prices contracted, farmers began leaving the industry, so production is decreasing."
A delay in the approval of U.S. trade agreements has also affected the market, Sebright says, as historically, about one in seven gallons of milk produced in the U.S. has been exported. While things look gloomy today, she is optimistic milk prices will rebound within the next year or so, an optimism based on history that tells her when the milk supply decreases, the price farmers receive for milk will increase. Another reason for optimism is that while fluid milk consumption is down, the demand for other dairy products remains high.
Promoting dairy products
The Center for Dairy Excellence, based in Harrisburg, encourages consumption of local milk and other dairy products. To that end, it encourages new ways of looking at dairy products, including encouraging schools to serve whole milk, and educating consumers that plant-based beverages don't have the nutritional value of milk no matter what they are called.
"If you look at Pennsylvania right now, a lot of our processing capacity is in fresh, fluid milk," Sebright says. "We have a lot of capacity in fluid milk, which is declining in sales, but don't have a lot of capacity in yogurt, cheese, extended shelf-life products, so we are encouraging an increase in processing capacity in those areas. We are talking with legislators and the administration on ways they can incentivize investments in the processing category. We also are working on the regulatory side to make sure when we launch environmental regulations in Pennsylvania, that we are being realistic and dairy-friendly."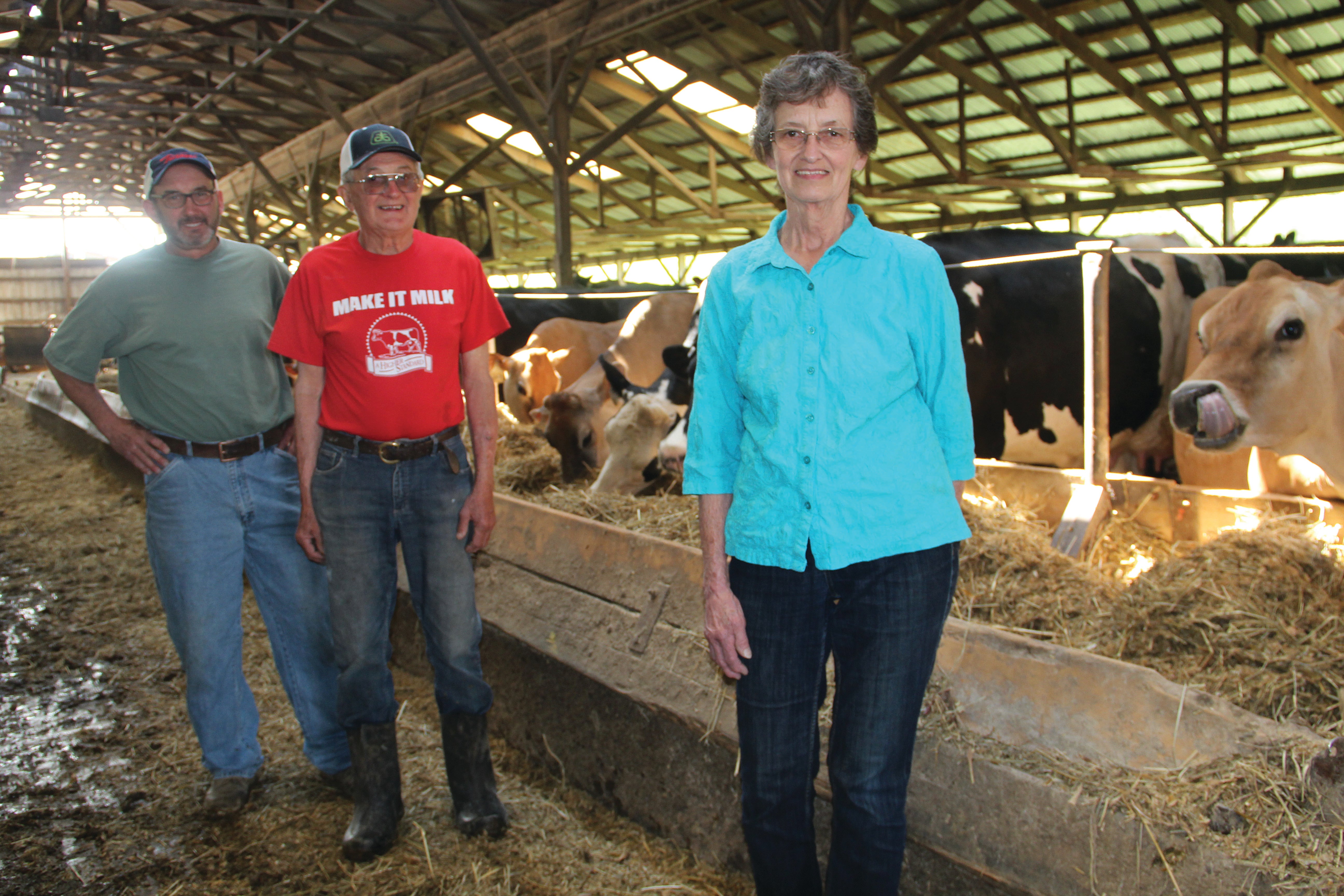 Like the Orners, Claverack Rural Electric Cooperative (REC) members Kevin and Donna Potter don't have children who are interested in returning to the dairy farm, and they wonder what will happen when they decide to retire. Right now, the Potters milk nearly 220 Holstein cows. Kevin Potter's parents started the dairy farm in rural Wyalusing in 1936, and the younger couple took it over in 1984. They also grow corn, alfalfa, soybeans and hay to feed their herd, utilizing 266 owned acres and 650 rented acres.
Their goal is to get to 300 milking cows so their farm will be enticing enough for a buyer to want to purchase it when they are ready to retire. That's the number they have calculated will be enough to allow new owners to hire enough employees to make the work load reasonable. 
"Right now, we're too big to be small and too small to be big," Donna says with a smile.
Kevin and Donna share the 2 a.m. milking duties (that means they are in the barn at 2 a.m. every day, seven days a week, 365 days a year), she is primarily responsible for the calf operation, and one or more of their three full-time employees usually cover the 2 p.m. milking shift. Each shift takes about three hours. They did give themselves a big break with the construction in 2016 of an automated milking parlor. Cows are fitted with radio frequency identification collars so the Potters can monitor each cow's activity, how much she eats and how much milk she produces.
"In the old days, when we had just a few cows, we could keep track of them," Kevin Potter remarks. "Now, we need help so we can monitor each one and give it the individual attention it needs."
What he wishes people knew about dairy farmers is how much they care about their animals, as well as producing a high-quality product.
"I don't think of myself as 'just a dairy farmer,'" he says. "We are food producers and processors. I want people to think, 'Yeah, I want to drink that product.' We have lost the message that milk is good for you. That hurts the industry."
Even though many families face a lack of interest in dairy farming from a younger generation, Ed and Ginny Nehrig, members of Indiana-based REA Energy Cooperative, don't have that problem. Their son, Dave, is in partnership with them and a grandson, Tyler (the sixth generation of the family to work on the farm near Homer City, Pa.), also works for them. They milk 160 cows, mostly Holsteins, and raise crops to feed their herd. 
Ginny, assisted in the evenings by granddaughter Stephanie, is in charge of milking at 5 a.m. and 3 p.m. with each session lasting three to four hours. Even though the Nehrigs have a couple of generations interested in following in their footsteps, Ed Nehrig is concerned.
"I have seen five families within about a 10-mile radius of us go out of the dairy business over the past winter," he reports.
Income vs. expenses
He says it's been a difficult few years financially. The base price for 100 pounds of milk was $15.04 in April. Back in 2014, it was $25.
"We have to get to a place where we are paid a reasonable price," Dave Nehrig says. "We are working on 1970s prices in terms of income and 2019 prices in terms of expenses. It just doesn't work over the long term. You cut where you can; we have cut labor so much that it's a never-ending day for us."
Despite the problems, the Nehrigs say they can't imagine doing anything else.
Dave Nehrig sums it up for all of them: "It's the best way to raise a family."
That's an exact echo of another multi-generational family from miles away — John and Cindy Meglich and his parents, Hank and Martha Meglich, all of whom live on a dairy farm near Stevensville, Pa., and are members of Wysox-based Claverack REC. The older couple began milking cows in 1963 after Hank, a World War II veteran, spent several years as a welder. Now 94 and 87, Hank and Martha turned their dairy business over to the younger couple in 1988, although Hank kept a few cows to milk until he was 85.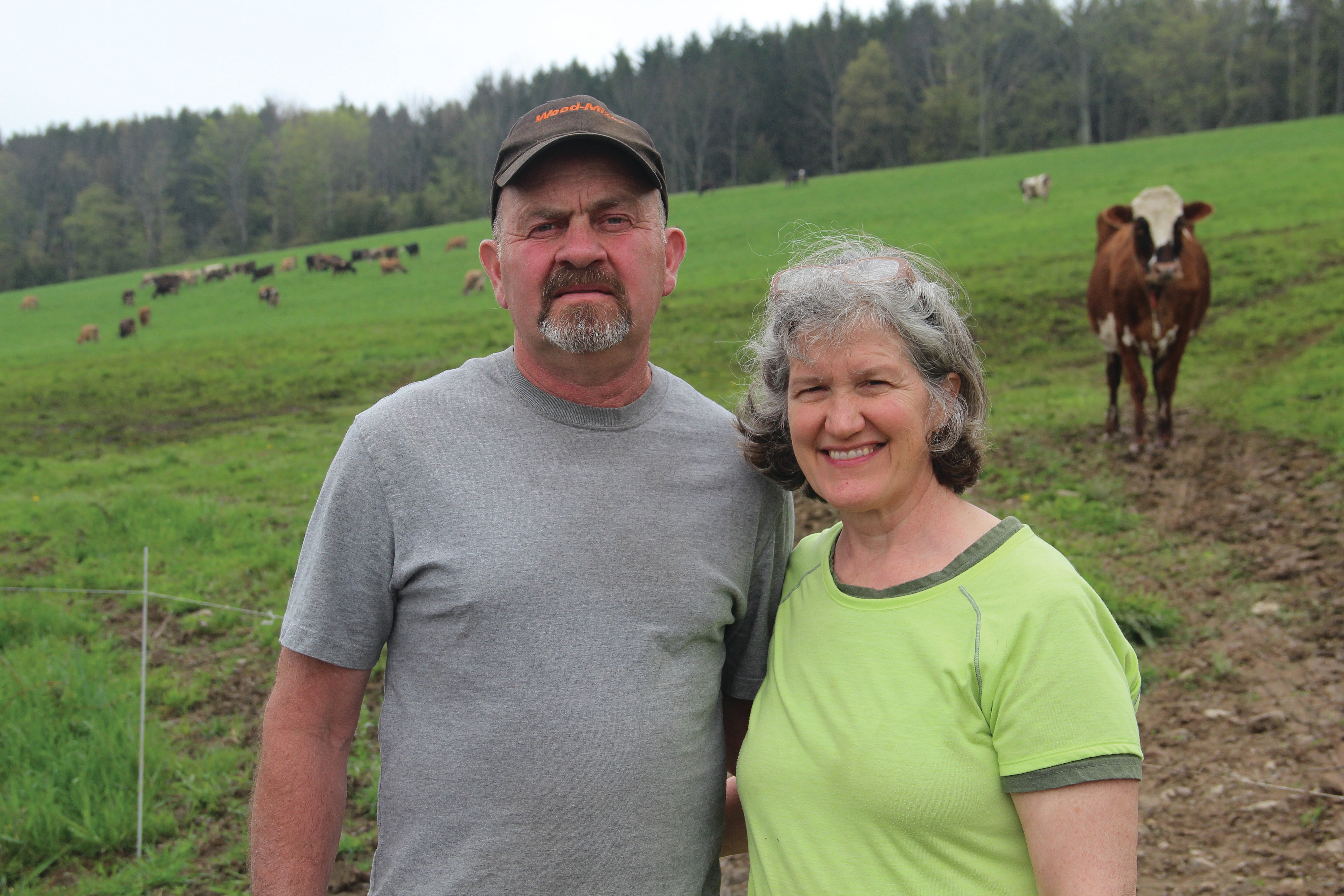 "It's been a great family life," Cindy says. "We were able to homeschool all of our kids all the way through. We were always together. We ate all of our meals together. John works terribly hard, but he was always here."
The farm operated as a conventional dairy until the mid-2000s, when John and Cindy converted to a certified organic farm, meaning they don't use any fertilizer or chemicals on the land they use to graze the cattle or grow the cattle's feed, and their cows don't get antibiotics. (If it comes to saving the life of a sick cow, they do use antibiotics, but by law, that cow must be removed from their herd of Jerseys and mixed breeds). To be certified as organic, the 500 acres they farm had to be chemical-free for three years and their cows had to be organically fed for one year. 
The younger Meglichs switched to certified organic to avoid the fluctuations in the conventional milk market, and they have seen a growth rate of about 10 percent annually; however, John says production now seems to be catching up with sales.
Hank, who grew up on a small farm in Ohio, and Martha, who grew up helping her uncles milk their cows by hand, were 100% behind their son's decision to switch to certified organic farming in an effort to maintain a stable source of income.
"We are so proud of John for starting with organic farming before anyone else in this area did," Martha says. "Really, we were organic most of our lives because we didn't have enough money to buy a lot of fertilizer, and we worked hard to keep our cows healthy so they didn't need any medicine. … It's been a wonderful life; I wouldn't trade it for anything."
Staying optimistic
The Meglichs can trace their dairy roots back a couple of generations, but the Itle family of Loretto, Pa., traces their farm back to before the Civil War. Charles (C.A.) Itle, a grandson of one of two brothers who emigrated from Sweden in 1816, began selling milk as Vale Wood Farms in 1933. From the original 5 acres, the farm has grown to about 500 acres.
Over the years, the Itle family has expanded to include four business segments: growing feed for the cattle, milking, processing the milk into dairy products, and delivering milk. The farm has 35 full-time and 50 part-time employees. An REA Energy Cooperative member, Vale Wood Farms milks Holsteins, known for producing large quantities of milk, mixed in with a few Jerseys, whose milk contains a high level of butterfat, known for making ice cream especially creamy.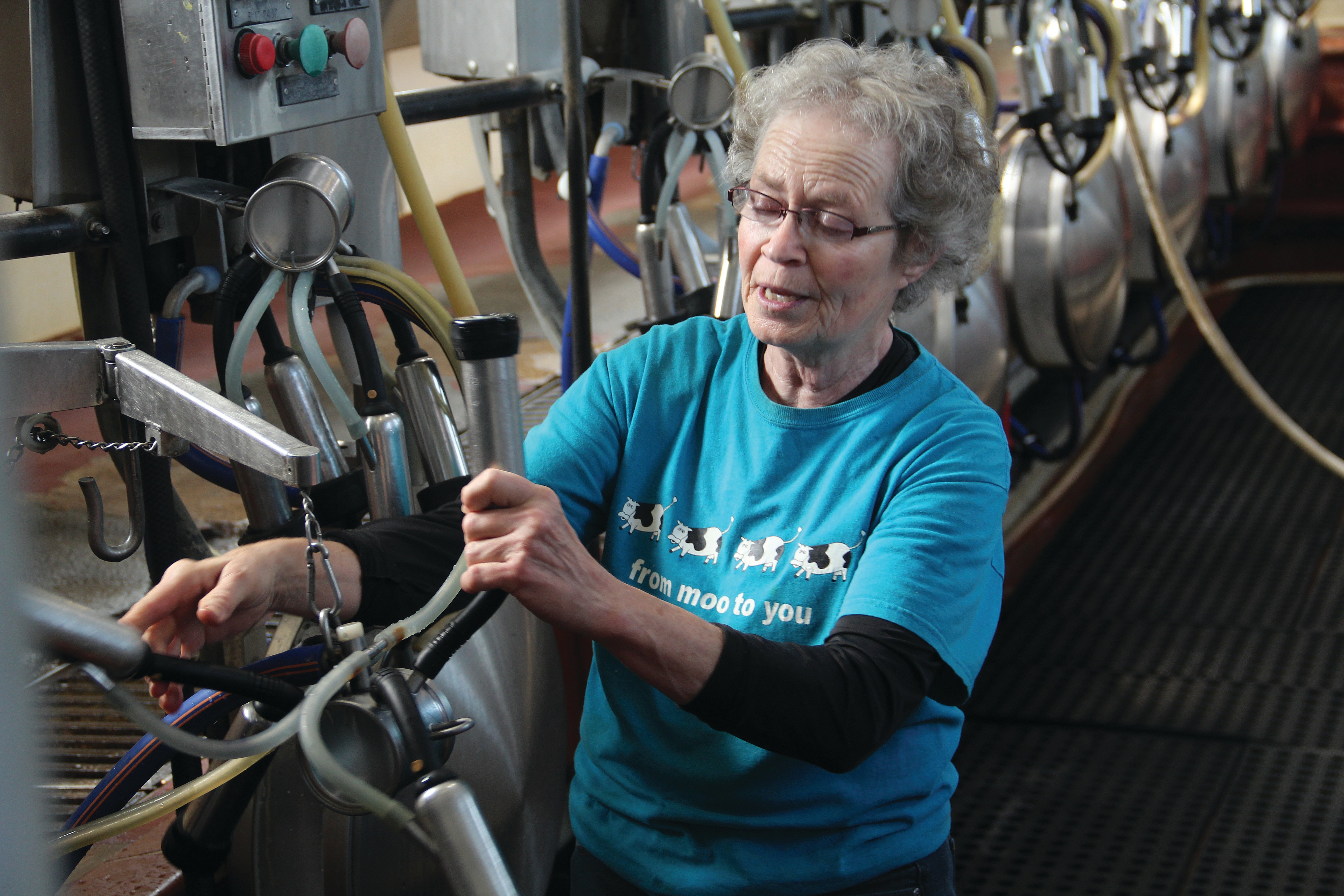 Carissa Itle Westrick, a member of the sixth generation of the Itle farm family, notes Vale Wood operates differently than most dairy farms.
"The long-time advice for farmers has been to milk more cows (to increase profits)," she says. "But we have to balance what we produce with our customers' demands as all of our milk is sold through our on-farm store, home delivery routes, or to grocery stores and schools within about an hour radius of the farm."
She adds, "I went to a meeting over the winter and industry people were saying dairy farms should think about diversifying. It's funny that all of these generations later, suddenly we are hip again."
In addition to their store at 517 Vale Wood Road, Loretto, Pa., and their delivery business, the family also conducts scheduled tours every spring, called "From Moo to You." Groups rotate through stations to see a baby calf, what cows eat, how cows are milked, the processing plant, and finally, have a chance to buy an ice cream cone. The farm also offers scheduled hayrides in the fall.
Although Westrick notes it is a challenge as milk prices have been consistently down for the past few years, she says that ensures the family keeps a close eye on everything they do so the business remains financially viable as the industry changes.
"We remain cautiously optimistic about the future," Westrick says, adding, "We are a glass-half-full kind of people."
Also in this issue
Also in this issue