A new beginning
Program gives helping hand to disabled agriculture workers
By Michael T. Crawford
Associate Editor

Agriculture demands long hours, spares little room for vacation and makes few promises of profit. Yet, much of the world would starve if not for the work of the men and women tending the fields and farmlands of the world.
The grueling pace of the Commonwealth's $132.5 billion agriculture industry takes a toll on workers. According to a 2018 Journal of Agricultural Safety and Health article, between 12% and 16% of Pennsylvania's farmers have a disability. On average, they're also much older than other workers in the Commonwealth — 56 years old compared to 41, according to the state Department of Labor's 2020 Economic Review of Pennsylvania.
"They're going to have some additional challenges having persevered in farming as long as they have," explains Kendra Martin, outreach coordinator for AgrAbility for Pennsylvanians (AgrAbility PA). "A lot of the fundamental challenges that farmers go through and deal with may come up in the news cycle every once in a while, but in truth they remain pretty constant for them."
In 1990, the U.S. Department of Agriculture (USDA) began administering a competitive grant program — AgrAbility — for states to help farmers working with disabilities. AgrAbility PA was formed in 1995 and exists today through a partnership between Penn State Extension and United Cerebral Palsy of Central Pennsylvania. The program addresses a wide variety of conditions, such as arthritis, visual or hearing impairments, spinal cord or brain injuries, respiratory problems, paralysis, or amputations, as well as long-term health complications, such as cerebral palsy or diabetes.
AgrAbility PA conducts free, on-site assessments to discuss the daily farm tasks that are difficult because of the disability, Martin explains. While the program does not provide direct funding, AgrAbility PA works with the state Office of Vocational Rehabilitation (OVR), Pennsylvania Assistive Technology Foundation, and other third-party funding sources to help farmers and farm families obtain needed equipment and modifications to existing equipment.
Over the past 25 years, AgrAbility has helped nearly 600 agricultural workers secure more than $4 million worth of equipment, compared to the $3 million granted by the USDA in the same time frame.
"Most farmers do not want to give up what they're doing," Martin says. "They just need to find a different way of going about it."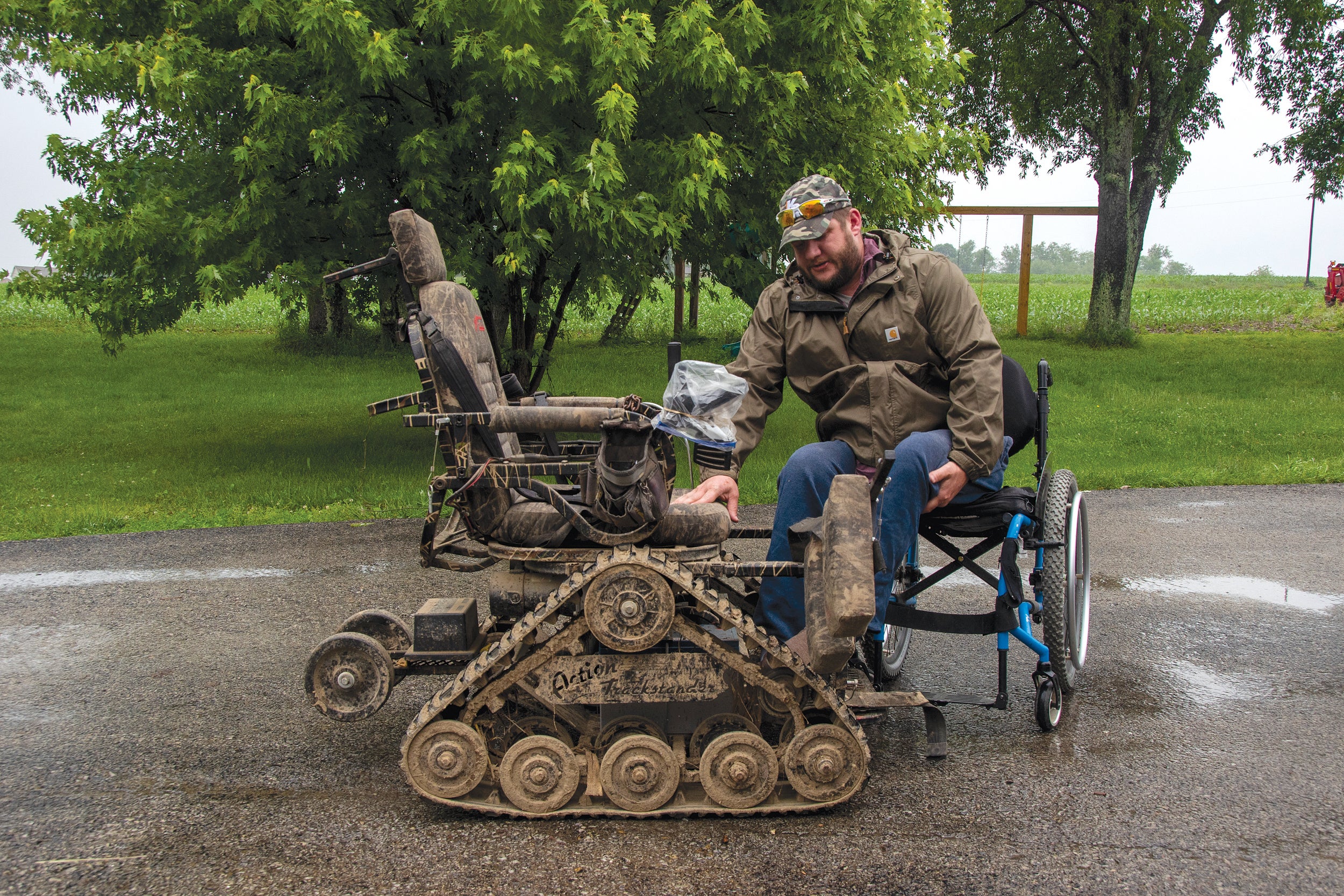 MOUNT UP: Ryan Frye, co-owner of RDR Farms in Blairsville and a member of Indiana-based REA Energy Cooperative, begins to lift himself out of his manual wheelchair into a mechanized, all-terrain wheelchair. The equipment was provided to him by the state Office of Vocational Rehabilitation at the suggestion of AgrAbility for Pennsylvanians.
'That's when it happened…'
Ryan Frye, co-owner of RDR Farms in Blairsville — so named after his father (Randy), mother (Dawn), and himself — and member of Indiana- based REA Energy Cooperative, sports a piece of specialized equipment (sometimes referred to as "assistive technology") on his family's beef farm. The mechanized, all-terrain wheelchair allows him to stand upright.
Frye, 35, lost his ability to stand at 19 after a 600-pound all-terrain vehicle (ATV) landed on his back. During his initial recovery, the hematoma in his spine began to bleed and damaged his nerves, leaving him paralyzed from the waist down.
"The day of my accident, I was out planting corn, and I only had one more field of corn to plant to be done that year. I quit and said, 'Tomorrow is another day,'" Frye recalls. "I came home, did my barn work and went quad riding, and that's when it happened. I've done the 'what if' — what if I'd just finished that field of corn and not gone out riding that night?"
Following a relatively quick rehabilitation — one month compared to an anticipated six — Frye was back to work on the farm, but it wasn't long before he found his new limitations forced him to ask for help. His parents would often have to help him up onto a seat, and he would have to explain to his mother, step-by-step, how to complete tasks he had once been able to quickly do on his own.
"When we were harvesting, I had to ride in the tractor all day long with him and hitch and unhitch wagons for him because he couldn't get in and out of the tractor," his mother explains. "If something would break while I was riding with him, I would be the one that had to get out and … take directions from him."
Depression began to take hold of Frye as the amount of help he needed grew. It was around that time, while visiting an Ag Progress Days event, the Fryes came in contact with AgrAbility.
The organization changed his life.
"We want to see Ryan stay in beef farming, if it is his passion," Kendra Martin says. "We do not need Ryan to experience another setback … to experience a secondary injury. Ryan does not need shoulder pain on top of being a wheelchair user. He can still be extremely successful in his field."
With recommendations from AgrAbility PA and financial support from OVR, Frye was able to get the mechanized wheelchair, as well as a flat-bed lift and a side-by-side ATV — tens of thousands of dollars' worth of equipment at no cost to him or his family. But the real value, Ryan says, was the freedom these tools returned.
"I could take that truck and go to the field, get in a machine, and go to work or hook and unhook a wagon," Frye says. "This [mechanized wheelchair] allowed me, instead of having to sit in the side-by-side, to get out there. … Farmers don't know when to stop."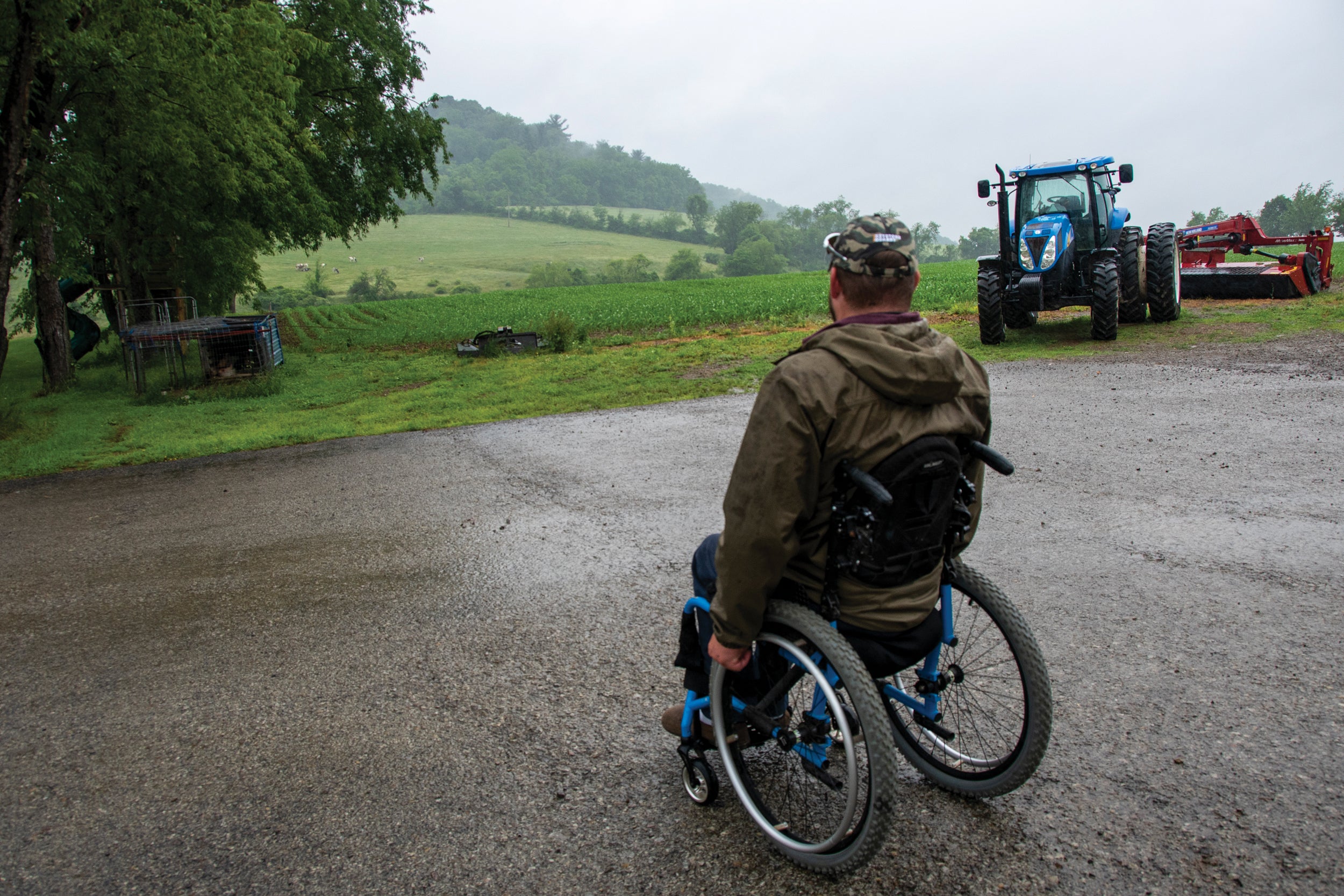 NEVER QUIT: Ryan Frye, who was paralyzed from the waist down at 19 after an ATV accident and spinal hematoma, wheels himself across the driveway adjacent to his corn field.
Unbearable pain
Perhaps it's because farmers enjoy the work that they rarely take a break. Or maybe it's because farming is the kind of labor that requires intense commitment. Either way, the men and women working Pennsylvania's fields and farms share another trait: They rarely ask for help.
Bob Stanton, co-owner of Manor Meadows Farm in Everett and a member of Bedford Rural Electric Cooperative (REC), was in agony for weeks as he worked across his 400-acre farm. Struggling to tend to his crops of alfalfa, grass hay, corn and wheat, and milk 90 cows, he had no idea something was literally eating away at his body.
The pain, rippling through his backside and down his leg, became so unbearable he stopped eating. Before long, he could no longer walk. As the pain worsened, he noticed an odor he couldn't scrub away.
Stanton was diagnosed with a rare disease, necrotizing fasciitis, which averages 1,000 cases in the United States each year and causes the body's tissue to rot from the inside out. Similar to the aftermath of a brown recluse spider bite, the rot will spread if left unchecked. Unlike the spider bite, it spreads much faster and is much harder to treat.
"You've got to cut every bit of it out," Stanton says. "They told my wife several times to say goodbye."
While the bacteria that causes the disease is most likely to enter through an open wound, it can also be transmitted by insect bites, but there were no signs of either on Stanton. Flown to Pittsburgh for emergency treatment, the farmer underwent 10 surgeries within 22 days. Surgeons removed nearly all of his left gluteal tissue, as well as skin and muscle from 3 inches above his left knee. Stanton was in a coma for a week, and still has no memory of the 20 days after he awoke.
But he does remember the 21st day very clearly.
"My youngest son and a friend got me out of bed," he recalls. "I was in an awful lot of pain that day. Twenty-third day: I got out of bed with the help of a nurse because I kept telling her I was getting out of bed no matter what. Twenty-seven days: I walked without any help at all or any walker or anything. Thirty-two days: They sent me home. Forty-two days: I was back to work."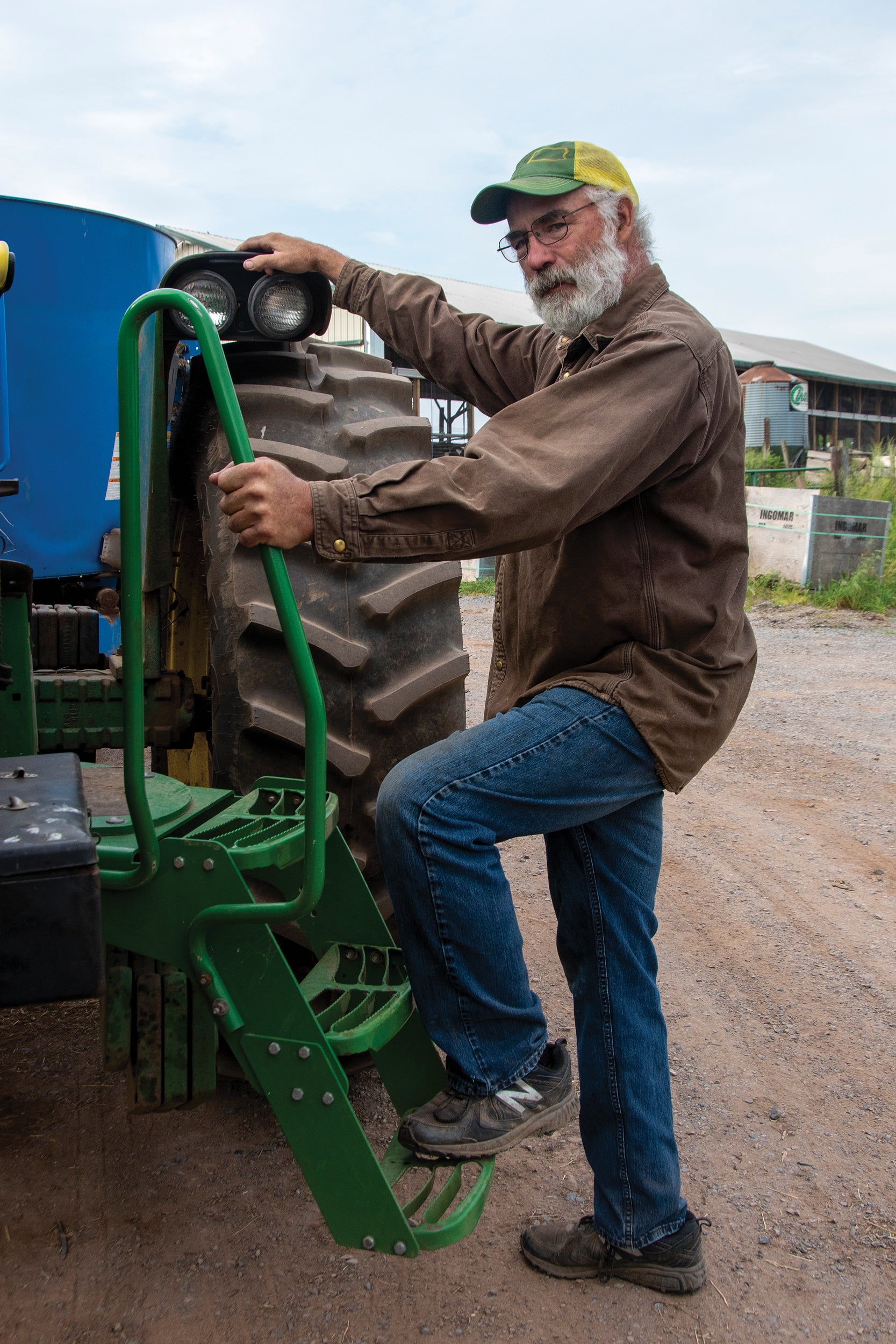 A LEG UP: Bob Stanton, co-owner of Manor Meadows Farm in Everett and member of Bedford Rural Electric Cooperative, climbs steps installed on his tractor to ease the burden on his left leg, which has very little muscle tissue left after he suffered a rare disease.
Doctors had told Stanton's family he'd only ever walk with a cane or walker for the rest of his life, and he'd never work another day. They also told them he was supposed to be in the hospital for at least eight months and never get out of bed.
But no one told Stanton that.
"At that point, nobody told me that I'd never work — I'm just a bull-headed farmer, you might say," he adds. "I just decided that it was time to get up and work — no one was helping my son, and the crops were burning up in the field."
It wasn't long before Stanton realized he couldn't work like he had before his surgeries. While able to walk without help, his left leg was no longer able to stabilize him, and sudden shifts in weight — like a cow nudging him at just the wrong moment — could send him tumbling down. Sitting on tractors was also painful because he had hardly any muscle or fat on his left backside.
That's when a neighbor introduced him to AgrAbility PA.
"I dragged my feet for a little bit," Stanton confesses. "I'm not one to get free help. A couple of my friends I knew had gotten help from this outfit, and they had talked to me about it. Then that outfit came and talked to me — three or four times — and I finally accepted their help. And I was very happy they gave me help, because what they gave me helped with my everyday workload."
AgrAbility PA recommended and OVR paid for the installation of extra steps — Stanton affectionately refers to them as "old-fart steps" — that allow him to climb into his tractors without lifting his foot above his hip and pull himself onto the tractors' seats, which were also replaced with cushioned, more supportive chairs. He also received a utility ATV to help limit the amount of walking he does on the farm.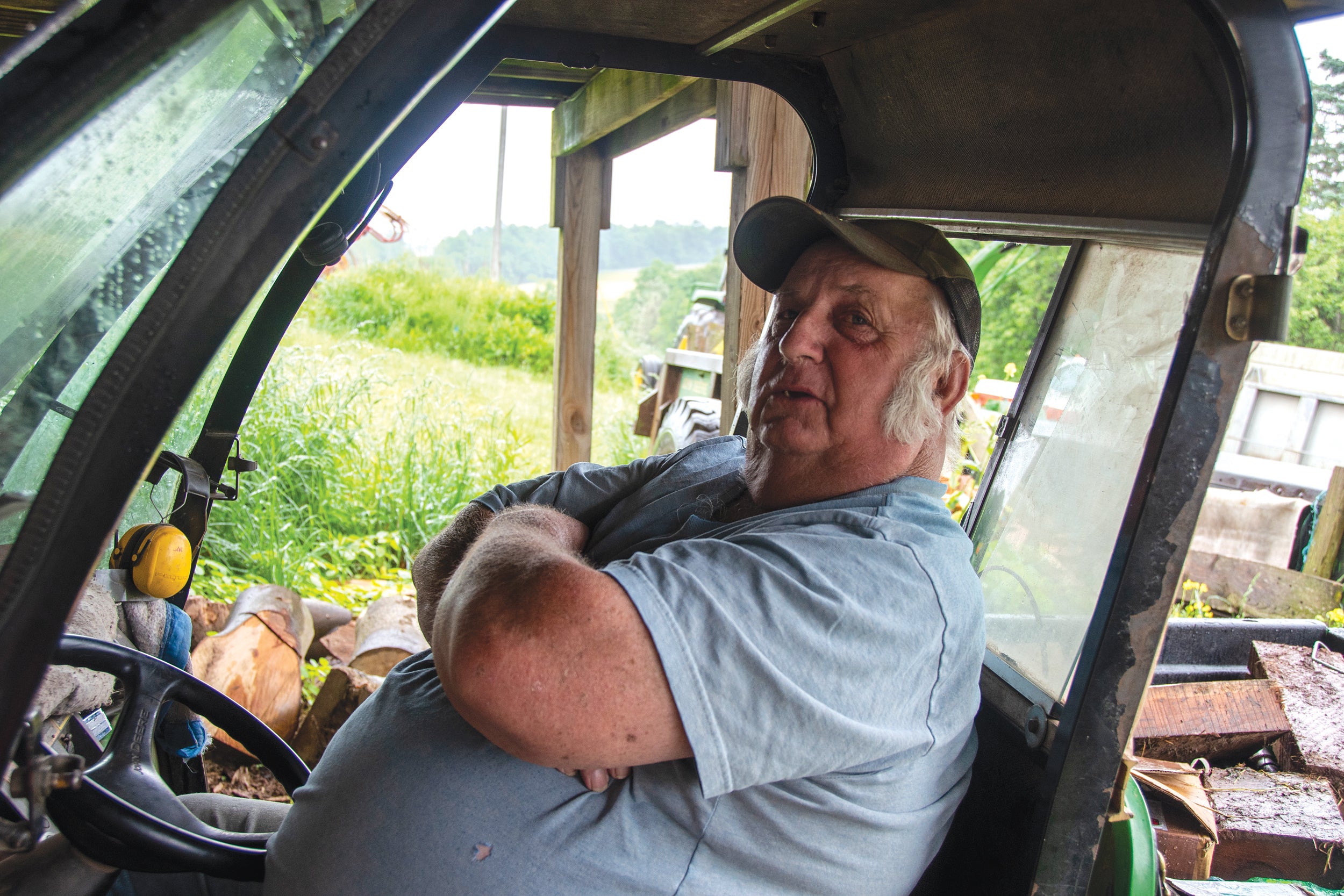 A MEANINGFUL TOOL: Richard Coughenour, former owner of Little Piney Farm in Salisbury and member of Somerset Rural Electric Cooperative, sits in a utility all-terrain vehicle he uses to move around his farm and avoid putting undue strain on his back and knees.
Showing appreciation
"It's a helping hand," says Richard Coughenour, former owner of Little Piney Farm in Salisbury — a dairy farm he has turned over to his son, Bradley — and a member of Somerset REC. "Somebody is reaching out to give us a hand in appreciation for what we've done. If you fell down, I would offer you hand to get back up, and that's what AgrAbility is trying to do."
Coughenour, who took over his family's farm at a young age following his own father's flagging health as a disabled World War II veteran, faces his own mobility challenges from damage to his knee and back. His tale isn't one of a freak accident or rare disease. Instead, his disabilities are the result of the day-to-day responsibilities of keeping his 234-acre farm, where the family also grows hay, corn and oats, operational.
"I don't lay down and quit," Coughenour says. "I just keep on going. And I guess I used [my knee] too hard."
To help Coughenour, AgrAbility PA recommended steps and seating for his tractors, which are similar to those Stanton received. Coughenour also received speed hitches for the farm's forage harvesters and wagons, sparing him from repeatedly climbing on and off his tractor to attach and detach wagons loaded with crops.
Another donation was a utility ATV.
"That tool has meant a lot to me — it's gotten me to the barn almost every day," Coughenour says. "I can keep up with my boy and my brother who helps. It's like having a pickup with all my tools on it. It's a work horse."
OVR, as it did for Frye and Stanton, helped to cover the cost of tens of thousands of dollars' worth of equipment for Coughenour, who has been working with AgrAbility PA for more than 13 years. Without that support, he's not sure where he'd be.
"I don't think we'd be milking cows, and I don't even know if I could have kept the farm together," he admits. "AgrAbility PA has done a whole lot to help us out."
Pennsylvanians with a disability or a long-term health condition who are working in production agriculture or an agricultural occupation may be eligible for AgrAbility services. For more information, visit AgrAbilityPA.org; follow AgrAbility PA on Facebook, Twitter, Instagram, and Pinterest; or contact the organization at AgrAbility@psu.edu or (814) 867-5288.
"Farmers, in general, never want to ask for help, but it's there for a reason, and it's to help you better yourself," Frye says. "Don't be afraid to ask."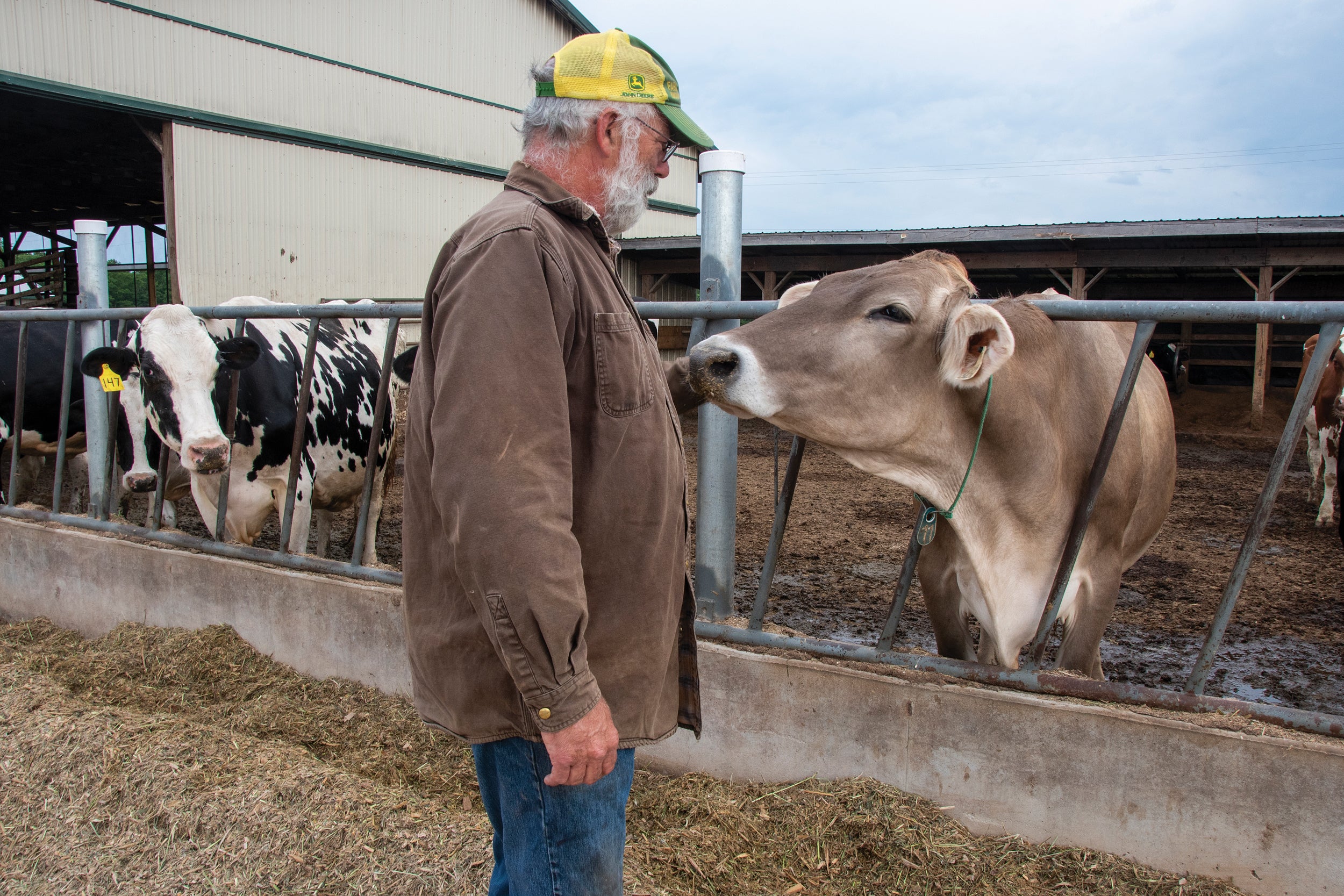 GENTLE GIANT: Bob Stanton, who recovered from a flesh-eating disease that ravaged most of his left leg, pets one of the 90 cows on his 400-acre farm, where he also grows alfalfa, grass hay, corn and wheat.