Built to last
Log buildings have deep roots in Pennsylvania
By Michael T. Crawford
When talking about rugged individualism, you can't get a stronger, more enduring symbol than the log cabin. As home to some of the oldest log structures in the country, Pennsylvania has no shortage of new and old log-home construction.
"To me, it's like back to history," says Ray Slothour, a member and former employee of Gettysburg-based Adams Electric Cooperative (EC) who lives in a log home in Orrtanna. "You might say when colonial people moved in here, that was one of the main reasons they wound up with a log house — all the trees in Pennsylvania."
While the tools and techniques have evolved, a log structure today largely follows the same basic concept as it did centuries ago. The logs interlock to form a "crib" and the spaces are filled with chinking — traditionally, pieces of wood and rocks wedged in between the logs — and covered with daubing — historically, clay mixed at times with straw, grass or animal fur — to seal the house. It's an approach to building that has stood the test of time across the
Commonwealth.
"Somerset County started seeing people moving here in the mid-1700s," says Jacob Miller, curator for the Historical and Genealogical Society of Somerset County, a partner of the Somerset Historical Center, which is part of the Pennsylvania Historical and Museum Commission. "By then, [the log crib] was a pretty common building style on the frontier — you see it a lot with forts, such as Fort Pitt or Fort Ligonier. There are still surviving log houses that people live in that were built in the late 1700s, early 1800s."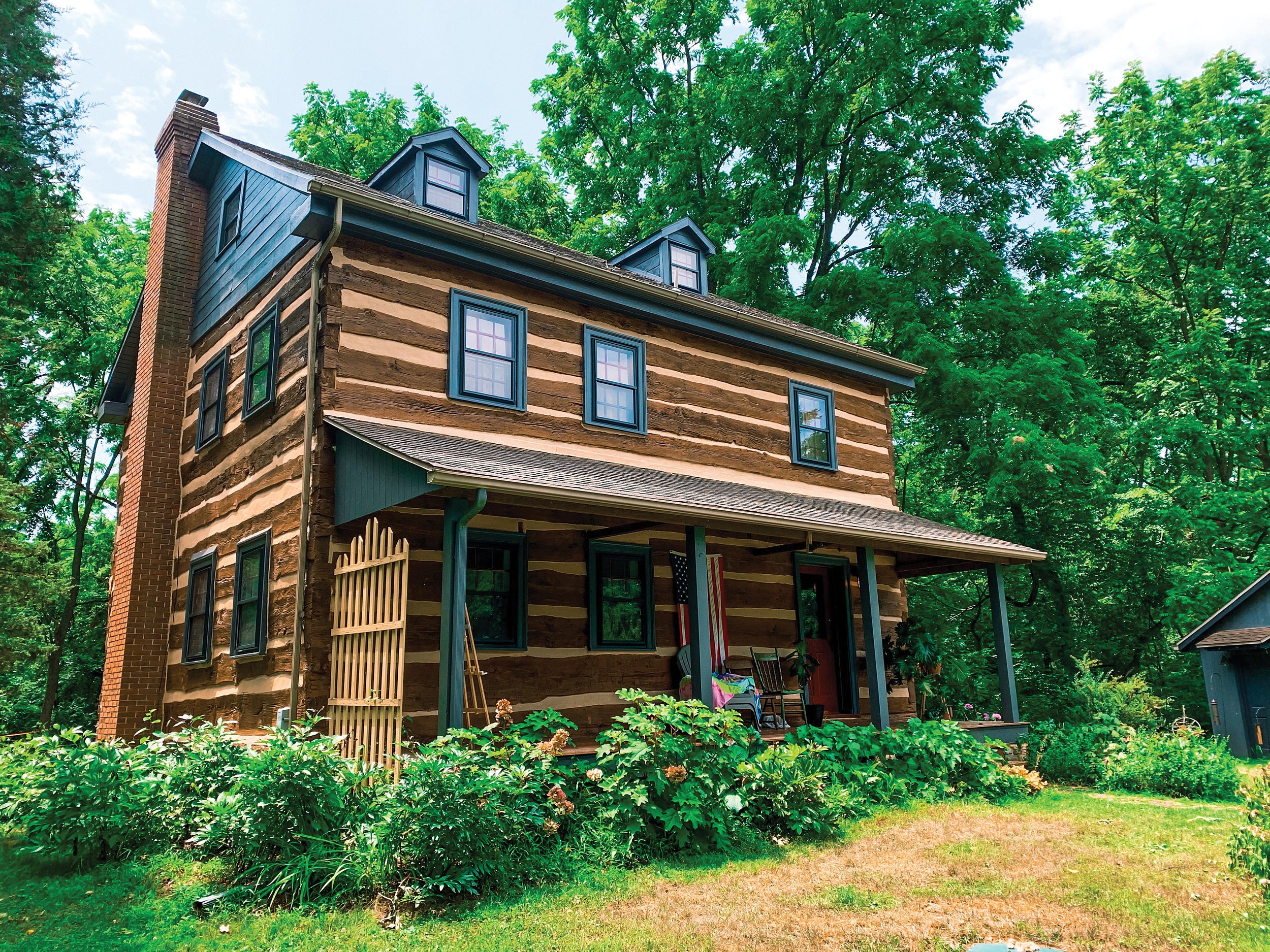 GOOD AS NEW: Renew Services, owned and operated by former Adams Electric Cooperative member Ryan Shannon, builds, maintains and restores log homes and cabins across the Commonwealth, such as this one in Shippensburg. (Courtesy of Renew Services)
 
Gimme shelter
The Swedes, who settled in southeastern Pennsylvania in the mid-17th century, are credited with first bringing the log house to the American colonies. The earliest surviving building in the Commonwealth is the Lower Swedish Cabin, circa 1640, along the Darby Creek in Drexel Hill, Delaware County.
"The cabin was a lot of times the first shelter that [colonists] put up when they came to settle an area," explains Miller, son of Somerset Rural Electric Cooperative members Andrew and Michele Miller. "A cabin is a smaller structure; it was crudely built. It was meant to be put up quickly and used temporarily, at least on the farmstead. They used smaller timbers for it — they didn't take the time to hew them square — and most often they only had a door and one window. They had earthen floors, exposed walls and probably a log fireplace and chimney. While they were building other structures, such as the log house or the barn, they would live in the cabin."
As construction progressed on more permanent structures, the cabins would either be torn down for materials to use in other projects or sometimes repurposed as stables or outhouses.
"The amount of time it took to build a log house varied," Miller says. "Log houses required more help and more expertise to build. Proximity to a timber plot and how large the planned construction was also determined how quickly a house could be built. Neighbors often gathered to help put up buildings, and once the logs were shaped, the log 'crib' (walls of the house) probably could be raised rather quickly."
The proximity to timber plots is a likely reason for the popularity of the building style, says Carey Huber, environmental education specialist at Parker Dam State Park Complex, which receives electricity from Dubois-based United Electric Cooperative.
"It was the material of the time — it was available on-site," Huber says. "One of our biggest industries is wood products; we have lots of lumber and timber. We're [in] Penn's Woods, so it was completely forested at one point. Now, I think it's more that rustic look and the nostalgic part of it."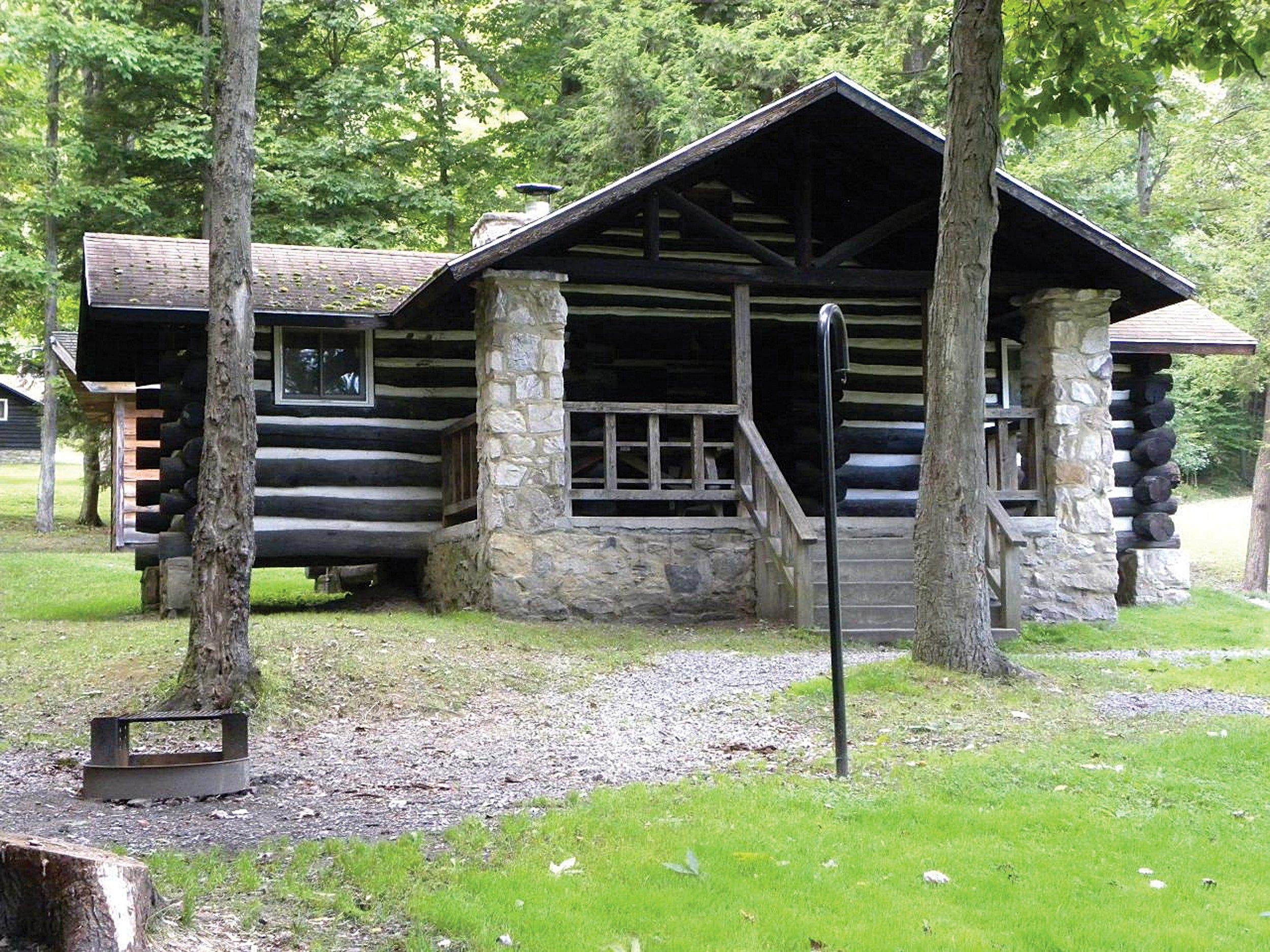 CONSERVATION CABIN: This is one of 16 cabins built by the Civilian Conservation Corps in the 1930s at the Parker Dam State Park, which receives electricity from DuBois-based United Electric Cooperative. The cabins are available to visitors year-round. (Courtesy of Parker Dam State Park)
 
The nostalgia and look can still be enjoyed at the state park's cabin colony, where more than 16,000 visitors stayed in 2021. There are 16 cabins in the colony, plus one more that used to be the officer's quarters for the Civilian Conservation Corps (CCC), a work relief program that gave millions of young men employment on environmental projects during the Great Depression. In nine years, CCC planted more than 3 billion trees and constructed trails and shelters in more than 800 parks nationwide.
"It generates revenue and that sort of thing, but I think over the course of time what's more important about what they did was the connection to the parks and the natural resources to being outside and enjoying nature," Huber says.
'The Dollar-a-Day Boys'
The CCC built the cabins, along with the rest of the park, in the 1930s to make a recreational site, Huber explains. The workers were called "Dollar-a-Day Boys" because they were paid $30 each month. Typically, they never saw $25 of it — because it went straight home to their families.
"They were coming to live in camps to do conservation work on public lands," Huber explains. "They were here to build the park. A lot of our parks — the northcentral region of Pennsylvania, especially — have that CCC influence. Because land had been purchased earlier, when the timber companies would move on, it was all ready to go — there was land there and it needed to be developed with some facilities … along with a lot of other projects there: fighting fires, planting trees, building roads and — in other parts of the country — working with soil conservation.
"They came from all over Pennsylvania and all over the country," he adds. "When you signed up, you got sent to where the CCC needed you at the time. It helped them in a time when they didn't have a lot going on — they were hungry, didn't have jobs — and they came to the camps where they gained weight, they worked, they had meals and had money being sent home."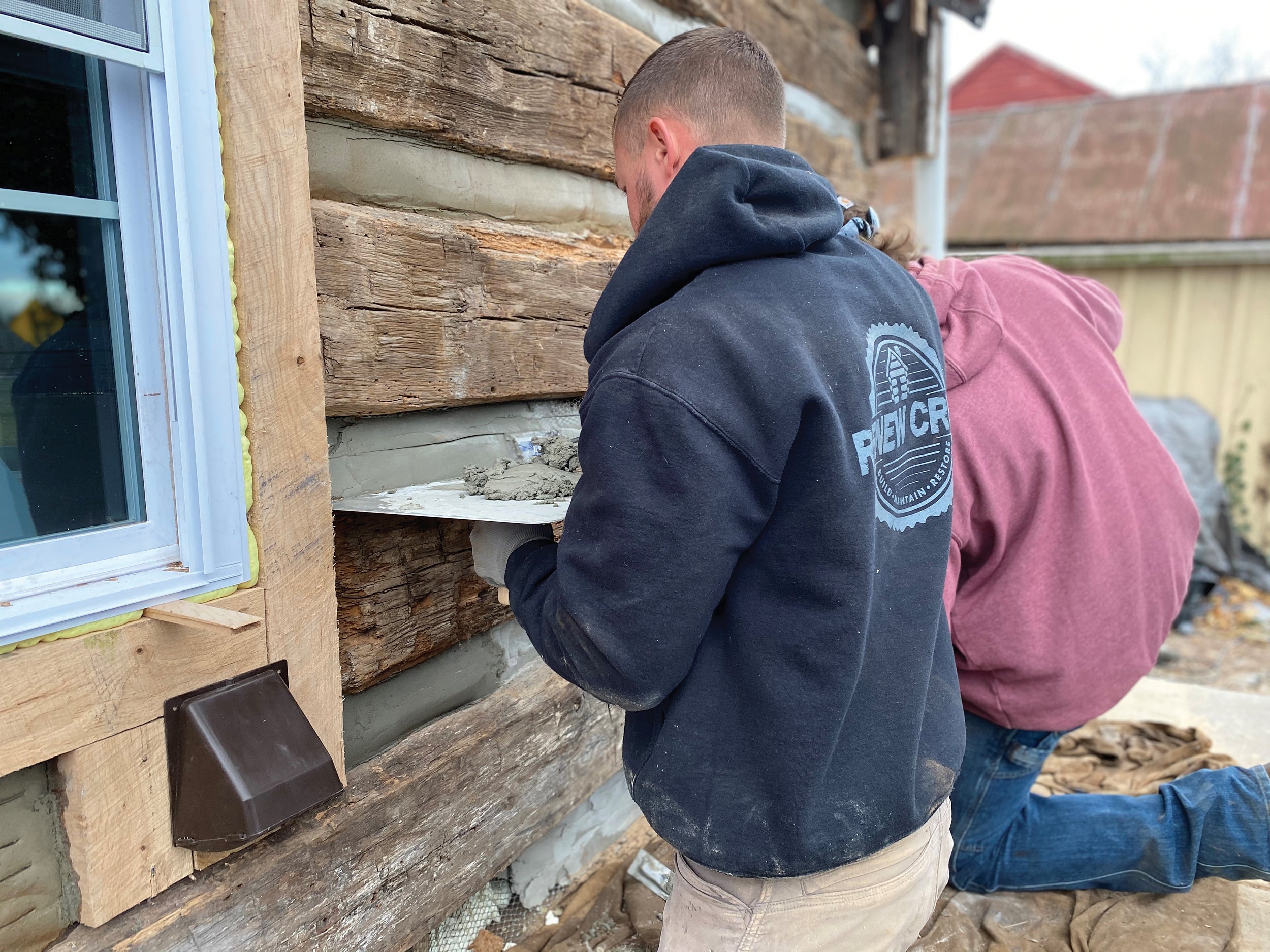 RENEW CREW: Crew members of Shippensburg-based Renew Services apply daubing to a log home in Gettysburg as part of a full restoration project. (Courtesy of Renew Services)
 
Each cabin at the park is unique. While a few share general layouts based on size, each one is slightly different than the other — though they are similar to other CCC cabins across the country, which were built according to the field manuals CCC members were given.
"There were a lot of hand tools involved," Huber says, adding the workers didn't have access to much machinery. "A lot of them were learning the skills as they went, so they'd have some tradesmen on-site — they'd call them the local, experienced men — and they would help teach the boys in the CCC how to cut stone, for example. There's lots of stone around, so you're not hauling in stone — you're going to get it on-site. The timber was on-site, so they'd learn how to get it into usable material."
Like the CCC and early settlers before them, location was key to the construction.
Slothour and his wife, Debbie, also a former Adams EC employee, spent a year searching for the right location to build. Knowing that he would spend more time in his house than out of it in retirement, he wanted it to be exactly what he wanted and where he wanted it. Fortunately, his many roles at the cooperative gave him plenty of insight into the area.
Slothour started at Adams EC in June 1959 on the line crew as a groundman. After a year, he became an apprentice lineman. Eventually, he became a crew leader, maintaining old lines and building new ones. After a hip replacement put his days of climbing poles and trucks to an end, Slothour transitioned to the role of dispatcher before becoming a staking technician in the early 1990s.
As he neared retirement, Slothour found the perfect plot of land for the couple's retirement home — he also staked out the placement of the poles that would power their home. Some of the trees on the lot would even become the materials used for their garage.
"I always liked log homes," says Slothour, who helped his father with restoration work when he was younger. "It's something I never thought I'd have, but I always hoped I would."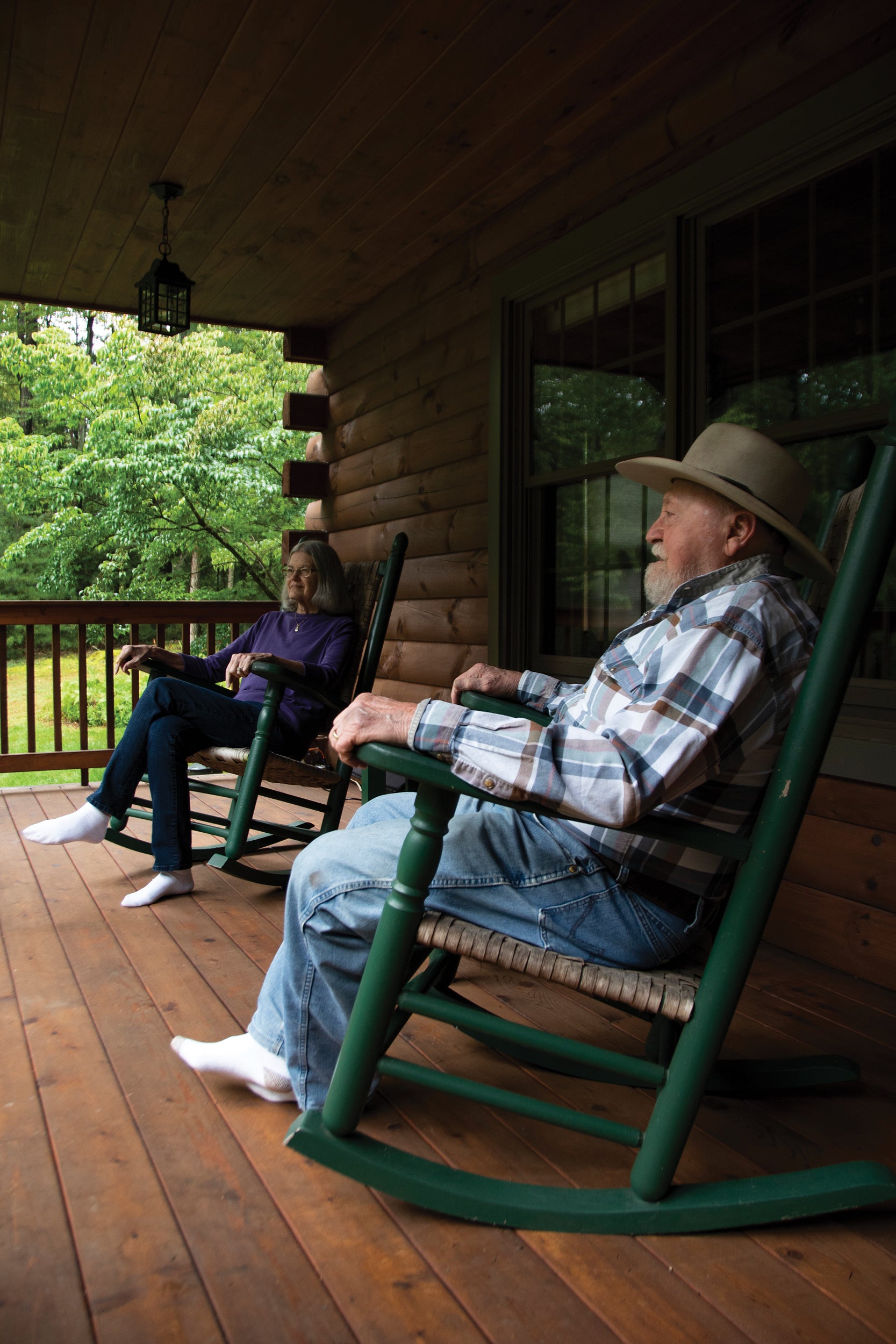 HOME SWEET HOME: Ray and Debbie Slothour, members and former employees of Gettysburg-based Adams EC, enjoy the front porch of their log home in Orrtanna.
 
A little TLC
If you're looking at a log home yourself, whether it's an older restoration or a brand-new construction, maintenance is key, explains Ryan Shannon, owner of Shippensburg-based Renew Services and a former member of
Adams EC.
"Your environment is going to determine how often you need work done," Shannon explains. "A log cabin in a state forest can receive a treatment and long outlast a cabin on top of a mountain that's getting hit by wind, rain, snow and a lot of sun. In the forest, you have different challenges — mold, mildew and algae."
Log homes are more susceptible to what Shannon refers to as organic pollutants — dust, dirt and pollen — that will get "baked into" the wood the longer they sit in the sunlight. Log home owners can reasonably expect some sort of maintenance every three years, Shannon advises, such as repairing insect or environmental damage, washing, or reapplying a stain.
"It's very interesting and exciting," Shannon says of constructing or reconstructing log homes. "You're dealing with something that you're not always able to go to your local hardware store to get a replacement for. Every cut, every movement has to be precise."  
Still standing: Historic cabins you can visit
As one of the 13 original colonies, Pennsylvania houses a rich history of, well, houses. Here are four log structures that still stand to share their story:
The Lower Swedish Cabin, Drexel Hill, Delaware County — Built circa 1640, this cabin is actually older than the Commonwealth itself, which wasn't formally founded until 1682. Second only to the Nothnagle Cabin (built 1638) in Gibbstown, N.J., the Lower Swedish Cabin was added to the National Register of Historic Places in 1980.
Neill Log House, Pittsburgh, Allegheny County — Built circa 1795, this log home is the oldest domestic dwelling in Pittsburgh, according to the Squirrel Hill Historical Society. Built and occupied by a solider stationed at Fort Pitt, the house had its 15 minutes of fame when Meriwether Lewis — of the famous Lewis and Clark Expedition — passed by the house in 1803. The story goes that travelers'
horses drank from Snyder's Spring, which was the source for the Catahecassa Fountain at the house, designated a historic landmark in 1977.
Bloody Knox Cabin, Curwensville, Clearfield County — Built circa 1861 in Knox Township, the cabin became the site of a bloody standoff between Union Soldiers and draft dodgers in December 1864. Built by Tom Adams, who deserted in 1863 (one year after he enlisted), the cabin was the site of a party thrown by a group of deserters. When Union forces surrounded the cabin to make arrests, Adams exchanged gunfire with the soldiers, killing one. Adams also was shot and killed.
Drake Log Cabin, Apollo, Armstrong County — According to the Apollo Area Historical Society, the cabin was supposedly built in 1816, despite the earliest deed being dated 1862. The cabin, named after owner Sarah Drake, inspired the formation of the historical society, which purchased and began restoring the cabin in 1970. The Drake Log Cabin was rededicated in 1971.