The Seeds of Support
Help Available for Farmers Battling Depression
By Paula Piatt
Penn Lines Contributor
Since Jesse Phillips was a kid, it's been about the cows. Still is.
A 4-H lamb project introduced him to agriculture and livestock at a young age, and a couple dozen sheep during those early years kept his interest alive. But he always came back to the cows – "his first love."
Fast forward, he was "living the dream" in 2018 with his wife, Samantha, 2-year-old son, Emerson, and his own cows on their farm in Bradford County, a region served by a trio of rural electric cooperatives (RECs): Claverack, Sullivan County and Tri-County. Like many working in the dairy industry today, the couple was getting by; each day had its challenges – some more than others – but the blessings outnumbered the complaints.
A brutal cold spell in January that year and an overzealous Holstein would soon, however, change the course of their lives.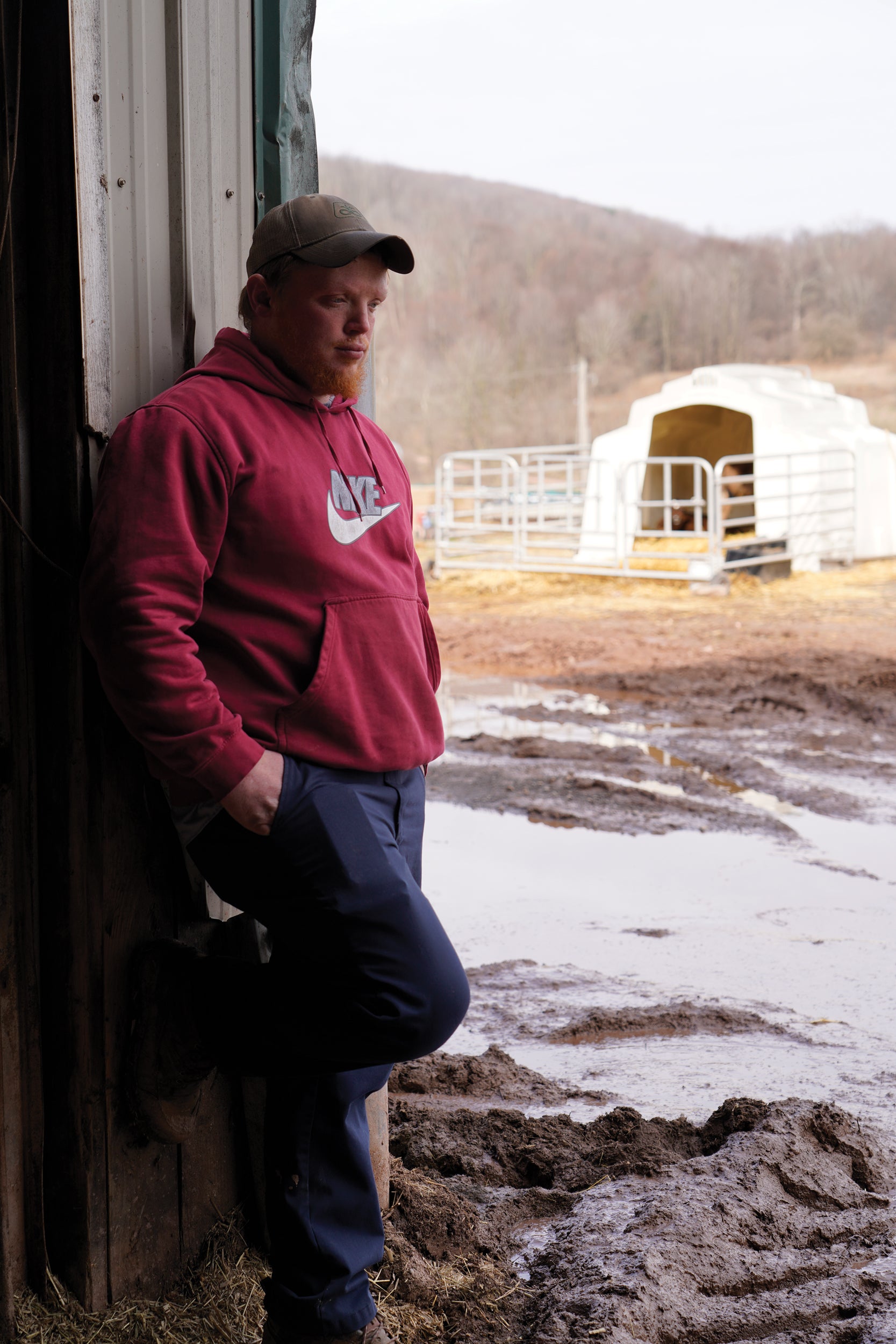 Jesse Phillips
Waking up New Year's Day, the couple found that one of the cows had disconnected a hose from the farm's watering system, flooding the manure troughs in the barn. Normally, a paddle-and-chain system would move the manure from behind the cows and out of the barn, but the frigid temperatures rendered it immobile. The pair chopped through the ice for four days until they could finally run the chain system. For 10 to 15 feet, all went smoothly.
"Then everything came unglued," Phillips remembers. "(The trough cleaner) was in pieces."
Not to be deterred, he remembered a friend in Sullivan County who had the same model and was offering it up for parts. "I gotta go get this part," he told Samantha, who, having a "weird" feeling in the pit of her stomach, tried to convince him not to go.
"It was a bad day to drive, and looking back now, there were five solid [signs] that said, 'You probably shouldn't go,' " Phillips remembers.
They included a flat tire on his trailer; the earlier conversation with Samantha; the behavior of his dog, a faithful, long-time companion who "wanted out of the truck like it was on fire;" another conversation with his wife; and finally: "As I was driving," he recalls, "I thought to myself, 'This is foolish. This is a main road, and it's really bad.' But I put it in four-wheel drive and proceeded on."
Broken bones and stitches
When Phillips's truck came to rest in frozen Elk Creek, it had hit a guardrail head on, stood straight on end, cartwheeled over the bridge and fell 25 feet before landing on the driver's side. He doesn't remember much, but was told he mentioned his back hurt and implored first responders not to cut off his Carhartt bibs.
Doctors at UPMC Williamsport found two broken vertebrae in his neck, two more in his back, a broken collarbone and shoulder blade, and a split sternum. Almost 40 stitches covered his head. Unlike Phillips, though, the bibs didn't survive.
Home after almost a week in the hospital, he lived in a recliner and hospital bed in his living room.
"I went from 100% self-reliant and not afraid to work 100 hours a week to … you just lay there and you think and you continue to think," he says. "I watched my wife struggle for days and days and days just keeping up the daily tasks. There were times I just didn't … I didn't want to keep going."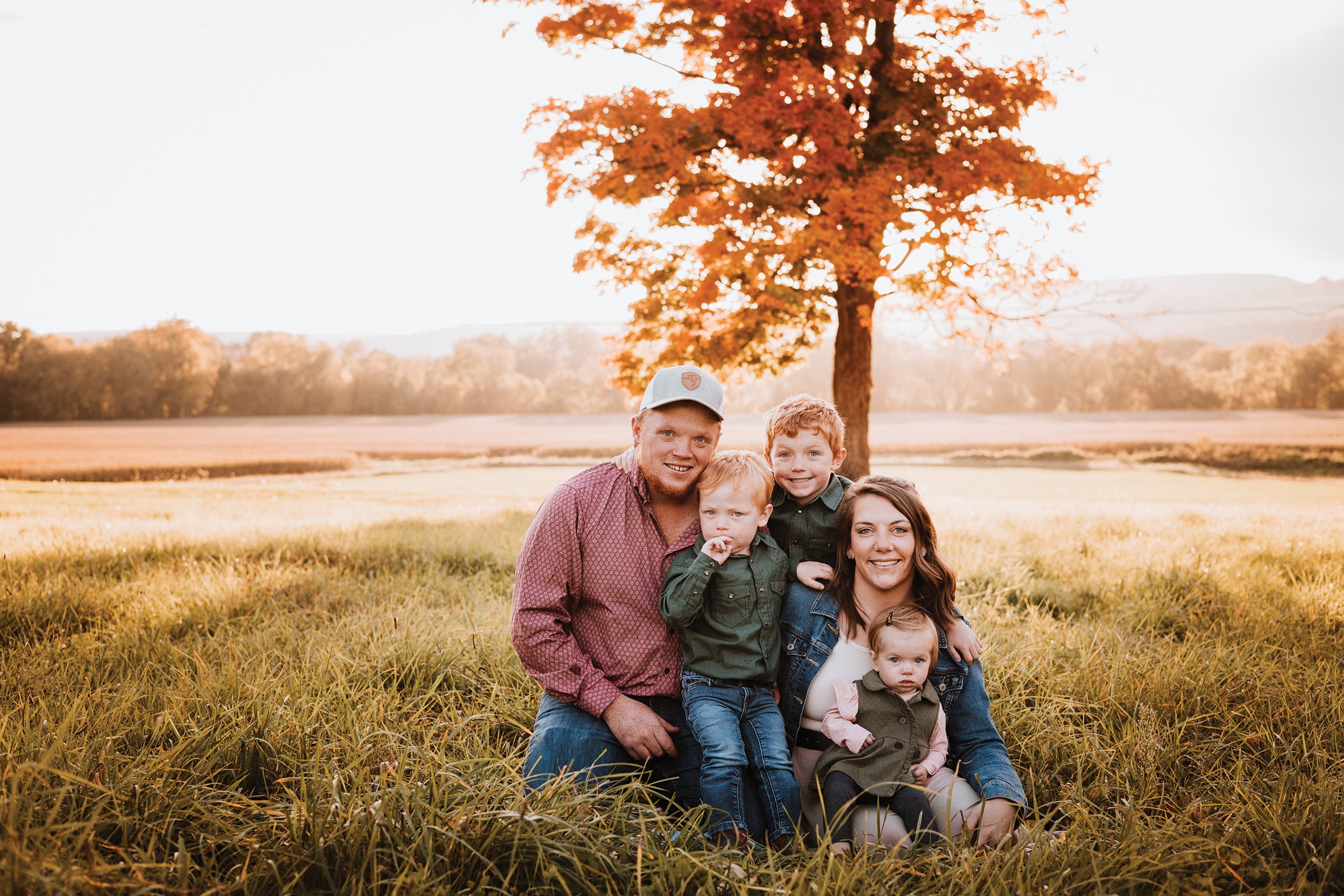 THE ROAD TO RECOVERY: Five years after injuries from a truck accident forced him to sell his dairy cows, Jesse Phillips is back on his feet, recovering from depression. He is shown here with his wife, Samantha, and their children, Emerson, 5, Corbin, 3, and Josie, 1.
 
Life on the farm, however, didn't stop. Cows needed to be milked, chores done and meals prepared. He watched from the window as his wife, his dad, Randy, his mom, Kim — a longtime employee at Sullivan County REC — and his younger brother kept things going.
Two things pulled Phillips through those dark days: his faith and a willingness to talk about his circumstances. Support came from his family, his mom's coworkers at Sullivan County REC and many others in the small, tight-knit, rural community he called home.
"My dad would just sit with me and talk, just to keep me motivated and moving," Phillips remembers.
And so many people were coming by the house, his wife just left the front door open with a note that said, "The door's unlocked, ring the doorbell and just go in…"
"The support from people was the greatest thing to happen, but the hardest thing to understand," he says, looking back on the months immediately following the accident. "Why would someone take time out of their day and come and sit in my living room for three or four hours and talk?"
He now knows, however, what a difference that support made and encourages others, especially fellow farmers, to take advantage of the help that's available. The state, for instance, has developed a handful of mental health programs and services in recent years that cater specifically to those in agriculture, an industry teeming with stressors and plagued by suicide.
"If you do need help, if you do need to talk to somebody, to let things out, it doesn't make you weak, it doesn't make you any less," Phillips says. "Go to somebody else who's milking cows. It doesn't matter if you're milking 10 cows or 10,000 cows, we all have the same struggles and triumphs. Just don't be afraid to talk to someone."
Making the call
There's always "someone" at the other end of the AgriStress Helpline, a free and confidential crisis and support line – available at 833-897-2474 – that you can call or text 24 hours a day. The helpline is staffed with crisis-intervention professionals who understand the issues facing those in agriculture. Supported by the state Department of Agriculture, the helpline has translation capabilities in 160 languages. It's there for those willing to reach out – or for an advocate who wants to reach out for them.
"The first thing is making a connection, finding out where they are and what their needs are," says Tara Haskins, who oversees the Total Farmer Health initiative for the AgriSafe Network, a national nonprofit dedicated to agriculture health and safety. "And then [we] try to help them navigate some resources and empower them [with ideas or suggestions]."
If it's a crisis situation, and the caller is expressing suicidal thoughts, the helpline staff has access to local 911 dispatchers, who can alert emergency personnel and send help. All callers are offered a 24-hour follow-up call, and people can reach out as many times as they need.
Penn State Cooperative Extension also provides support through its Farm Stress Team, an interdisciplinary group created in 2020 and headed up by Ginger Fenton, a dairy extension educator.
While it does not provide counseling, the team offers information to help farm communities and families identify depression and the warning signs of a mental health crisis. Webinars and workshops (all available on the web; search for "PSU Farm Stress Team") not only focus on tools available, but also offer suggestions on navigating stressful times. One such program, "Weathering the Storm," helps farmers and their families understand the effects of stress.
"It increases awareness of the issues, the warning signs of stress, and talks about communicating what you're feeling," Fenton says. "It also discusses stress management, coping mechanisms and resources."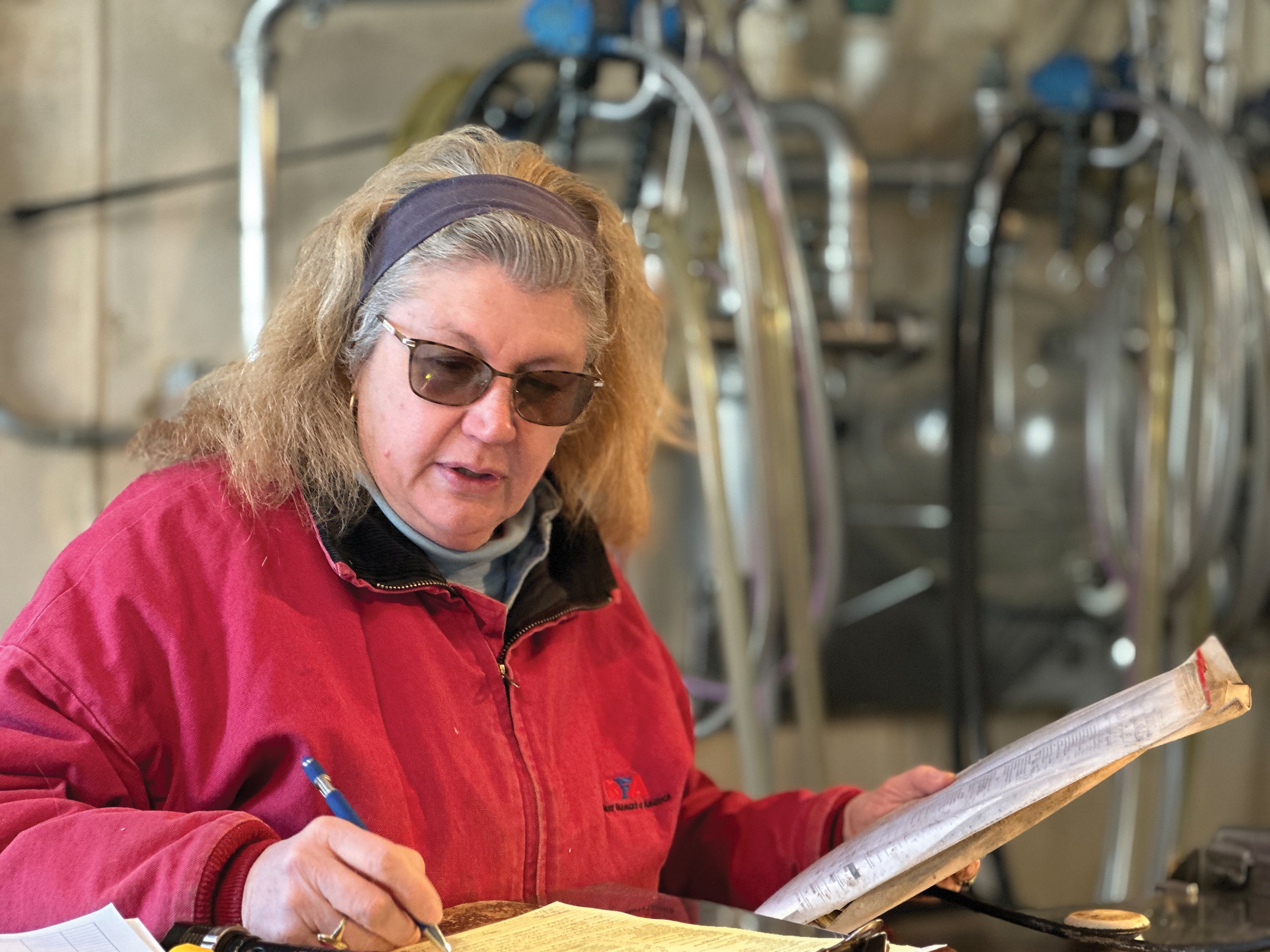 A WITNESS TO STRESS: Connie Kuhlman has been with Dairy Farmers of America for 40 years and seed her share of stressed farm workers on visits to dairies in Bradford and Susquehanna counties. Kuhlman also had her own breakdown during the COVID-19 pandemic.
 
The hard part
All of today's mental health resources are built on decades of data about farm life – and it doesn't have to be a truck accident that causes a farmer to reach the breaking point.
Milk prices, a drought, flooded fields, a spring freeze after the fruit trees have budded, supply chain issues that cripple repairs on the tractor – the list of what can go wrong is never-ending, often compounding and usually out of an individual's control.
Six years ago, a University of Iowa study found that between 1992 and 2010, the suicide rate for farmers was three and a half times that of workers in other occupations – and that was before COVID-19 and a three-year pandemic. More recent data from the Centers for Disease Control indicates agricultural workers are twice as likely as those in other occupations to die by suicide.
More recently, a 2022 survey funded by the Pennsylvania Department of Agriculture found that fear, financial stress and family dynamics are the biggest stressors for those in farming, and "embarrassment" and "cost" are the biggest obstacles to seeking help.
Experts say that fear, the stigma surrounding mental health, is real, especially in the agricultural community, where the can-do, gotta-get-it-done attitude is what often gets a farmer through the day. That need to be self-reliant and continue the family farm tradition can weigh heavily on the mind, too.
"That ruggedness mentality, even though it is so helpful in getting that job done and being successful in a profession that has so many unknown factors, is not beneficial when you need to reach out for help," AgriSafe's Tara Haskins says. "Factors beyond your control are the most distressing factors when it comes to mental stress and crisis."
And it's not just farmers. Those in agri-business – bankers, feed store owners, veterinarians – also deal with difficulties.
Connie Kuhlman, in her 40 years with Dairy Farmers of America, has seen and felt the crush of reality herself. Every day, she's on Bradford and Susquehanna county farms checking milk quality and food safety.
"There have been times when I've walked away from farms and then turned around and said, 'Hey, I'm really worried about you. I'm not leaving until I know you're OK,'" she says. "I've dealt with the same people for so many years, I can usually get a good gut feeling about their stress level. And I've had a couple cases where I truly feared for the safety of the farmer's life."
Her own break came during COVID-19. While on a Zoom call with co-workers, she listened as a new program was introduced that would change the way they were paid for their milk – and it wasn't for the better.
"I knew it was the final nail for a lot of my producers. They couldn't cash flow at that time, and this was going to make it even more difficult. I opened the phone line … and just sobbed," she says of one of the worst moments in her career.
Phone calls poured in from her co-workers, including the chairman of the organization's board, and after talking through it, she moved on to help some of her longtime producers leave the industry with their dignity intact – one of the proudest moments of her career, Kuhlman says.
Eventually, that time came for Jesse Phillips, too. After the truck accident, he realized he would have to give up his herd – the herd he worked so hard to raise and maintain.
"What I kept struggling with the most mentally was … I feel like those cows trusted me. They listened to me. They knew that was their job. I needed them as much as they needed me," he says. "Everything you built is what you watch go. That was as hard as anything else.
Phillips remembers watching the cows leave the farm for new homes.
"Yes, she's got the No. 100 in her ear, but her name is Sophie, and she was born in the middle of a snowstorm in March," he recalls thinking to himself. "I slept in the barn that night to make sure her life started out the way it was supposed to, and now I'm not going to see her life all the way through…"
'Don't bottle things up'
Five years later, Phillips is back with the cows. With "as good a recovery as you could make," he's herd manager for Sugar Branch Farms, which sits on Tri-County REC lines just outside of Troy in Bradford County.
"I'm not saying that I don't have some bad days … I work for a farm, and my hobby is a farm, too. But it gave me a different perspective on life in general," he says of his journey. "Don't be afraid to talk to someone; don't bottle things up because the bottle can only hold so much, and it's going to explode. You have to be able to talk."
Just know there are folks out there who will listen. And help.