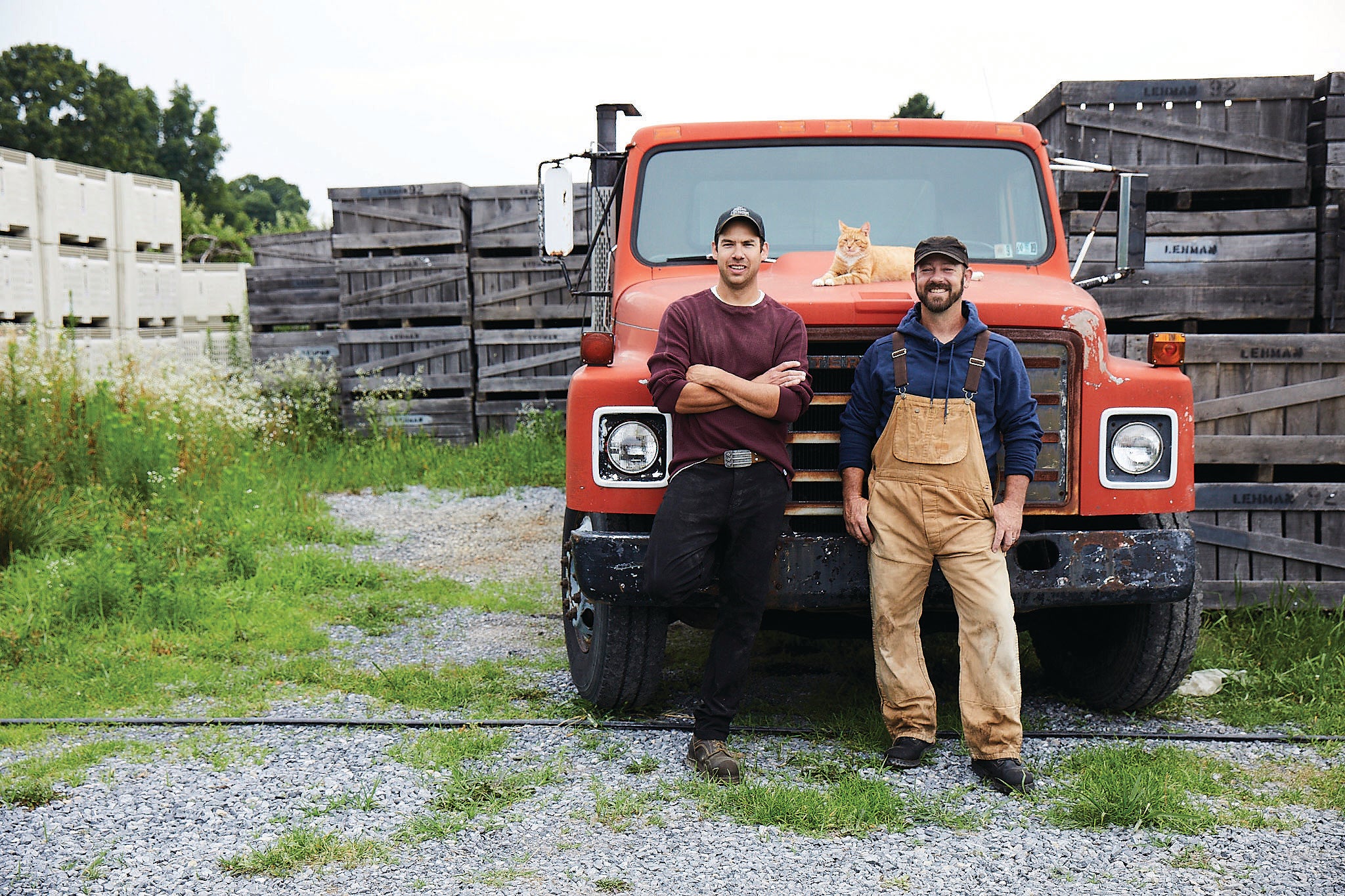 TURNING APPLES INTO LIQUID: Ben Kishbaugh, a member of Tri-County Rural Electric Cooperative, left, and Troy Lehman, are both the brains and brawn behind the prize-winning cider produced by Big Hill Ciderworks, located near Gardners. Inset: Big Hill Ciderworks is the recipient of the "Best of Show" award at the 2018 and 2019 Pennsylvania Farm Shows.
Excited for cider
Apple-drink appeal grows in PA
By Kathy Hackleman
Senior Editor/Writer
Ben Kishbaugh can pinpoint the exact moment he could foresee his future as an entrepreneur. It was in 2010, and he was visiting his friend, Troy Lehman. The two men from southcentral Pennsylvania, both auto industry technicians, for years had discussed their common dream of owning a small farm, possibly with an apple orchard.
"Troy had found his farm and he was living there, and one day he called me and said, 'You have to come taste this cider I made,'" Kishbaugh recalls. "I remember that day like it was yesterday. I was standing in his kitchen with a glass of cider that tasted like you just bit into an apple. Not too tart. Not too sweet. I was hooked."
That sip of cider inspired Kishbaugh to finalize his search for his own small farm with an orchard. By 2013, the two men were pressing apples for local growers at a cidery on Kishbaugh's farm in Adams County near Gardners. That gave them enough capital to start making their own brand of hard cider in 2014 under the name of Big Hill Ciderworks.
Last year, using only apples from their two orchards, they produced 25,000 gallons of hard cider, which they distributed to around 150 accounts in southcentral and eastern Pennsylvania. Most of the distribution points are bars, restaurants, and beer distributors, although they also sell at farmers markets in the Harrisburg area and in Chester County.
Today, Kishbaugh, whose family owns a cabin served by Mansfield-based Tri-County Rural Electric Cooperative (REC), gives all the credit for the cider's taste to his partner, while he handles the logistics, paperwork and packaging.
And credit is definitely due, as the pair of friends have made a name for themselves statewide, winning multiple first- and second-place ribbons, including "Best of Show" with their Manchurian cider, at the Pennsylvania Farm Show in 2018 and 2019 (2018 was the first year for the hard cider competition).
"Winning is not something we expect when we enter a show, but just to be there at the end of the day and hear your name called out, it gives you chills," Kishbaugh says. "Other cidermakers have been doing this for years, and others who are really good have just started up. To be called out as a winner in that group is pretty incredible."
Kishbaugh says that in addition to his partner's talent at combining just the right flavors to give their hard cider that special "something," the two men work hard to grow, maintain, harvest and store the apples from their two farms in optimal conditions, which he says contributes greatly to the final taste of their hard cider.
"Neither one of us had any training in orchards or making cider," Kishbaugh says. "We aren't generational farmers, but we have done a lot of reading and have had a lot of help from local growers. I just keep my mouth shut and listen, and absorb as much as I can."
A lot of apples
Despite being the self-proclaimed "new guys" in the cider business, there is no doubt that Kishbaugh and Lehman are excelling in the rapidly expanding industry.
Pennsylvania is the fourth highest apple-producing state in the U.S. with an annual harvest of about 528 million pounds of apples, according to the most recent U.S. Department of Agriculture Census of Agriculture. Three average-sized apples (each about the size of a tennis ball) weigh about a pound. That means an average annual crop of Commonwealth apples would wrap around the earth at its equator about 2.5 times. Or put another way, the annual apple crop would cover 1.14 million football fields.
That's a lot of apples. According to the census report, 233 million pounds of the Pennsylvania apples are sold fresh while the remaining apples are processed, ending up as apple juice, applesauce, apple cider, apple cider vinegar, apple wine or hard apple cider.
Carla Snyder, an Extension educator based in Gettysburg, Pa., says 70% of the apples grown in Pennsylvania are from Adams County. As the hard cider program lead for Penn State Extension Service, she focuses on education and outreach in the expanding hard cider industry.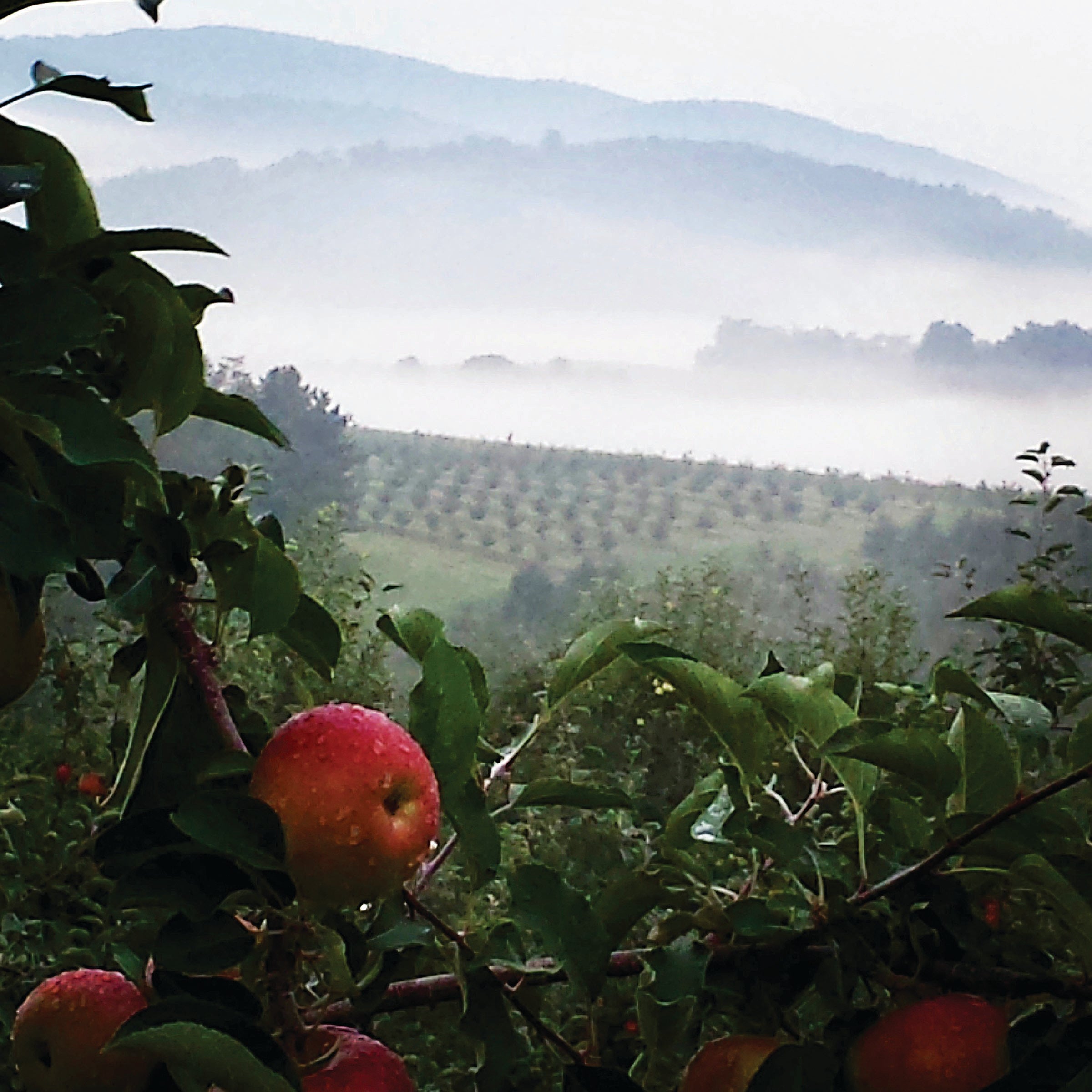 FIRST, THE APPLES: The essential ingredient of both hard cider and fresh, sweet cider is apples from an orchard such as this one operated by Adams Electric Cooperative members David and Marti Fetters of Fetters Fruit Farm near Gardners and Clair's Orchard, Carlisle. (Photo courtesy of Fetters Fruit Farm)
"Penn State (Extension) started the hard cider program in 2014 in response to the need of orchards," Snyder says. "We were seeing the next generations returning to the farm and looking to diversify their revenue stream. Cider was a natural way to set up a revenue stream for that next generation to have as their own. Back then, we walked people through starting a cider business. Over the years, the laws have changed as the industry has grown and it's much easier to enter the market now."
Hard cider, she explains, is an alcoholic beverage made predominantly from apples or pears that is processed under a winery license. That is in contrast to fresh, sweet cider, which is a non-alcoholic beverage that can be pressed by individuals for their own use or in larger commercial facilities that sell fresh cider to retail establishments for resale.
Currently, there are about 50 federal- and state-licensed businesses that process hard cider in Pennsylvania (the number is not exact because there are some existing wineries that have simply added hard cider to their product list, an action that does not require them to notify the state). The latest data shows Pennsylvania ranks sixth in the number of hard cider producers with $25.6 million in economic impact in 2016.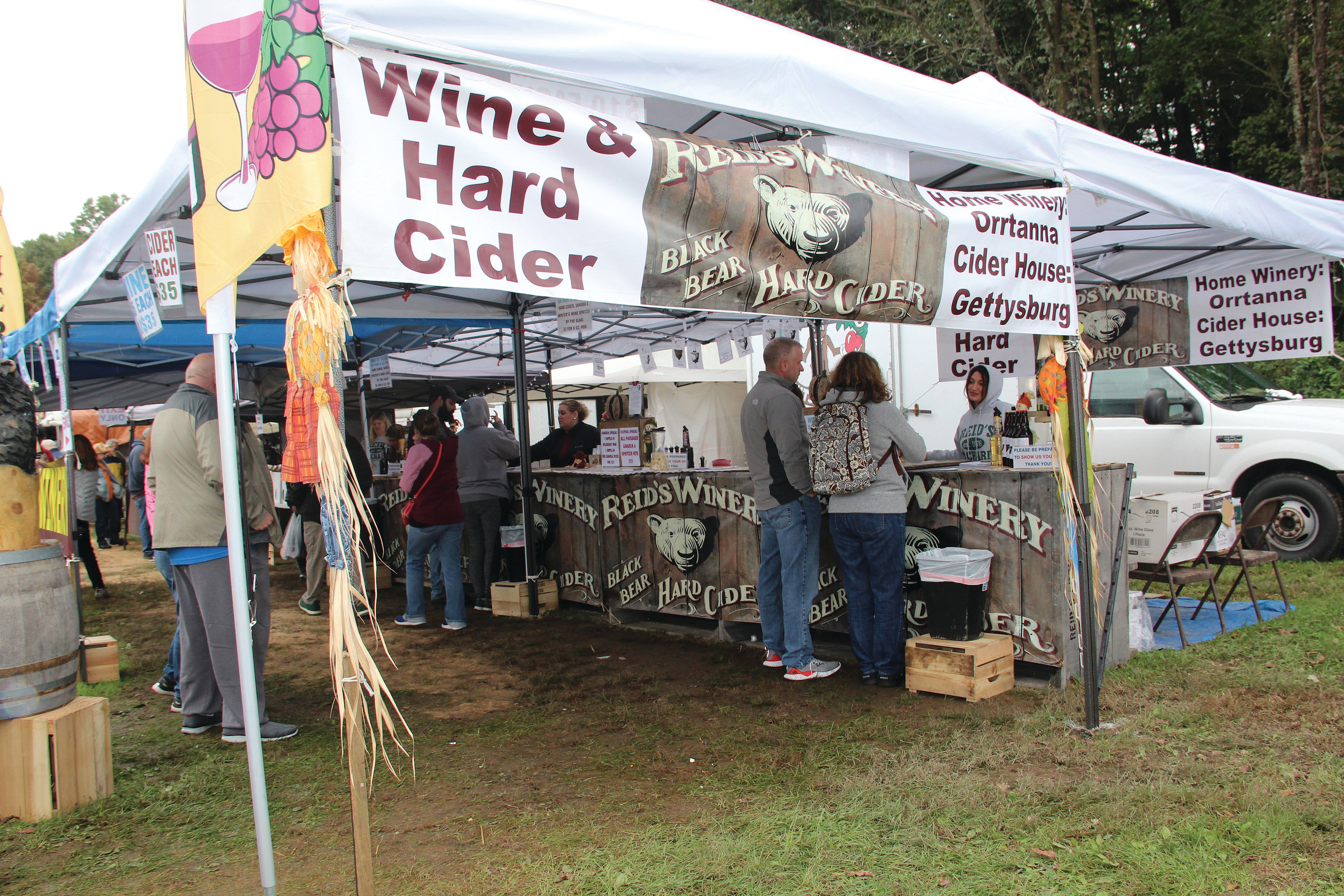 CELEBRATING APPLES: Adams Electric Cooperative member Reid's Orchard and Winery, Orrtanna, is only one of dozens of apple-themed booths at the National Apple Harvest Festival, held annually the first two full weekends of October in Biglerville.
Growing appeal
Today, Snyder travels the world, educating would-be makers of hard cider about the business.
"In May," she says, "I taught in Colombia. In April, I was in Nebraska. This month, I am teaching in Ukraine. I go wherever the largest concentration of industry members are. Extension educators teach the business and marketing aspects of cidermaking, and we bring in cider-specific experts to teach production."
Through Penn State Extension, Snyder has created partnerships with cidermakers in New Zealand, England, Spain and Kazakhstan.
"This allows cidermakers to share information, marketing tips and product development information in a forum that is not competitive because they don't share space in the marketplace," Snyder explains. "Learning from others in peer groups is pretty common in regional and national settings, but it is a new thing to take it internationally."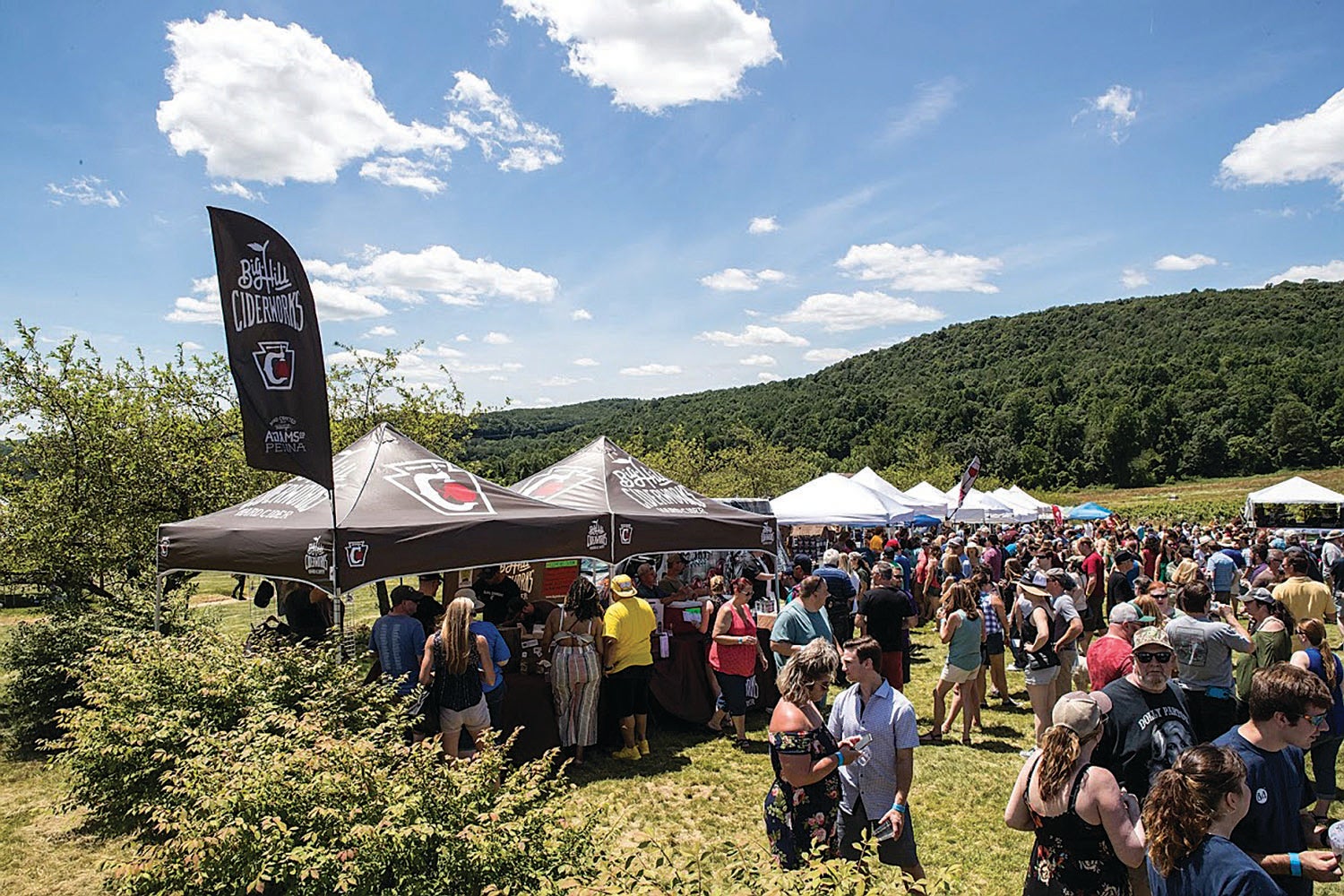 CIDER IN THE SUMMER: The Pennsylvania Cider Guild sponsors the PA Cider Fest annually in June near Biglerville. Open to adults only, the event features vendors selling different varieties of hard cider.
Another effort backed by Snyder is the formation of the Pennsylvania Cider Guild, which incorporated in 2015 through the combined efforts of the Pennsylvania Department of Agriculture, and interested apple growers and cider producers. The guild provides a single, concentrated voice to advance hard cider in the state. The most-public effort is the PA Cider Fest, which benefits the guild, and is held annually in June in Biglerville.
While the PA Cider Fest is open to adults only, the National Apple Harvest Festival is family-friendly as hard cider is only one of the apple and apple-inspired treats available. The National Apple Harvest Festival, held annually the first two full weekends of October in Biglerville, is sponsored by the Upper Adams Jaycees.
"We support fruit growers in our area by holding the festival, which brings in thousands of people," says festival Publicity Committee Chairman Andrew Robinson.
One of the most popular exhibits at the National Apple Harvest Festival is the historic cider press, which turns out gallons of sweet, fresh apple cider the old-fashioned way as festival attendees watch. After they see how it was done "back in the day," they can sample cider at an adjacent booth made by Kime's Cider Mill in Bendersville. That cider is made on a modern press using a rotary drum with an air bladder in the center. After the press is filled, the air bladder is inflated with air, which in turn presses out the cider, which is then pasteurized. The cider is bottled automatically with a filling machine that also caps the bottles.
Co-owners Randy Kime and his brother, Rick, operate the business started by their father, Robert, in 1957. While Kime's Cider Mill has kept up to date with state and federal regulations related to producing apple cider, it was those very regulations that led to another orchard owner, Glenn Schuckers, who lives on the aptly named Schuckers Orchard Road in Luthersburg, to retire from processing and selling fresh apple cider commercially a few years ago.
"At one time, between 1978 and 1990, we made about 5,000 gallons of fresh apple cider a year," says Schuckers, a member of DuBois-based United Electric Cooperative (EC) and a regular contributor to the United EC Penn Lines pages. "We mixed it up, making it with different varieties, depending on the time of the year. We sold several varieties of apples commercially at that time, and anything that was smaller or had a bruise or mark on it, we would use for cider."
His fresh apple cider, he says, was a simple process. It was made by grinding apples into pulp, straining the pulp through layers of folded burlap, and using a hydraulic press to squeeze the juice out through the burlap. Apples went up a conveyer into the grinder and then into burlap bags in a continual operation that could produce up to 50 gallons of fresh cider an hour when operated by two people. He sold some fresh cider to commercial vendors for resale, but he sold the majority of it at his farm market located in part of a remodeled 150-year-old barn-turned-store that featured a fresh cider tap for filling jugs, as well as other fruits and vegetables.
Several years ago, state regulations regarding food sales changed, and Schuckers says that rather than spend the money needed to upgrade his equipment to meet the new regulations, he chose to sell his large press. A retired teacher, Schuckers also owned a small cider press that could be operated by hand, which he would demonstrate to students during field trips to the orchard.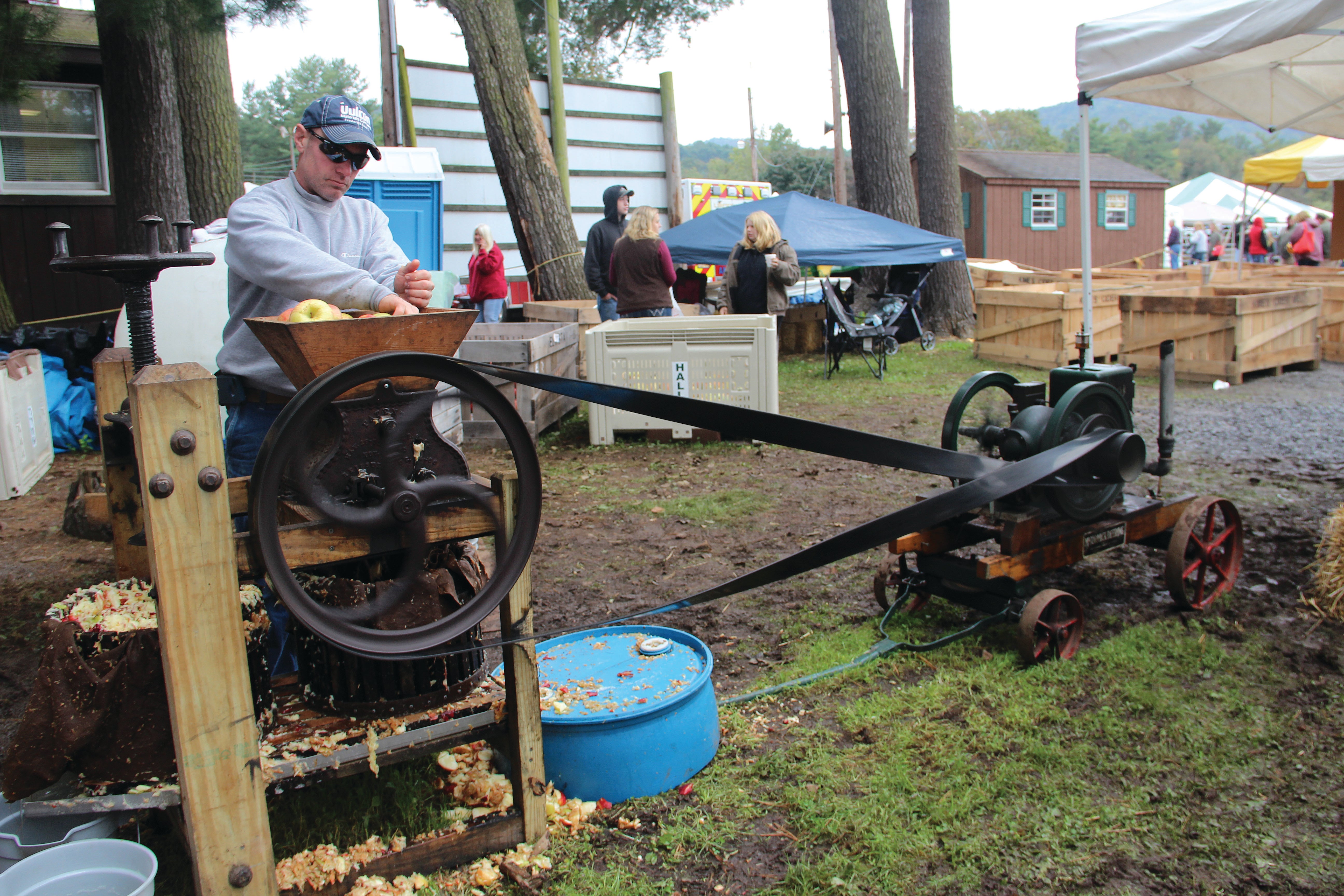 THE OLD-TIME WAY: Jon Reaver feeds apples into a historic cider press, making fresh, sweet cider at the 2018 National Apple Harvest Festival at Biglerville.
Building community
It is that type of cider press that is often pictured when people think about the traditional method of making fresh cider.
Chris and Jody Smith, members of Gettysburg-based Adams EC, still bring out an old cider press every fall to entertain their family and neighbors.
"My uncle inherited an apple cider press when my grandfather died, and every year we would get together and have a family reunion and make apple cider in honor of my grandfather," Jody Smith says. "Everybody would bring a covered dish and work side by side to make the cider. It was a lovely way to have a family reunion."
The 40-gallon copper pot was eventually passed down to the Smiths and the couple decided to make fresh apple cider more often than just at the annual family reunion. They purchased an old press for themselves and a new neighborhood tradition was born.
"We lived side by side with neighbors, but we really didn't know a lot of them well," Smith says. "We started getting together, paying for a huge market bin of apples. Everyone brings food and we work from 8 a.m. until the apples are done. We clean up the press and then sit down and have a meal together. … There is a big wheel on the cider press that could be used with a hit-or-miss engine or a belt on a tractor, but we want people to actually participate, so we do it the hard way with the hand crank."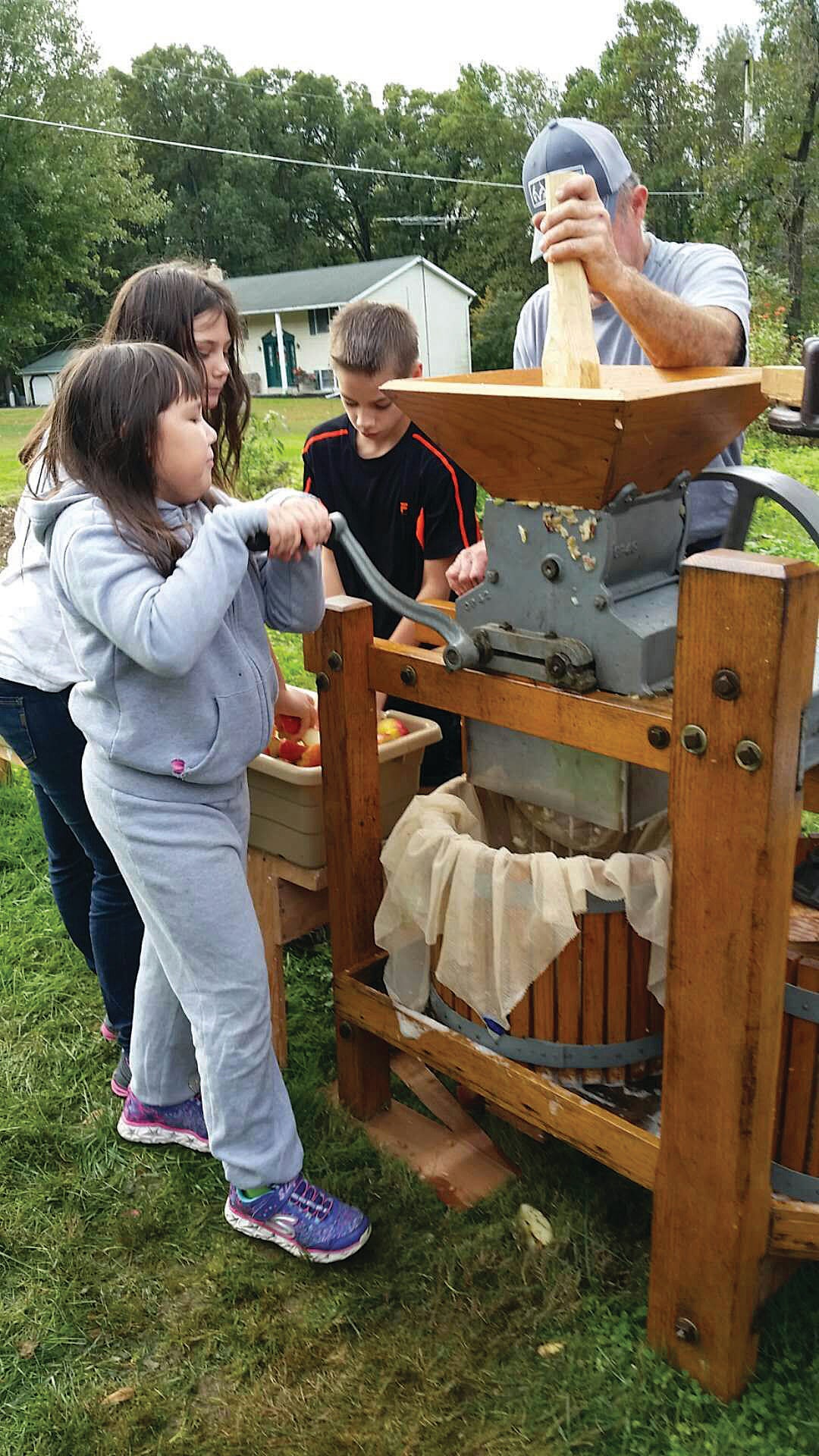 HARD AT WORK: Children assist in making apple cider during an annual neighborhood event in the Spring Grove area of York County. Adams Electric Cooperative members Chris and Jody Smith are the owner of the historic, hand cider press. (Photo courtesy of Chris and Jody Smith)
The neighbors end up with approximately 40 gallons of fresh apple cider — enough to drink and to take some home, too.
Adams EC members Dawn and Carl Newcomer are among those neighbors who participate in the neighborhood gathering. In fact, two historic cider presses were set up on the Newcomers' property last year for the event.
"This event has become an outreach thing," Dawn Newcomer says. "People come together and build a community, learn to know each other. … We were pleasantly surprised. Some of the neighbors we haven't had a lot of exchanges with came and enjoyed it. They couldn't wait to come back. It's a really nice event, and it creates a sense of community. Since we have started doing this, the neighbors have started to watch each other's places and be helpful to each other, be a trusting community for each other."
Apple cider — who knew how it could affect so many lives?