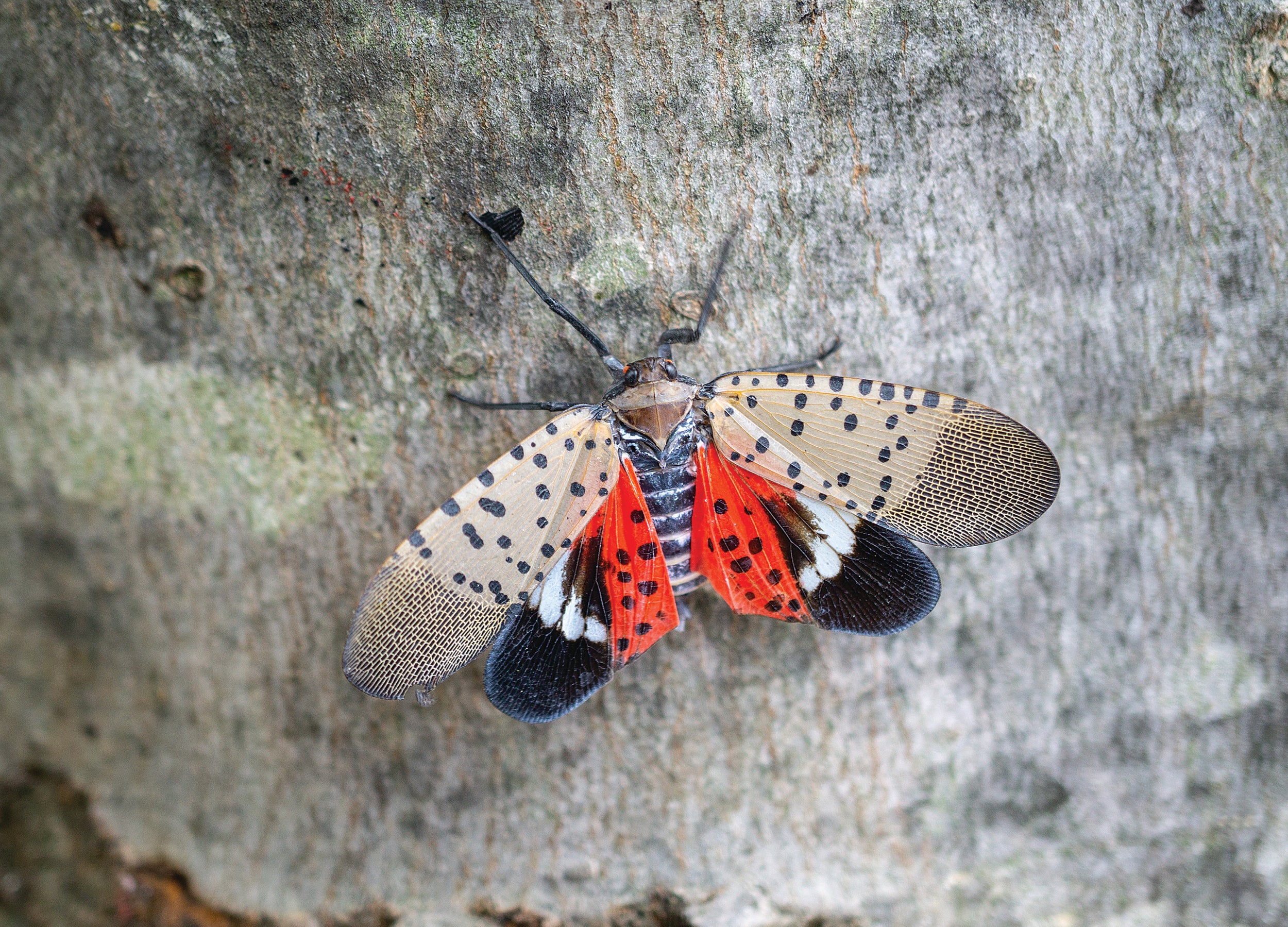 TIMELINE: The first known report of a spotted lanternfly in the United States is recorded in Berks County, Pennsylvania, in 2014. Fourteen Commonwealth counties are now in a quarantine zone to prevent the insect's advance.
Big, bad bugs
Commonwealth works to keep spotted lanternfly contained
By Kathy Hackleman
Senior Editor/Writer
 

As insects go, the spotted lanternfly is a standout by any measure. It's big, with wings that stretch about 1 inch long in its adult phase, and it's bright — the nymphs go from black with bright white spots to vibrant red with black patches and bright white spots, while the adults have gray wings with black spots and a bright red underwing.

But most of all, the invasive insect is destructive, and that's bad. Researchers believe the pest has the potential to cause upward of $43 million in direct damages annually to vulnerable agricultural crops and $153 million in direct damages annually to the forestry industry. The impact on employment also could be considerable with a loss of more than 2,800 jobs annually. That is, if the spotted lanternfly expands across the entire state from its current location in 14 counties in southeast Pennsylvania.

Those figures are cited in the recently released report, "Potential Economic Impact of the Spotted Lanternfly on Agriculture and Forestry in Pennsylvania," prepared by Penn State University researchers for the Center for Rural Pennsylvania.

The first spotted lanternfly reported in the United States was discovered by a state forester on his property in Berks County in 2014, according to Shannon Powers, spokesperson for the Pennsylvania Department of Agriculture.

"Fortunately, it was discovered by someone who knew it was an insect that didn't belong there," she says. "He reported it right away and scientists immediately went about identifying it."

Because of lessons learned from the emerald ash borer, which was not identified until the invasive insect and its damage were so widespread that prevention was out of the question, Powers says the state immediately went on the defensive.

"Very early on, we engaged academic institutions, state governments and local officials to develop a strategy of how to limit the spread," Powers says. "We started with localized quarantines by municipality, and then expanded the quarantines as the insects spread. We developed compliance agreements with industries following a set of best practices to avoid transporting the insect. We engaged the private sector and public sector, and places where the potential for the spread of the insect was high."


NYMPHS, PHASE ONE: Spotted lanternfly nymphs are black with white spots.

Communication key

In addition, Powers says communication with the public, potentially affected industries, and potential transporters (essentially any vehicle or item being transported by highway, railway or waterway) has been a key factor in trying to limit the insect's spread from the quarantined area of Berks, Bucks, Carbon, Chester, Dauphin, Delaware, Lancaster, Lebanon, Lehigh, Monroe, Montgomery, Northampton, Philadelphia, and Schuylkill counties.

"Public outreach is essential so people can recognize it, and learn how not to take it with them when they travel," she says. "We set up an online reporting system and a hotline phone. We had upward of 90,000 reports of spotted lanternflies, and we followed up in every instance."

At the same time communication efforts ramped up, scientists began studying the insect, its habits and its destructive potential, and millions of dollars in state and federal funds were designated for research and prevention. In an effort to gauge the potential scope of the problem, the Center for Rural Pennsylvania commissioned the study by Penn State University researchers that was released in December.

The lead researcher of the economic impact study, Dr. Jayson Harper, a professor of agricultural economics and the director of the Penn State Fruit Research and Extension Center in Biglerville, says threats from invasive species are not unusual, but the spotted lanternfly has the potential to become a devastating problem for the agriculture and forestry industries.

"The Center for Rural Pennsylvania wanted information on three scenarios: what is happening in southeast Pennsylvania in the quarantine zone, what would happen if the spotted lanternfly spread to adjacent counties and what would happen if it spread to the rest of the state," Harper explains. "The numbers are huge if you look at the whole state, but it's important to remember the numbers are based on the best information we have now, and they are subject to change as we learn more about the impact of this insect on specific crops."

Currently, field crops and vegetables don't seem to be affected, Harper says, while other commodities such as grapes are suffering devastating effects.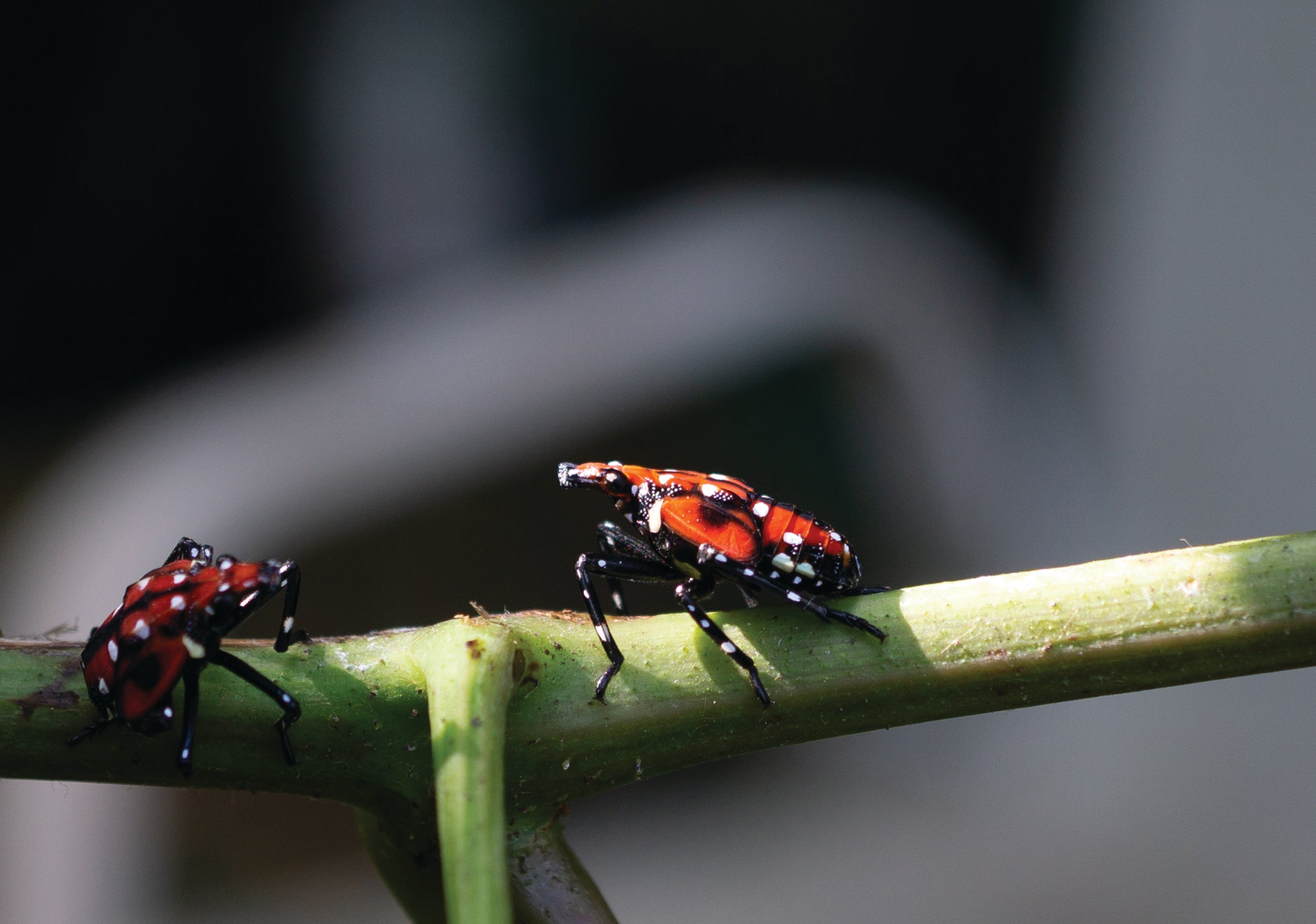 NYMPHS, PHASE TWO: Spotted lanternfly nymphs transform to vibrant red with black patches and bright white spots before becoming adults.
Trouble with the trees
As for timberlands, he says, "We are suspecting it is causing low-level damage every year, but we may not see the effects of that damage for many years to come. We won't really know until someone goes in and harvests the trees. … Our forests are so valuable because they are full of oaks and maples, and high-value species such as black walnut, so even small levels of damage can cause large amounts of economic impacts."
The spotted lanternfly has the potential to be an overwhelming national issue.
"Because of the way it can travel (via transportation routes), a lot of states are concerned and are watching Pennsylvania closely," Harper notes. "We want to do it right, to control it here for our benefit and the benefit of the entire country. It's an all-hands-on-deck situation."
One reason the spotted lanternfly is so dangerous is that, as an invasive species, it has no natural controls.
"In its usual location in southeast Asia, there are predatory insects that help keep its numbers under control," Harper says. "If you go to southeast Asia, there are spotted lanternflies, but it is not a massive pest. Here, we don't have those species to help control it. We could potentially introduce them here in Pennsylvania, but we need to make sure we don't introduce something that could control the spotted lanternfly, but cause other problems."
One good thing, Harper points out, is that the spotted lanternfly is relatively easy to kill with insecticides, but that brings up another problem: what effect would spraying have on the beneficial bee population?
"We need to take a measured approach," he emphasizes.
Meanwhile, although the quarantined area lies outside of electric cooperative territories, businesses are keeping a close eye on where and how the spotted lanternfly is spreading.
Matt Showers of Showers Tree Farm and a member of Adams Electric Cooperative is the third generation in the family business, which includes retail and wholesale sales of trees, as well as an orchard with fruit trees. Located in Adams County, his farm is separated from the quarantine area in Lancaster County by fewer than 50 miles.
"We are not seeing any spotted lanternflies now," he says. "It's hard to plan on something until you know what you have and what you are able to do about it. I am just hoping they don't get here. … If we would end up not being able to move our trees, it would just kill our business."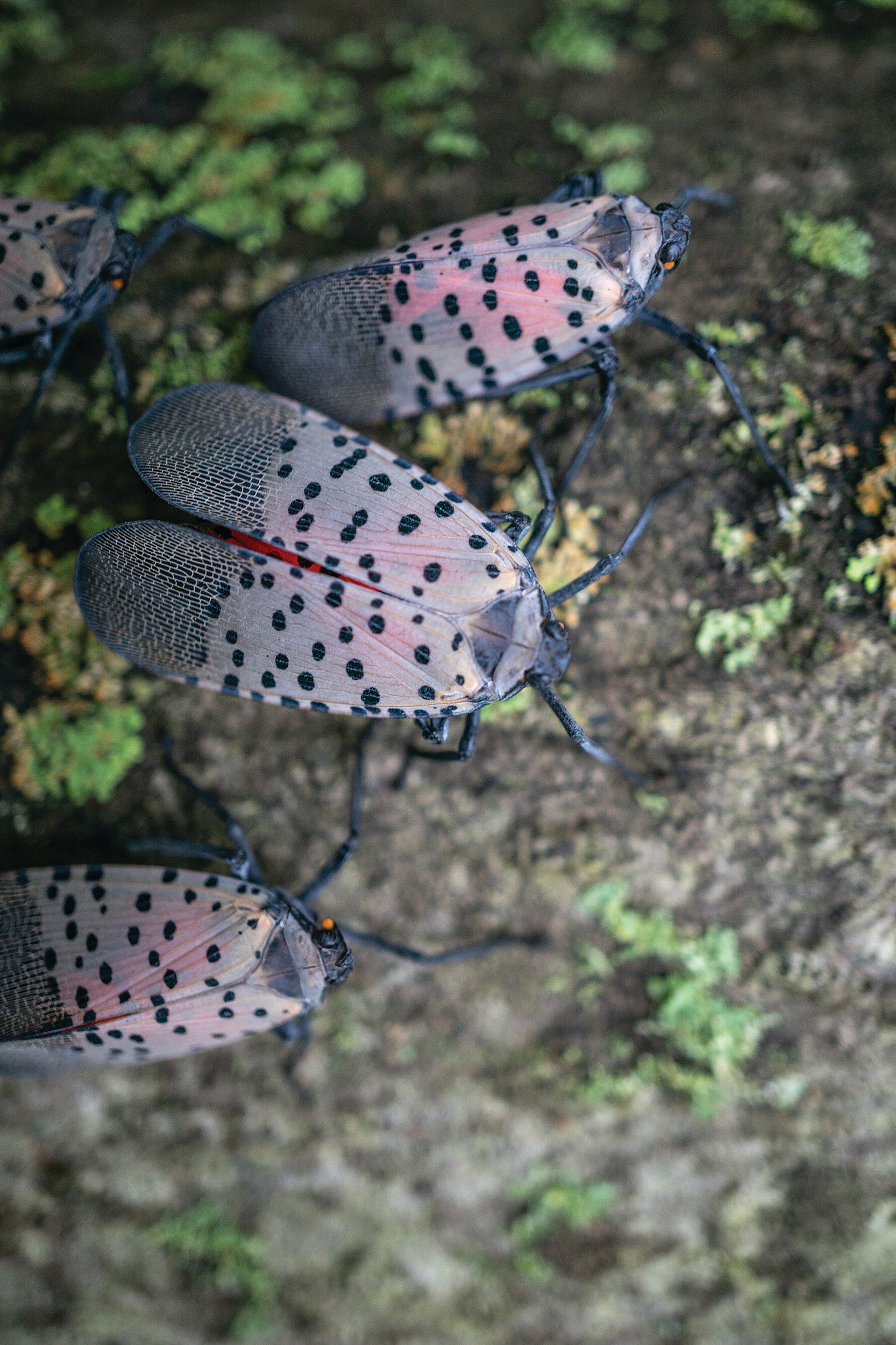 RESEARCH UNDERWAY: Spotted lanternflies have no known natural predators in the United States, but research is underway regarding how to contain them and prevent their spread.
Past problems
Ron Westover, owner of Noll's Forestry Services LLC and a member of Indiana-based REA Energy Cooperative, remembers the spread of the invasive gypsy moth several decades ago.
"The gypsy moth just ravaged the oak species and we had a lot of dieback," Westover recalls. "That is what this feels like in the industry. That we could be coming to another time period like that."
Westover, a forester with nearly 30 years of experience, says awareness of the potential for the spotted lanternfly spreading westward is significant and rising.
"We have not had any sightings reported in the Indiana-Cambria-Clearfield county areas, and I keep an eye out for it," he adds.
It's not just the gypsy moth that foresters remember with trepidation.
"It's my fear that the spotted lanternfly is just going to keep moving," says Gary Rae, owner of Raystown Forestry Consulting and a member of Huntingdon-based Valley Rural Electric Cooperative (REC). "I haven't seen anything in this area, but I do believe we will see it in a few years. It's like the hemlock tree, which is being wiped out by the hemlock woolly adelgid, and the ash trees that have been hit with the emerald ash borer. That's why I have this fear that the spotted lanternfly will just keep moving."

QUARANTINED: Fourteen counties in southeastern Pennsylvania are in the quarantine zone, which is set up in an attempt to stop, or at least slow, the spread of the invasive insect.
Rae encourages landowners to eliminate the insect's preferred food choice — Ailanthus altissima trees (also known as the tree-of-heaven) — as they have no timber value. While he says it is possible for individual property owners to save a yard tree or two from the spotted lanternfly, spraying will come with collateral damage, and he adds it is not economically feasible to control the invasive insect in a forest.
"It has potential catastrophic implications for timberlands," he says. "But there is a lot of research going on to see if there are feasible and safe ways to eliminate the threat. In the meantime, I would recommend everyone take a look at the Penn State Extension website on the spotted lanternfly and be vigilant. Make sure you don't transport them on vehicles and if you find an egg mass, get rid of it."
Electric cooperative members aren't the only ones concerned with the potential for problems, as cooperatives themselves are keeping a wary eye out for the large, brightly colored insect. Joshua Baublitz, right-of-way program manager for Wysox-based Claverack REC, says he fully expects the spotted lanternfly to break its quarantine.
"All it takes is for one family on vacation in Philadelphia to not check their car and drive home," he says. "People travel there for Eagles games, Phillies games, and those folks go back home and they bring the spotted lanternfly with them. When you start seeing areas (with invasive insects) popping up, they are usually around big cities that have sporting centers or along major highways, and then they work their way into the countryside."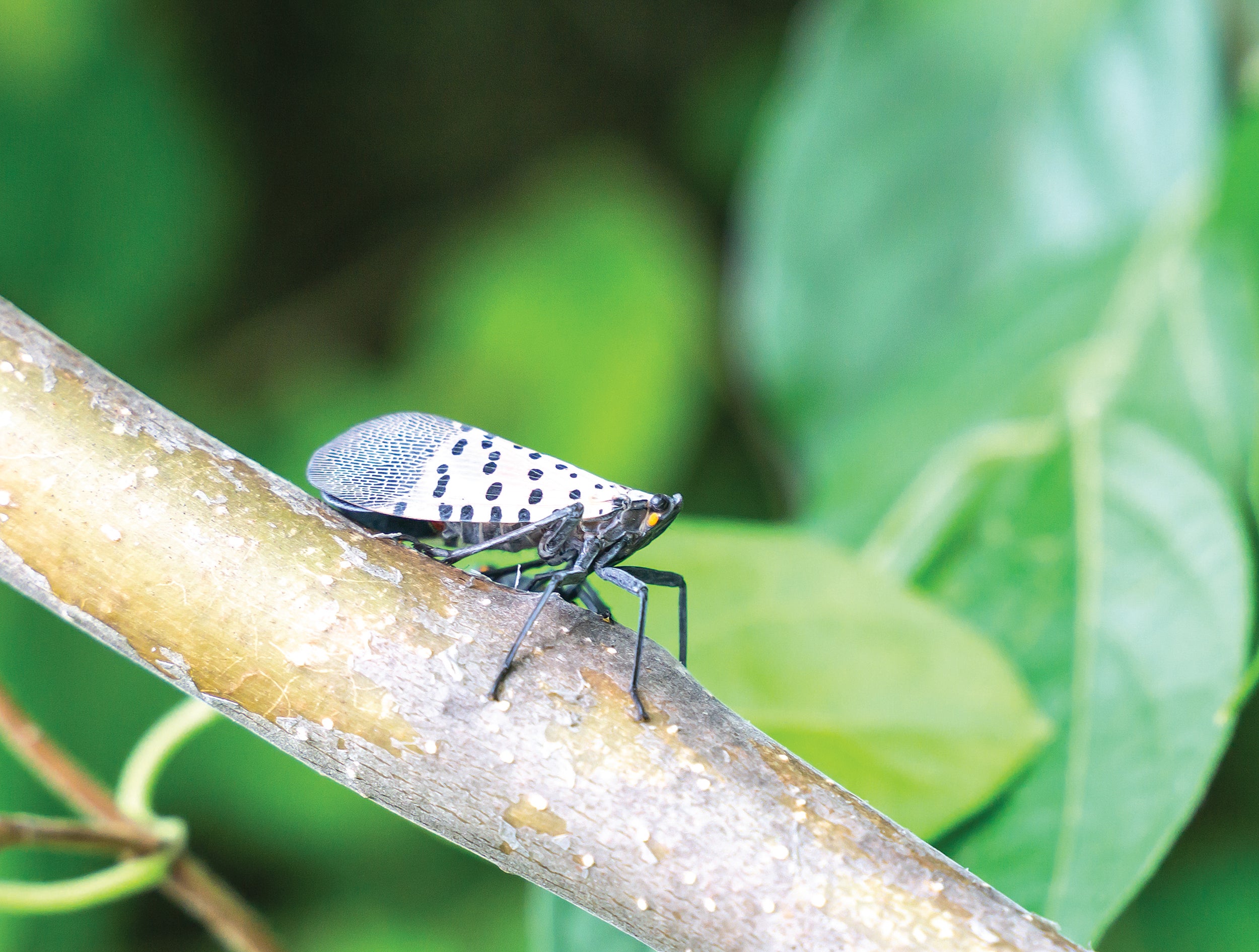 ADULT: Mature spotted lanternflies have gray wings with black spots and a bright red underwing.
Currently, Claverack REC is dealing with the effects of the emerald ash borer in its 2,700 miles of right-of-way, and is taking a proactive approach, cutting ash trees or trimming them so they fall away from the lines before they fall onto the power lines.
As for the spotted lanternfly, Baublitz says he hopes by the time it arrives in cooperative territory that there is more data than is currently available.
"We need more research to tell us how trees that are affected actually die or if they will," he says. "For example, for the first few years after it is affected by the emerald ash borer, an ash tree will basically fall from the top down, which significantly reduces its ability to hit our lines, so we can focus on the 'leaners.' … If the spotted lanternfly kills an apple tree, it more than likely won't impact the right-of-way because it won't be in a position to affect the lines. A walnut has a much larger canopy so it will affect it differently. We also will need to know how long it will take to kill a tree. Emerald ash borers feed on living tree tissue while the spotted lanternfly feeds on sap, so trees may have more of a natural ability to recover from that. Perhaps mature forest trees will have more resiliency than in urban areas. We just don't know what the effect will be."
One of the differences between the emerald ash borer and the spotted lanternfly is that the emerald ash borer moved through the state's forests for quite a while before it was detected.
"The spotted lanternfly is a big bug, a large and obvious bug," Baublitz explains. "Unless you had a yard ash tree that you were deeply concerned about, chances are if you had a stand of ash that was affected by the emerald ash borer, you cut them, you logged them or you did nothing. When people start to see their yard trees being affected by the spotted lanternfly, they will do something to make sure it survives. There is an increased awareness with the spotted lanternfly as it is right in your face, but as with any invasive, no matter how good peoples' intentions are, it does expand its area eventually."
 
More about the spotted lanternfly
Where can I find out more about the spotted lanternfly? Go to extension.psu.edu/spotted-lanternfly or agriculture.pa.gov/spottedlanternfly. The Center for Rural Pennsylvania study is available at rural.palegislature.us.
What do they feed on? They feed on the sap of more than 70 plants, including grapes, apples, hops and hardwood trees, but their favorite is the Ailanthus altissima tree (tree-of-heaven).
Are they dangerous to people or pets? Because they only have a probing "straw-like" snout that they use to feed on plant sap, they can't bite or sting.
What do I do if I see a spotted lanternfly? If you find one in an area where they are not known to exist, collect it — put it in a container filled with rubbing alcohol or hand sanitizer (or take a close-up photo). Report your sighting online to the Pennsylvania Department of Agriculture or call Penn State Extension at 888-422-3359. If you find one in an area where they are known to exist, destroy it. Make sure you do not move any life stage of a spotted lanternfly when traveling. If you see an egg mass, scrape it off and destroy the eggs.