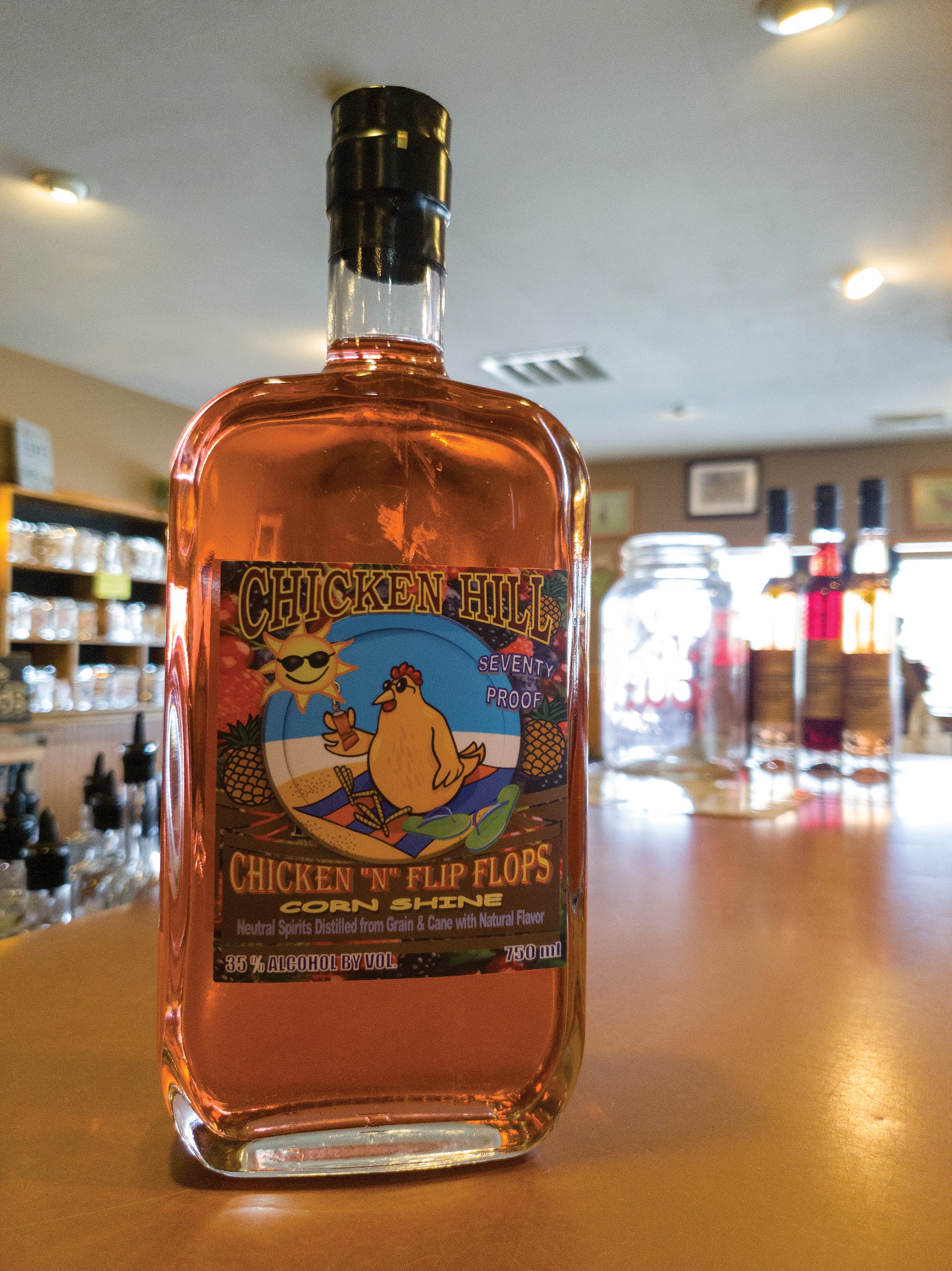 Raising spirits
Craft distilleries boost Commonwealth economy
By Michael T. Crawford
Associate Editor
Vodka, gin, rum, tequila, whiskey — the list goes on. Some swear by them, some swear because of them, some just swear at them, but whatever your poison, spirits — and the craft distilleries that produce them — bring big bucks to the Commonwealth.
CHICK IT OUT: One of Chicken Hill Distillery's best-selling moonshine flavors, "Chicken 'n' Flip Flops," sits on display at the Kersey, Pa., location. The distillery is one of four locations, including one served by United Electric Cooperative in Cook Forest.
The Pennsylvania Liquor Control Board (PLCB) says wine and spirits drew more than $2.66 billion in liquor and sales taxes in the 2018-2019 fiscal year, adding more than $726 million to the state treasury after operating expenses, as well as contributing about $3.82 million to state Department of Health drug and alcohol programs. The funds diverted to the Department of Health — 2% of the PLCB's net profits from liquor sales — contribute to treatment and rehabilitation of Pennsylvanians with alcohol addiction as well as education, prevention, and intervention efforts to eliminate substance abuse.
According to the Craft Spirits Data Project, led by the American Craft Spirits Association and the International Wine and Spirits Research, Pennsylvania was home to 89 distilleries in 2019, ranking sixth in the nation for most distilleries.
And business is still booming for today's "moonshiners."
"Within the first year, we opened up our first satellite distillery," says Nicole Meyer, part owner of Chicken Hill Distillery in Kersey, Pa., which has a satellite distillery in Cook Forest that is served by DuBois-based United Electric Cooperative. "In two years, we opened another satellite and an outlet store. Being that we're in a rural area, people are traveling more to rural areas now than cities, so that's helped out the 'shine business."
Moonshine — also known as hooch, white lightning, homebrew or mash liquor, among other colorful sobriquets — was originally a slang term for high-proof distilled spirits produced illicitly. Historically, it was made from corn mash in secret, or by the "light of the moon." Modern distilleries and updated laws have brought moonshine out of the woods and into the light, making it more widely available — and legal. While it harkens back to that backwoods tradition, the term "moonshine" today is more of a catchall phrase distillers use for unaged white whiskeys.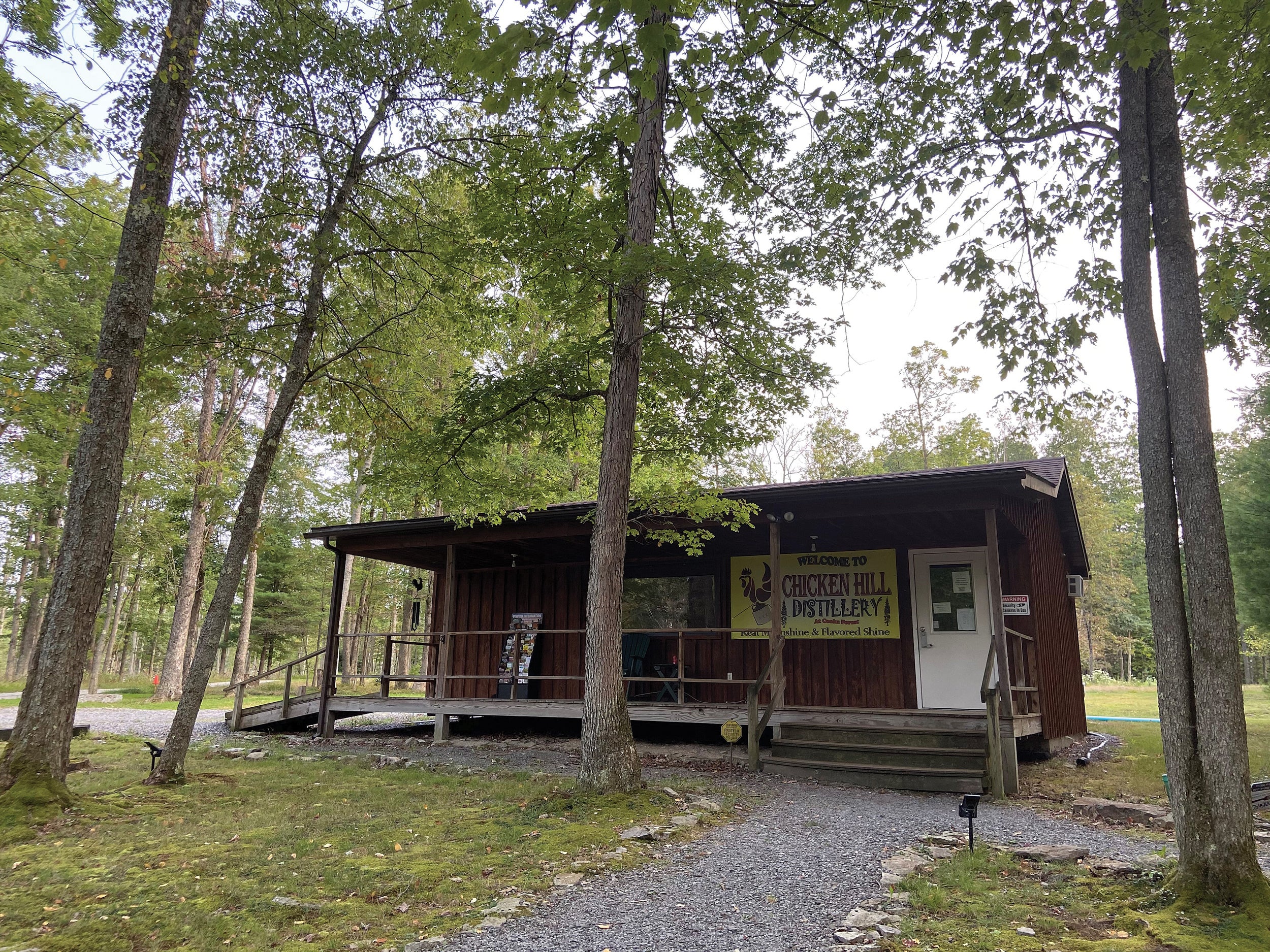 SATELLITE DISTILLERY: The Chicken Hill Distillery in Cook Forest, Pa., served by United Electric Cooperative, is one of four locations throughout Elk County. (Photo by Nicole Meyer)
Local flavor
Nicole's husband, Dan, opened the distillery with co-owner Chris Kline in June 2018 after getting out of the restaurant business. The owners had an empty building, knowledge of distilling and, fortunately, an area full of local sources of ingredients.
"We try to use as much as we can from local people if it's available," says Dan Meyer, who also owns a construction company. "Our ingredients are all natural. We use local honey from a person that actually has a bee farm right around here. Our sugar maple is from maple syrup from a guy that produces in St. Marys — we actually sell a lot of his other products here, too."
Chicken Hill Distillery features nearly 30 flavors of moonshine — ranging from staple flavors like blackberry or apple pie to some of their more artistic creations such as "Tea Time" or "Chicken 'n' Flip Flops" (a mango-pineapple-berry blend) — but during the early days of the COVID-19 pandemic's spread through Pennsylvania, Chicken Hill Distillery were blending more than just spirits.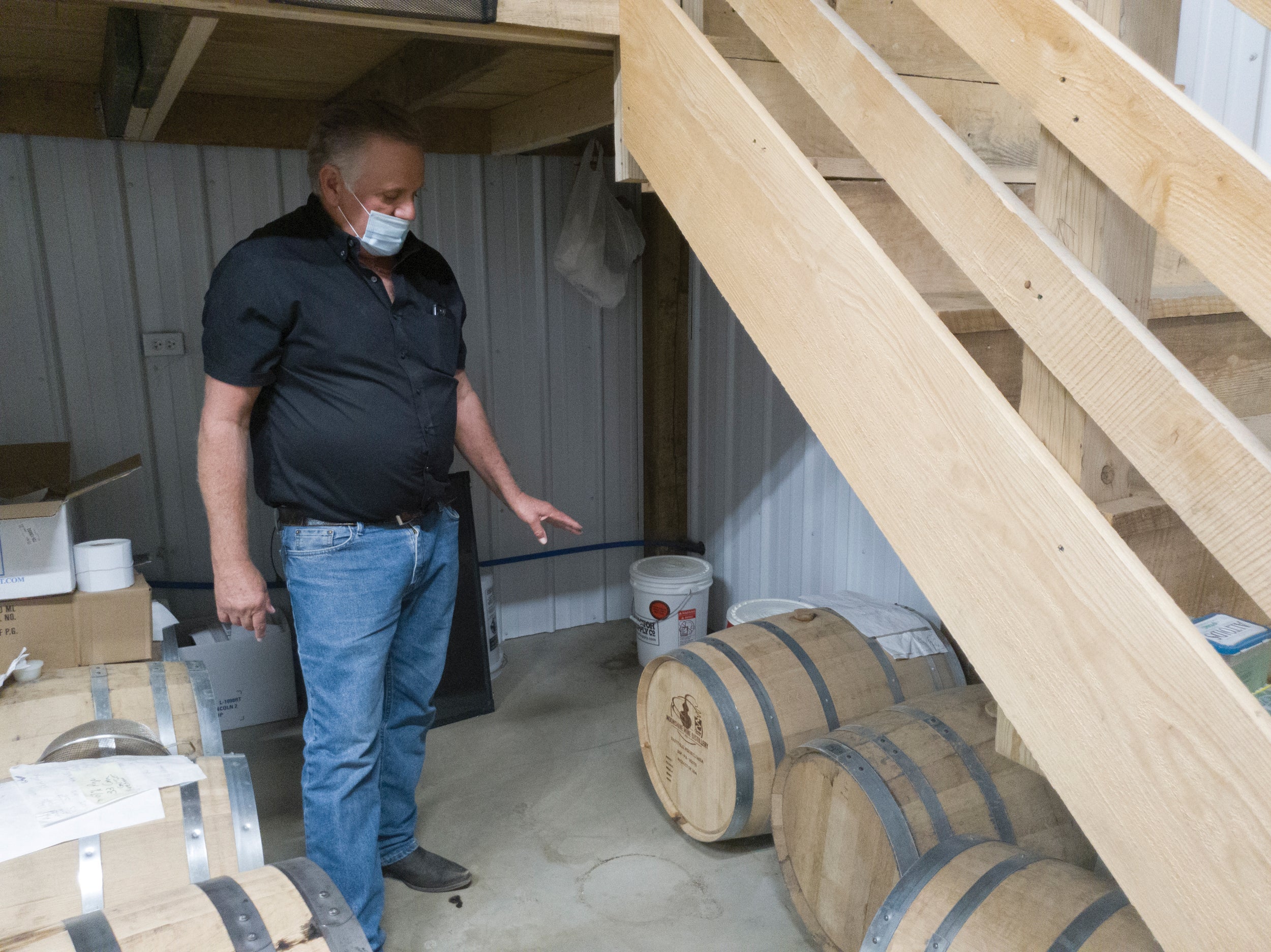 BARRELING BOURBON: Michael Cocho, a Valley Rural Electric Cooperative member and secretary/treasurer of Moonshine Mine Distillery, explains the barreling and aging process of bourbon during a tour of the distillery.
"I can't even tell you how much hand sanitizer we made," Nicole says, recalling the initial run on hand sanitizer that left shelves across the state empty. "It's now dropping off, but in March and April when COVID first hit, we were down there running 18 hours a day bottling sanitizer on top of continuing to distill moonshine."
As COVID-19 cases began rising statewide, state-run Wine and Spirits stores shut down throughout the Commonwealth. But when life hands you lemons, why not make moonshine?
"Our sales increased like crazy," recalls Nicole, who had obtained a waiver from the state to stay open during the height of the pandemic. "We truly lucked out … as much as I hate to say that, but with the liquor stores closing, that was a huge boost to us. Most of our customers are out-of-towners, tourists, so it really got the locals to come into our place because they weren't able to access what they typically do at the state stores."
Removing the state stores from the equation, Dan argues, has led to a lot of repeat business.
"I think it opened a lot of people up to the fact that there are a lot of good wineries and good distilleries in this state, and you don't have to go to a liquor store to get your alcohol," Dan says. "We've definitely noticed repeat business come back a lot more now, and I think people are just more apt to [visit] small town businesses — we're not overcrowded, we're nothing major — and they can come in and feel comfortable for a minute."

PROOF POSITIVE: Michael Cocho tests the alcohol content of a recently distilled bottle of vodka at Moonshine Mine Distillery in Nanty Glo, Pa.
Family Tradition
That's the goal for Michael Cocho, a member of Huntingdon-based Valley Rural Electric Cooperative and part owner of Moonshine Mine Distillery in Nanty Glo, Pa. Cocho entered the industry with a desire to rekindle a family tradition in 2017 with his son, Michael Cocho II, who serves as president of the distillery.
Moonshine Mine's story dates back more than 120 years when Cocho's grandmother brewed moonshine from a small still.
"My grandmother wasn't a bootlegger," adds Cocho, secretary/treasurer of the distillery. "She made it, and it was something that I'm sure everyone made in 1910 before Prohibition, because they were allowed to make it."
To this day, the still rests comfortably atop the distillery's floor-to-ceiling shelves of liquor. While just a conversation starter now, the still symbolizes a family affair that survived Prohibition.
"I remember seeing it in a shed when I was a kid — like, 5 years old — and I didn't even give it any thought to what it was until 15 years later when I started getting interested in making moonshine and wine," recalls Cocho. "To my surprise, she [his mother] dug it out. My mom and my uncle told me how to make it, what to use and what kind of recipes to do."

TASTING TIME: The tasting area of Chicken Hill Distillery in Kersey, Pa., waits for customers to sample some of the distillery's nearly 30 flavors of moonshine. Before being converted into a distillery in June 2018, the building was once a restaurant.
Cocho and his son brainstorm recipes — everything from bourbon to vodka, rum to tequila — while Cocho's grandchildren help design and affix the labels. All of Cocho's concoctions start as moonshine, he explains, then he lowers the proof based on what he's trying to make. Like the Meyers, the Cochos commit to sourcing their ingredients locally as much as their recipes will allow.
"We buy our corn from Huntingdon County and our rye from the Northern Cambria area," Cocho says. "Our water comes from a spring dug into the side of the hill, and we have it purified to the point where I had the guy from the DEP [Department of Environmental Protection] say it was some of the finest water he's ever seen, so we're not dealing with chlorine or anything like that."
Since entering the industry, Cocho has learned that distilling isn't always as simple as just mixing the right ingredients.
"Kind of like champagne, you can only call something rum or tequila if the ingredients come from a certain area," explains Cocho, who had to rebrand his "Tequila Z" to a tequila liqueur after learning his blue agave needed to come from Mexico. "If you're making rum, you have to get the cane sugar from the Caribbean. If we bought, say, 500 pounds of sugar or molasses from the Caribbean, we'd have to report we bought 500 pounds of sugar and then report how many gallons we made out of it."
Every gallon of spirit distilled — no matter where it comes from — is subject to a federal excise tax. Distilled spirits generally are taxed at $13.50 per proof gallon (one liquid gallon that is 50% alcohol), although a lower rate of $13.34 applies through the end of 2020. According to the Tax Policy Center, alcoholic beverages generated $10 billion in federal tax revenue in 2019.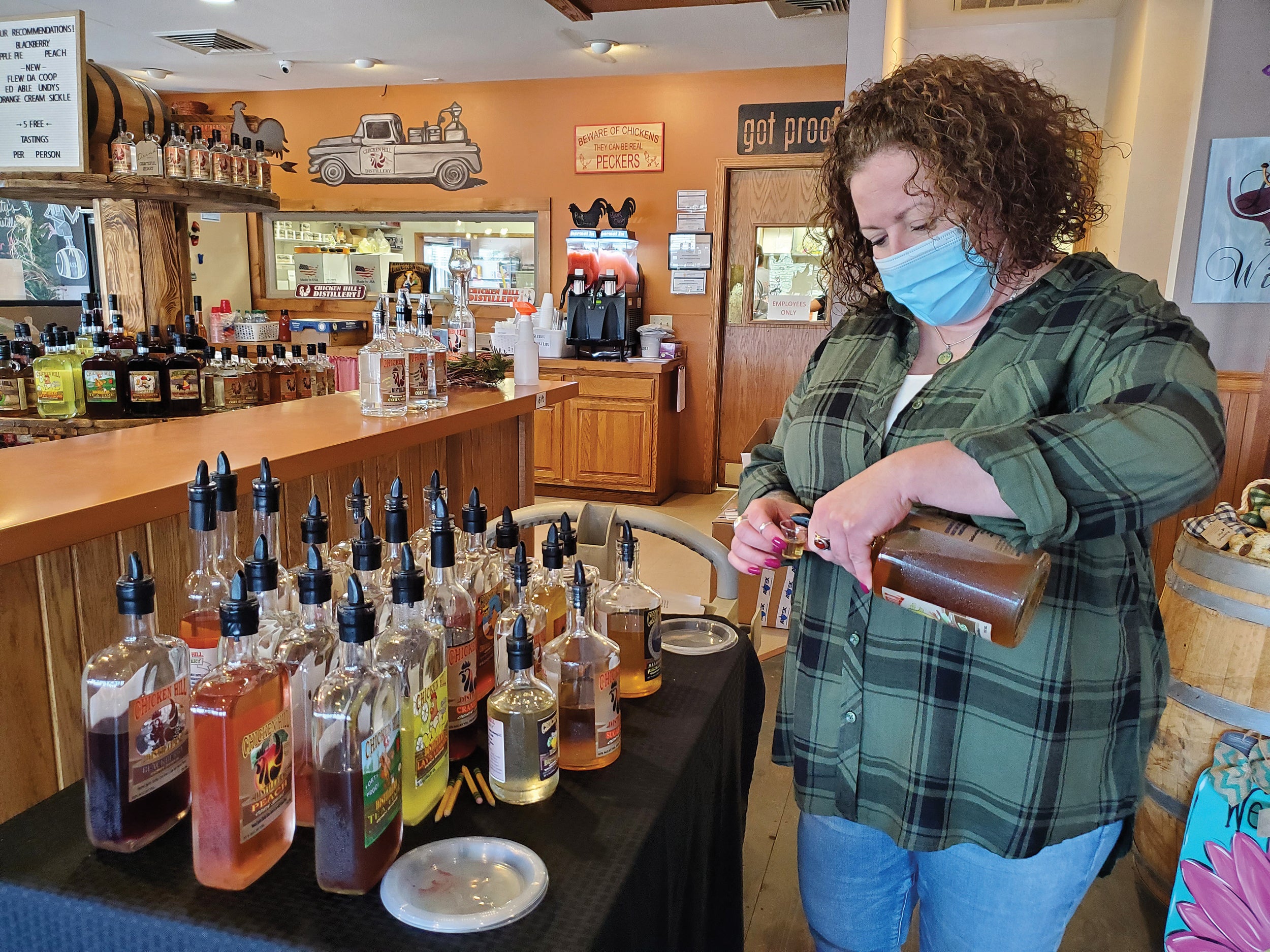 ANOTHER ROUND: Sharon Stenta, general manager at Chicken Hill Distillery in Kersey, Pa., pours a sample of apple pie-flavored moonshine. The distillery is one of four locations, including one served by United Electric Cooperative in Cook Forest.
Attention to detail
While the red tape can be tedious, that level of attention to detail is what drives Cocho's distillery.
"It's not something generic and thrown together," he says. "We want to make our own product, not duplicate what other people do, and we do it all by hand. We want to do our best to give the public the best they can buy."
And soon, he hopes, in the best saloon the public can find with the finest local alcohol they can buy.
"We can sell beer, too, but it's got to be stuff that's made in Pennsylvania," Cocho insists. "We're going to try to buy from local breweries — like the Iron Pint Brewery in Altoona or Coal Country Brewing [in Ebensburg]. And we're going to try and contact Oak Spring Winery [in Altoona] and see about selling their wine here."
If a time traveler from 1900 winds up in Cocho's saloon — which he hopes to open after he installs some handrails for safety purposes — they would be right at home, finding wormy chestnut tabletops crafted by a local artisan using lumber taken from farms built in that era, and resting upon barrels once used to age the very Pennsylvania straight bourbon made in the next room.
"It gives it an authentic look of something that would have been there back 120 years," he says. "I want to feel good about having people here, and I want people feeling good about being here. Hopefully, it's something I can pass on to my grandchildren."
Also in this issue