Going electric
Drivers share experiences with EVs, hybrids
By Kathy Hackleman
Senior Editor/Writer
Jay McGinnis can't remember when he first became interested in energy efficiency. He heats and cools his home and adjacent business — Woolen Mill Fan Company — in southern York County with a 21-kilowatt solar system, and his "yard art" includes a number of restored, antique windmills.
And since 2012, McGinnis, a member of Gettysburg-based Adams Electric Cooperative (EC), has been a committed electric car enthusiast. That's when he bought his first electric car — a 2011 Nissan Leaf. He soon found that even though it had been advertised as having a 100-mile range, he could go only about 60 miles on a full charge, so a couple of years later, he traded it for a newer model with an 80-mile range.
"I still had 'range anxiety,'" he says, "so last August, I bought a 2017 Chevy Bolt with an advertised range of 240 miles. Since then, I have driven it 10,000 miles. With this car, I can get to Lancaster or Baltimore and back, piece of cake."
He even drove the 90 miles from New Park, Pa., to Philadelphia over the winter. Although he thinks he could have returned home with room to spare, he chose to charge it up in the city, using a phone app that lets drivers know the location of charging stations and if they are currently in use.
"When it gets cold and you are using the heater, your battery doesn't hold as long, so your range diminishes," he says.
He has a charging station at home, and his solar system typically generates enough energy to offset his residential, business, and car-charging needs.
"I don't imagine myself going back to an all-gas car," McGinnis says. "I think electric cars are the wave of the future … I do have a regular pickup if I have to go long distances, so I don't have to figure out a route with charging stations."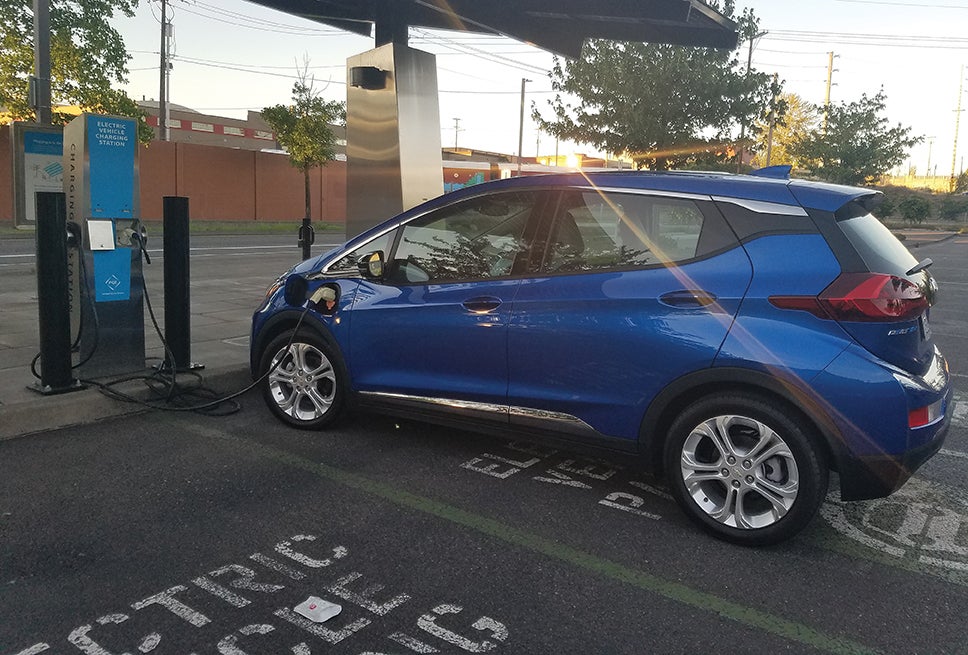 Savings
Rian Doubet, the energy solutions representative at Cambridge Springs-based Northwestern Rural Electric Cooperative (REC), agrees that the future of "different" vehicles is here. In Doubet's case, it's a hybrid that caught his eye — and benefitted his wallet.
Doubet purchased a 2012 Prius C with 42,000 miles on it in February 2015. Since then, he's put more than 50,000 miles on it. When he uses his vehicle's comparison software to equate what it has cost him to drive his Prius compared to his 2004 Silverado 1500, he figures he has saved right at 2,000 gallons of fuel (as of mid-April), a significant chunk of change.
"I estimate that I should save close to the entire purchase cost of the Prius in fuel savings by the end of the loan term, leaving me with a 'free' vehicle," Doubet says.
While he is pleased to be saving money, Doubet notes a few downsides potential buyers should consider.
"A different driving style is required to achieve 50-plus miles per gallon," he cautions. "I have to keep it under 42 miles per hour for it to go into battery mode; 35 is the ideal cruising speed, so I have mapped out a route to and from work to get the best mileage."
He also reports the vehicle requires a mechanic who is trained and certified on hybrid technologies, and it sits low to the ground so oncoming headlights bother him at night. In addition, his Prius has a maximum maintainable cabin temperature of 50 degrees plus the outside temperature, which he has found isn't high enough to be comfortable in winters that can dip into the frigid negative double digits.
But he has found the pluses far outweigh the minuses.
"I was tired of mundane cars," he says. "I wanted a fun car. Its computer screen reminds me of playing a video game, and it keeps me entertained competing against my own mileage. I even talked my neighbor into buying one, and we have a weekly pool to see who came out with better gas mileage."
Doubet notes his first experience in driving a hybrid was at work at Northwestern REC, where the cooperative has maintained a hybrid in its vehicle fleet for several years.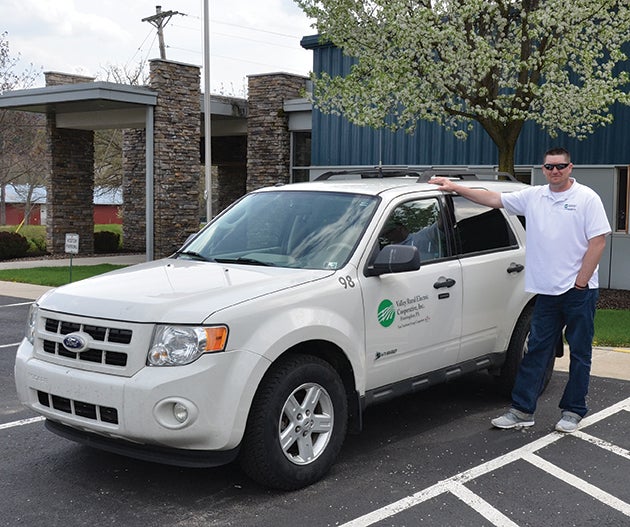 Efficiency
Travis Kuhstos, staff energy specialist and demand response program manager at Huntingdon-based Valley REC, regularly drives a 2010 Ford Escape hybrid thanks to his employer's interest in energy efficiency.
"We wanted to practice what we preach," Kuhstos says. "We want to show we are energy conscious and concerned about energy efficiency, and since I am the energy specialist, it made sense for me to drive it."
At first, Kuhstos was a bit skeptical about how the small SUV would do as he is regularly on the road traveling through Valley REC's eight-county territory, often in bad weather, but he has been pleasantly surprised.
"About six years ago, I was out on a back road in the middle of nowhere and they had not plowed the road," he recalls. "I came on about 6 or 8 inches of snow and it just blew right through it. It did really well."
He does make a mental note to be on high alert for pedestrians because the vehicle does not make any sound when it is operating in battery mode.
"If you are in a busy parking lot or you are not paying attention, just strolling through the parking lot, it could scare you because you don't hear it coming," Kuhstos says. "I make sure my headlights and fog lights are on, and as a driver, I try to be especially aware of pedestrians because the Escape is so quiet."
But all in all, he's impressed.
"It's very reliable and it has surprised me with its overall power," Kuhstos says. "All of my original concerns have been met with surprise — in a good way." LREADY TO GO: Travis Kuhstos, staff energy specialist and demand response program manager at Valley REC, drives the cooperative's 2010 Ford Escape hybrid as he travels to members' homes.
Also in this issue
Also in this issue