Lakeside learning
Raystown Lake offers educational outreach
By Michael T. Crawford
Associate Editor
At the largest lake entirely within the Commonwealth, the Raystown Hydroelectric Project helps provide cooperative members in Pennsylvania and New Jersey with an affordable, reliable source of electricity (see sidebar). But visitors to Raystown Lake in Huntingdon County can participate in educational programs that are just as illuminating as hydropower.
While the primary mission of Raystown Lake is flood control, thousands of people flock to the lake every year for recreational purposes, creating a captive audience for educational programs sponsored by the Raystown Conservation Education Partnership (RayCEP).
RayCEP is a group of agencies, schools, businesses and other organizations that have teamed up to provide educational programming for the visitors to Raystown Lake. The RayCEP program supports environmental education by providing internships for students to deliver programs, coordinate programs among partners and recruit speakers to present on a variety of environmental issues.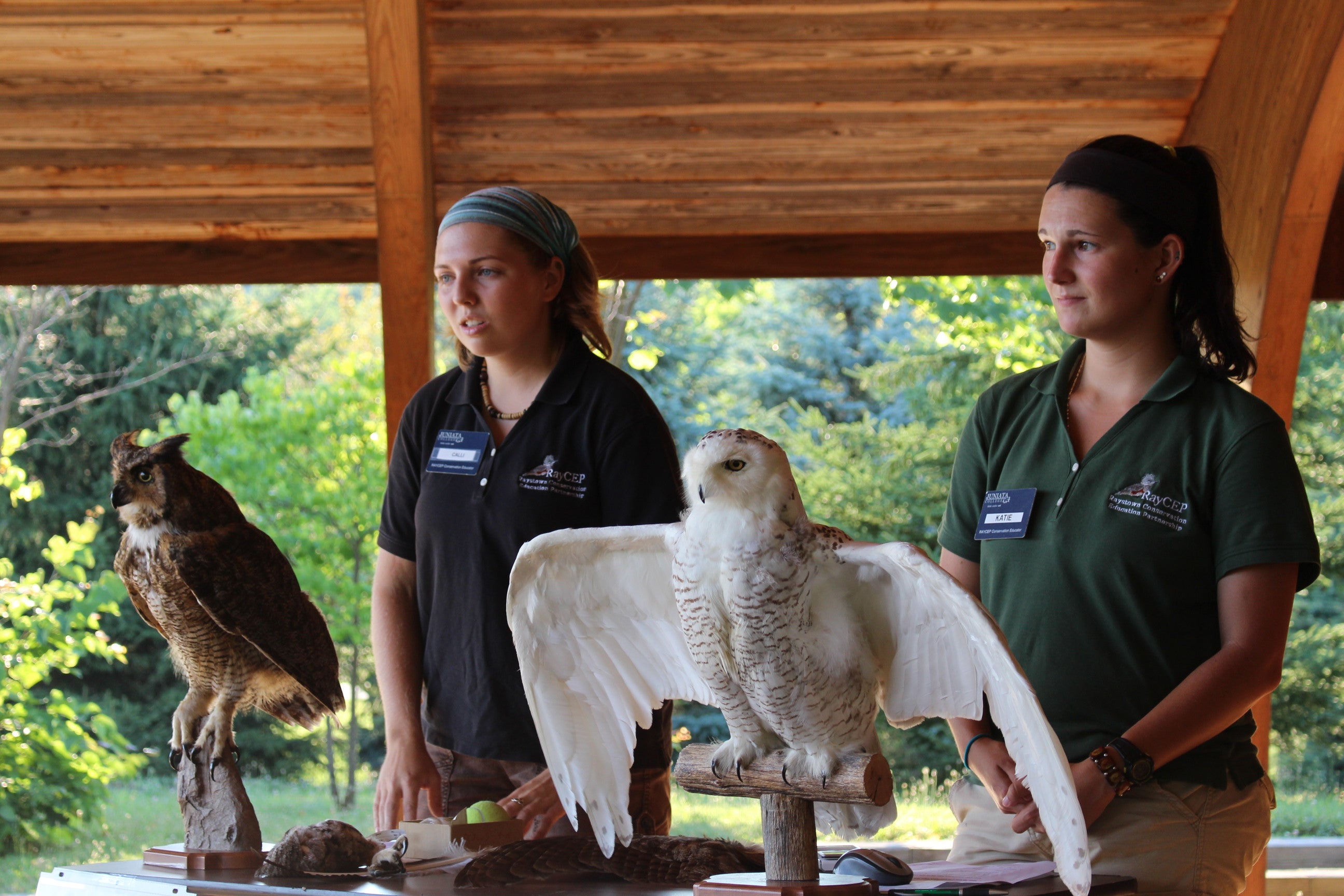 Partnerships
"We have a partner — the Friends of Raystown — and their mission is to help us complete our mission," explains Jude Harrington, lead ranger at Raystown Lake. "They manage a consortium of partners — in this case the Juniata College Field Station and other private entities such as the Seven Points Marina, Lake Raystown Resort, Heritage Cove, Raystown Family Campgrounds, and Allegheny Electric Cooperative. They all contribute funding, when it's available, each year to hire two interns. Juniata College provides the interns … the two best students available. They give them lesson plans, give them training and then put them out here on the lake."
The mission of the Friends of Raystown Lake (Friends) is to promote the responsible stewardship of the natural and recreational resources of the Raystown Lake Project. With about 250 family memberships and 20 regular volunteers, the Friends help sponsor and develop programs in education, resource protection and enhancement, and recreational improvement.
"(The Raystown Lake) budget doesn't allow for any of this stuff that we do," explains Ron Rabena, president of the Friends organization and a Valley Rural Electric Cooperative (REC) member. "What we're doing is in addition to what they call their mission. Their first mission is flood control, and then after that it is recreation."
Nick Krupa, park manager of Raystown Lake, admits he and his team would be hard pressed to educate visitors to the lake on their own.
"Without the Friends of Raystown, we probably wouldn't be able to pull this off because they are the biggest contributor," explains Krupa, a Valley REC member. "We bring on 12 seasonal rangers a year just to manage the crowds here. The partnership we have with the Friends of Raystown and Juniata College … we really lean on them for a large part of the environmental education that goes on here."
Reaching out
In 2017, RayCEP presented 29 different educational programs — such as "Aquatic Invertebrates" and "Bees, Butterflies and Beyond" — to nearly 2,400 people at Raystown Lake. Rather than a "if you build it, they will come" model, RayCEP sends their interns to where people already gather.
"We want the program to be flexible," explains Dr. Chuck Yohn, director of the Raystown Field Station operated by Juniata College. "For example … the interns might go to a campground to find it empty because it's particularly hot … so the interns go down to the beach and that's where they'll deliver the programming."
While the interns or rangers tend to draw a crowd by catching the eye of the children — bringing a rescued turtle, for example — the programs are designed to engage any age group.
"We tend to work the interns in pairs," Yohn says, "so that you might have someone answering the kids' questions … and one of the interns can be talking with the adults. When you have a family, you can use a complex word with the parents and then repeat that with a simple concept with the kids. Then the parents get involved with helping to explain things to the kids as well."
While many programs focus on the conservation of natural resources — such as water or forests — several educational sessions are focused on the consumption and conservation of electricity.
"If you're being efficient with your water, you're also being efficient with your electricity because you're not going to be pumping water," Harrington explains. "They have a power wagon — literally a wagon — and it has a series of lights so they can actually plug in their campers … and tell how much electricity they're using."
Sustainability
It's not just enough to tell visitors about the importance of conserving resources. Raystown Lake practices what it preaches.
"We've had a very aggressive energy sustainability program over the last couple of years," Harrington boasts. "We've put all new lighting almost everywhere … new hot water heaters in our shower houses, driving hybrid vehicles, better insulation. One thing we're working on … we have a contract ready for solar energy on top of the visitor center. We're excited about it because when we have school groups come through the visitor center, we like to talk about a whole way of living, from the roof to the roots. The roof, in this case, would be solar energy … then we walk out on the deck and we'd be talking about hydro power. This big lake is for flood control, but at the end of the lake we have a dam and at the dam there's a hydroelectric power plant that produces 21 megawatts of power. We have a walking trail that's two-and-a-half miles long that's made out of 38,000 shredded tires, so now you're into reusable resources."
Visitors looking to learn at Raystown have more options open to them than just walking tours and presentations. For those looking for a hands-on experience, there are plenty of volunteer opportunities that visitors can take advantage of to understand the ongoing conservation efforts at Raystown.
"The best way is not through presentation; it's when you can actively do something with somebody," Harrington says. "We're pretty big with the American Chestnut Restoration … we have four nurseries out here at the lake. If we had a small environmental class and they wanted to do some work out here, you work one day on that orchard, you get it — you understand what it's all about. That's the best level you can get. … Get them out of the classroom, get them on the recycled rubber trail and stick their hands in the storm water pond."
As far as Rabena can see, the opportunities to learn at Raystown won't be going away any time soon.
"The future looks pretty good," Rabena says. "We have a nice, stable membership; we're lucky we have some money in the bank and we're able to do the things we want to do. We're pretty proud of our accomplishments."
Raystown hydro marks 30 years
By Michael T. Crawford
Thirty years after the dedication of the Raystown Hydroelectric Project (Raystown), the power plant continues to deliver enough electricity to power roughly 8,500 rural homes annually. And for 30 years, it's done this in an environmentally friendly manner.
The 21-megawatt plant, which began operations in June 1988 in Huntingdon County on the Raystown Branch of the Juniata River, is operated by Allegheny Electric Cooperative, Inc. (Allegheny) in close cooperation with the Baltimore District of the U.S. Army Corps of Engineers. Allegheny, based in Harrisburg, Pa., is the wholesale supplier of electricity to 13 electric cooperatives in Pennsylvania and one in New Jersey.
"As the country seeks environmentally responsible solutions for our ever-growing energy needs, we're very proud to have this plant in our power mix," notes Frank Betley, president & CEO of Allegheny and the Pennsylvania Rural Electric Association (PREA). "It has been a proven and reliable source of low-cost, renewable generation for electric cooperative consumer-members for 30 years."
Production from Raystown contributes to Allegheny's overall energy mix, which includes nuclear and other hydro resources. Approximately 70 percent of Allegheny's power supply comes from these self-owned, carbon emissions-free generation resources; the other 30 percent is purchased on the market.
Construction on the site began shortly after a groundbreaking ceremony in August 1986. The project involved building an intake structure on the lake side of the Raystown Dam, a 930-footlong underground tunnel and a powerhouse to house the two turbine-generator units. A 550-foot steel penstock, or pipe, connects the tunnel to the powerhouse. About two-thirds of the powerhouse, which has three levels, is underground. Its construction was completed in late October 1987. After extensive start-up testing, the plant was declared in commercial operation on June 15, 1988.
In 2006, Raystown was certified as a low-impact hydroelectric facility by the Low Impact Hydropower Institute – the first hydro plant in Pennsylvania to earn this distinction for environmental stewardship. Raystown is one of only four facilities in the state to be certified by the institute.
"The Raystown plant is a great example of community partnership and cooperative commitment to environmental stewardship," notes Todd Sallade, PREA/Allegheny vice president – power supply & engineering.
Because it can draw water from different levels in the lake to get different temperatures, the plant can work to extend the spawning season for some fish with warmer water. Part of the community plan for the plant was to provide a longer season for fishermen. There's even a fishing platform below the powerhouse.
"It's really a remarkable illustration of how flood control, recreation and electric generation have worked in harmony over the years," Sallade adds.
In 1988, representatives of cooperatives from across the state gathered with hundreds of state and national dignitaries, along with interested spectators, to mark the opening of the hydroelectric plant. Today, because of changing security concerns, the plant is closed to the public.
Allegheny's plan for Raystown is to keep the plant operating in first-class shape well into the future. As the demand for more power, especially from renewable resources, continues to grow, the future looks bright for hydro plants like Raystown.
Also in this issue
Also in this issue