Man or myth?
Explorers go in search of Bigfoot
By Kathy Hackleman
Senior Editor/Writer
Without a doubt, Pennsylvania's vast woodlands are home to many creatures: deer, rabbits, squirrels, snakes, wild turkeys, even bears. But is the legendary Bigfoot among them? Many say, "No way." Others, "Maybe," and a few, "Yes!"
Eric Altman, a Bigfoot investigator, director of the Pennsylvania Cryptozoology Society and previous director of the Pennsylvania Bigfoot Society, fits in the "maybe" category. His interest in the legendary, large, hairy, ape-like creature that walks upright and prefers a wooded habitat — goes back four decades to when he was about 10.
"When I was a kid, I watched classic Bigfoot movies and I read a lot of books about Bigfoot," Altman recalls. "In the late 1990s, I decided I would start investigating to see if any of the reports were legitimate, or if people were just making them up, or if they were misidentifying other animals as Bigfoot."
His conclusion: "People who report sightings have definitely seen something unusual. They are experiencing things they can't explain. I don't know if Bigfoot exists or not, but I have heard enough stories to be interested in continuing to investigate."
Unexplained
He has personally experienced what he believes could be a Bigfoot vocalization.
"I am fairly familiar with wildlife and the sounds they make," he says. "I have recorded sounds I can't identify. I have experts listen and they don't know what they are either. I've had rocks thrown at me and I have heard wood knocking, which is believed to ward off predators and alert other primates, as well as to scare off a predator that is encroaching on them. I have heard heavy footfalls; just lots of things I can't explain."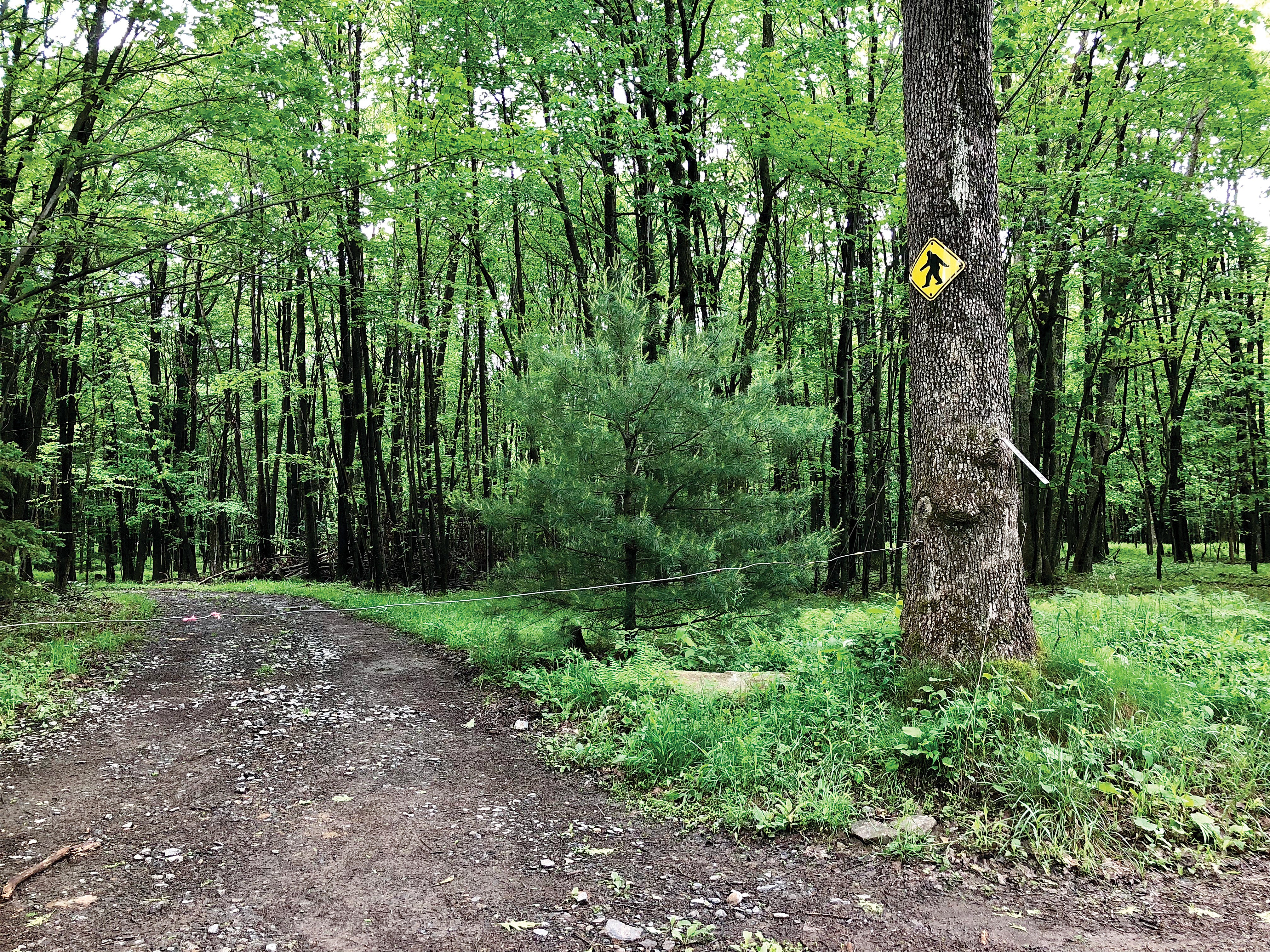 Altman isn't just interested in searching for the elusive creature that might or might not exist; he wants to pass along what he has already learned. Together with a few like-minded individuals, Altman organizes the "Bigfoot Camping Adventure" at Benners Meadow Run Campground, 315 Nelson Road, Farmington, Pa. Tickets for the next adventure, scheduled for May 31-June 2, 2019, go on sale in September. Participants hear from researchers, participate in workshops, talk to people who have reported encounters and go on a nighttime hike in areas where sightings have been reported. The event is open to everyone from novices to experienced outdoorsmen and typically draws hundreds of participants. Proceeds are donated to three local charities.
"There are lots of sightings in the Farmington area going back to the early 1900s," Altman says. "Pennsylvania as a whole has a lot of sightings, especially in the less-populated and more mountainous areas. … Most people who see one aren't actively looking for Bigfoot. It's by chance they happen to see one, and to most people, it's terrifying. A lot of them are so shook up they don't tell anyone about their sighting for years, or even decades. They are afraid of being ridiculed or being thought to be crazy."
Altman is keeping an open mind, gathering data, hoping to compile enough hard evidence to warrant further investigation by the scientific community.
"The only way the general public is going to accept this is for someone to turn over a living or dead specimen," he says. "Then there will be no denying that this is real."
What is definitely real is the interest in Bigfoot — or Sasquatch as some call it — in Pennsylvania's rural areas. Steven Lindholm and Kim Kohler own Over the Mountain Restaurant at 6456 Rockton Mountain Highway, Rockton, Pa. Numerous sightings have been reported in the area, and Kohler says both the Pennsylvania Bigfoot Society and the Keystone Bigfoot Project have held Bigfoot-themed events at their restaurant and bar.
"People like to look up around Trails End Road a mile or so up the road," Kohler, a member of DuBois-based United Electric Cooperative, reports. "They have found hair and trees all bent over like they say the Bigfoot does."
Keeping an open mind
As far as what she believes, she says, "We thought, 'Why not feed into it a bit?' And it did take off. We sell a 'Squatch dog,' a giant hot dog with sauerkraut, and have sold Bigfoot T-shirts and beer."
For a few years, their restaurant sign featured a Bigfoot, but they didn't replace it when it was damaged in a storm. Lindholm has a Bigfoot costume he still sometimes dons and stands along the road, waving at motorists. However, she is quick to add that while some may think they are poking fun at the idea of Bigfoot, she knows people who have reported what they consider to be actual encounters with one of the creatures.
"There's no reason for them to lie," she says. "At least they think they saw Bigfoot. I would have to see one myself to believe it, but they are definitely seeing something out there. I wouldn't dispute the people who told me they saw one. I am open-minded."
Bob Bucko and Jason Talmadge, co-founders of Pennsylvania Bigfoot Investigations, based in Bloomsburg, are more than open-minded. They are actively investigating sightings, even going back decades to research reports. Like Altman, both men grew up fascinated with Bigfoot stories and, as adults, decided to take up the search. They work mainly in Northeast and Northcentral Pennsylvania.
They report one of their most significant discoveries was in Sullivan County just outside Ricketts Glen State Park.
"We just happened to be in the area where we go once or twice a year just to check in," says Talmadge. "We were hiking on a gated road and happened to see as plain as day in the middle of the game road in a muddy patch a definite footprint. My foot next to it is tiny."
The two men have also had other experiences they can't identify, including hearing blood-curdling screams in the woods and finding numerous tree structures, especially in Tioga County.
"We take on the role of 'educated hiker,'" Talmadge explains. "We don't make a ton of noise; we are just two hikers conversing. Occasionally, we will do a rock knock or a wood knock to see if anything responds. … We figure if we go out there and pretend we are not looking, we have a better chance of finding something."
Bucko says one of the sightings reported to them involves a man hiking near Trout Run, Pa. A bit spooked after hearing wood knocks, he retreated to his vehicle and snapped a series of photos in the direction where the knocks had originated — photos he believes show a Bigfoot lying on the side of the mountain.
Those kinds of reports have helped make Talmadge a true believer.
"From doing this for a couple of years, and taking in the amount of general sightings and having our own experiences, every experience except seeing one in person, I have no other choice than to believe they are out there," he says.
As for what they would do if they came face to face with a Bigfoot, Bucko says, "People ask us that all the time. We have licenses to carry and we do carry. We don't intend to kill one, but you don't know what you are going to run into. Pennsylvania ranks in the top 10 states in the U.S. for reported Bigfoot sightings. It's like looking for a needle in a haystack, but there are remote areas in Pennsylvania, especially in Tioga and Potter counties, where people haven't walked for decades."
Scary stories
While Bucko and Talmadge don't want to kill a Bigfoot, director Ryan Cavalline filmed a documentary that detailed just such a scenario. Cavalline, the owner of Pennsylvania-based Raw Footage Films, began filming Bigfoot investigations in 2011. Eventually, he stumbled across a tale out of the Phillipsburg area in central Pennsylvania, which he told in "Mountain Devil: the Search for Frank Peterson."
The Peterson name is fictional, he says, made up to protect the actual family who told the story, but the rest is presented as fact.
"I heard through the grapevine of a man who killed a Bigfoot," Cavalline says. "I finally figured out who the family was. The individual had passed away, but we finally won the trust of his son, who told us the story. It was intriguing — his father and his father's friend were hunting. This thing terrorized them, banging on the hunting cabin door, etc. They didn't know what it was. Eventually, they shot it and buried it, and almost took the story to their grave. The guy's father never hunted again. He never told the story to anyone other than his family, and they didn't know the whole story until after he died when they read what he had written in his journal about it. We searched for the burial site, but without specific directions, we couldn't find it."
That story and others he heard while filming the documentary, plus having rocks thrown at him and hearing wood knocks in the rural Pennsylvania countryside, have left him as what he terms a "hopeful believer."
"I won't believe it for sure until I see one, but I think there is a high possibility," Cavalline says. "There are areas in Pennsylvania that are hot zones with a lot of eyewitness reports. You can see it in their eyes — these people have seen something."
People who are interested in learning more about the search for Bigfoot in Pennsylvania can get more information online from the Pennsylvania Bigfoot Society at pabigfootsociety.com (which includes a list of all reported Bigfoot sightings in Pennsylvania by county), the Pennsylvania Bigfoot Camping Adventure at pabigfootcampingadventure.com, Pennsylvania Bigfoot Investigations at Facebook.com/PaBigfootInv or the Pennsylvania Cryptozoology Society at Facebook.com/Pennsylvania-Cryptozoology-Society.
Also in this issue
Also in this issue